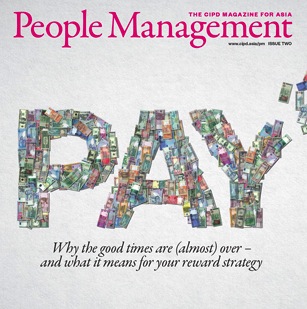 Pay: have the rules of reward changed?
— February 6, 2016
Pay rises in parts of Asia are likely to barely hover above inflation in 2016. Is it time to permanently rethink the way we reward employees?

First, the bad news. No matter where in Asia you are, the era of the colossal pay rise is almost certainly over. With generous expat packages having already felt the squeeze, there is a significant question mark over the sustainability of large increases in most of the region's fastest-growing markets, given the macroeconomic backdrop and concerns over volatility in China.
The good news? It could be much worse. Pay movements in South America are below inflation, the US is barely keeping up with inflation and in Europe a slow recovery means real-terms salaries are only just increasing after years in the doldrums. Employees in the Gulf region may experience the first widespread pay freeze in a generation in 2016, and yet even in more mature Asian markets, such as Hong Kong, employees can expect to receive 4 per cent this year.
If you're in China, meanwhile, you'll likely be looking forward to an 8 per cent pay uplift by the end of the year (though, while that is something to smile about, many may complain that it's the first single-digit rise they have endured for some years).
Such is the varied state of the Asian pay market, which has been buffeted for years by the rise of China and vicious competition for top talent. It is notoriously difficult to define salary trends that ring true for the entirety of such a diverse set of countries, spanning the full gamut of economic development. And yet, for many experts, there is a sense that a frenetic market may be cooling down, and that for the first time in living memory larger companies are beginning to ask profound questions about reward that go beyond: how much can we afford?
For Robert Mosley, CEO of Lemon Pip Consulting and a global reward specialist who has spent 25 years advising Asian businesses, that takes several forms. "Are companies spending their money in the right way?" he asks. "Are they getting bang for their buck? Are they actually seeing the right performance in return for those huge pay increases? How long can it go on for?"
Mosley points out that the profitability of Asian businesses has for years been slightly, but sustainably, eroded by the need to raise labour costs above the rate of inflation. That situation is unlikely to change dramatically, unless there is a once-in-a-generation banking crisis. But it is shifting.
Hong Kong, as the forerunner of the modern Asian marketplace, is a salutary case in point. "I remember in the 1990s, if you got a salary increase of less than 10 per cent you would complain. And seldom was it less than 10 per cent," says Robert Li, talent consulting business leader for Mercer in Hong Kong. As the city became a more mature and stable market, such annual rises were no longer viable – and Hong Kong businesses have adjusted their approach without negatively affecting their competitive position among their neighbours or the overall unemployment rate. On 2016 projections from major consultancies, Hong Kong employees may receive average increases of just 0.3 per cent ahead of inflation.
For Mosley, the subtle shift in attitudes to reward manifests itself primarily in an increasing willingness to discuss performance-related pay. "The first thing businesses are worried about is the market, and whether they are paying employees competitively compared to jobs in other companies," he says. "At present, it's only an afterthought to talk about employee performance. But things are changing, and companies are getting a lot smarter about pay for performance."
Mosley says he sees investment among multinationals and large regional businesses in software systems that recalibrate reward structures. Such performance management programmes are 25 per cent more prevalent than five years ago, he points out: "Good companies are saying 'let's start learning how to set KPIs and objectives more smartly, and let's start embedding competencies into the culture so we start to value the behaviour of our employees'. That is a totally new trend, and it's a ray of light that businesses realise that they need to link the level of money they spend [on salaries] to performance. But you can only link it to performance when you know that people are performing."
Businesses are also becoming more judicious in the way they distribute bonuses, according to experts. With a limited pool to hand out, they have learned to target only top performers, though bonuses remain one of the most popular ways of rewarding staff: 51 per cent of employees in Asia say they will give bonuses to more than 50 per cent of their staff in 2016, according to the Hays Asia Salary Guide.
Recent Hays research shows that, in the majority of cases, bonuses are related to employee performance (80 per cent) and employer performance (73 per cent), suggesting that businesses are using performance-related bonuses to retain their top talent. What's more, just 11 per cent of employers said bonuses are guaranteed.
"Considering the economic growth, inflation and the labour cost in respective countries, we believe this trend will continue, with China remaining the standout in terms of salary increases in the upcoming year and Japan most likely to be restrained," says Shanghai-based Christine Wright, managing director of Hays in Asia.
Nick Lambe, managing director of recruitment agency Links International in Hong Kong, sees employers being a lot smarter about handing out bonuses. He refers to it as the "hero or zero effect" – while three or four years ago a manager probably distributed bonuses fairly evenly, now they are more likely to seek out a star performer and reward them disproportionately. "The demand for talent is continuing to be very difficult, so if you aren't rewarding your top performers you will lose them to your competitors," says Lambe.
And while financial reward – in terms of salary, bonus and benefits – is critical when it comes to recruitment and retention, it isn't always the deciding factor. Connie Leung, information solutions leader at Mercer in Hong Kong, says staff in China in particular are increasingly more concerned about career development than money.
"China is booming and the employee understands that if they enjoy good career development then the compensation will come. In Hong Kong and Singapore – both advanced, stable economies – the opportunity is still there, but not everyone will be given an opportunity," says Leung. Younger staff, she adds, are particularly enamoured of development and progression, and may respond well to mentoring programmes that give them access to senior executives.
Overall, Wright predicts a positive outlook for the region in pure salary terms, forecasting a continuation of the steady increases in hiring demand across key sectors and industries that are fuelling wage inflation. "Savvy candidates are taking advantage of Asia's tight talent market to secure roles offering career progression, which in the long term will ultimately lead to higher salaries," she says.
And a burgeoning talent market often correlates near-exactly with demand (and reward) for HR professionals. For some, there's never been a better time to work in HR. Increasing specialisation and a shortage of senior, experienced professionals are driving up salaries, as figures from Links International demonstrate.
Li describes three types of HR professionals: those concerned with implementing policy; those working at a strategic level with business heads to translate business policy into HR policy; and those working at a tactical level, coming up with solutions to problems.
"It's very difficult to find strategic HR people, very senior HR people, and their compensation may be quite high. The main reason is that the talent pool in Asia is very limited compared to major developed markets like the UK and US," says Li.
This demand is translating into a large number of opportunities for both western and, particularly, Indian HR professionals in Hong Kong and Singapore, though there are signs that businesses in the latter are beginning to slow the number of expats they bring in at all but the most senior levels.
Hong Kong employers, says Wright, are placing a greater focus on retention rather than attraction, which is reflected in a greater investment in L&D capabilities. "While salary levels are expected to remain steady in the coming months for most job functions, Hong Kong employers will offer a higher salary to secure the right senior HR candidates," she says. In Malaysia, it's strategic HR business partners that are most in demand. Companies in Singapore, meanwhile, are especially preoccupied with talent management, so HR professionals who can help engage and retain high performers are in demand. But Wright sounds a note of caution in this market, where she says Hays has noticed a growing number of senior candidates available for work immediately – and this, she adds, could lead to a reduction in senior salaries.
But as strong as the market is for HR professionals in Asia, it's unlikely those tempted to move from outside the region will be offered what Mosley calls the "full expat package with all the bells and whistles". The move away from a basket of benefits – including housing, schools, flights home and car allowance – is one of the most profound shifts in senior remuneration among multinationals operating in Asia, and indicative of an economic and political climate that no longer sees expat talent as essential.
"Typically, a multinational company would have posted an average of five to seven expats per country. That is down to about two to three per country today and, in fact, many multinationals are only posting a country manager," says Mosley.
Natellie Sun, regional director at Page Personnel, says the squeeze on the expat package has been pronounced: "In a city such as Hong Kong, which is quite international, even at the director level it would be rare that we place an expat, and if we did it would usually be an international transfer."
That doesn't mean Westerners are leaving. Many former expats have made Asia their permanent home, and there is little research to suggest that the overall number of senior foreign employees has fallen significantly. But those who are brought into the region from overseas today are more likely to be on a 'cost plus' package that reflects average local remuneration with a small uplift on top, without additional allowances.
Two other factors come into play here. First, expat packages are hugely expensive – often four times the cost of an equivalent local hire – and fees related to houses and schools make them even more out of reach. Second, the concept of the expat itself is dying out. Today, 'globally mobile employees' are open to the idea of moving abroad for an assignment but may not want to be permanent globe-hoppers. And they are less likely to be senior managers from 'head office' in a western nation being parachuted in to troubleshoot: they may be Asian, Latin American or Middle Eastern employees gaining experience in a different environment to aid their career development.
"Expats are not as keen on moving every two or three years as they used to be. The work-life balance needs to be focused on. If you are working a 60- to 70-hour week, moving every few years and upheaving the family and changing house, that balance is going to be terrible. So they are saying 'let's get some stability'," says Mosley. Leung also says she sees more candidates from Europe and the US who choose to move to Asia independently, who may end up in smaller businesses or start-ups.
These are significant paradigm shifts. But it will be some time before the large annual increases seen in China, Malaysia and Thailand are more closely tied to inflation. In many ways, such rapidly expanding economies are in the same position Hong Kong was in 20 years ago, with businesses caught in an inflationary pay cycle to keep ahead in the war for talent.
Mosley believes that change will only begin when networked and strategically minded HR professionals come together for a frank discussion: "It's not going to be one company making a change. It's going to be the HR community as a whole starting a conversation and asking: 'Is what we are doing sustainable? Is what we are doing performance-related? Should we collectively plan for the future?'"
Investing in performance management, whether through a formalised system or not, and considering the links between pay and performance at every level, are a good start. And the fact that these conversations are happening could be a sign that what Mosley calls the "oil tanker" of regional pay has applied the breaks. It will be some time, however, before the ship comes to a halt.
Original Link: People Management