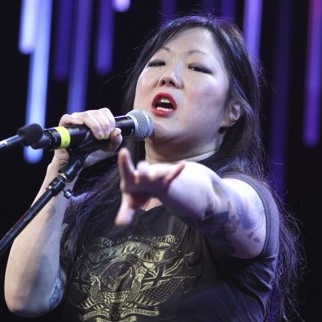 Margaret Cho turns rage into laughter
— February 23, 2016
Ahead of her Hong Kong debut next month, the Korean-American stand-up talks about striking the right balance between being shocking and funny, and about losing her comedy parents Robin Williams and Joan Rivers

Margaret Cho is a big character. The 47-year-old comedian and musician has strong opinions, plenty of tattoos and, following her new music video I Want to Kill My Rapist, a new buzzcut. You'd definitely notice her walking down the street – and if you like bold, in-your-face, taboo-breaking humour, then you shouldn't miss her Hong Kong show next month.
The makings of this colourful – we're talking rainbow colourful – and defiant personality can be traced back to her childhood. Born in San Francisco, she grew up close to Haight Street, the centre of hippy culture in the 1970s.
"It was a very diverse neighbourhood. That's where the summer of love was, where all the hippies were. And then punk rock took over so I grew up around a lot of drag queens and punk rockers and political people, people who were involved in early gay politics like Harvey Milk," says Cho.
She speaks a lot about gay culture: it's a key element of all her shows and she is in many ways an ambassador for the LGBT community, but Cho isn't gay. She says she identifies as bisexual. She was married – to a man, the artist/writer Al Ridenour for 11 years; they split in 2014 – and her current partner is a man, but there have been women. "My politics are more queer than my lifestyle," she says.
It was in her childhood that she met the late comedian Robin Williams – he used to come into her father's bookstore. Her dad was an author and wrote, among other things, joke books. See how all the comic, political and left-of-centre elements were there from the get-go? It was also as a child and then an early teen that she endured abuse – bullying at school, sexual abuse from a family friend and later rape.
All that added up to her wanting to grow up fast. By the age of 14, sheer determination and a little luck meant that she was doing stand-up comedy. She started out doing a comedy duo act with Sam Rockwell – he's now a famous actor, but back then he was a feisty 14-year-old like Cho, their birthdays just a month apart.
"I didn't really get on with the kids at school, I think I just wanted to be an adult. Next door to my Dad's bookstore was a bar and they had the comedy upstairs. Robin Williams would perform there and he always made a point of going on before me so I had to follow him which was really terrifying as a kid, but it really taught me to be a comedian, I appreciated it," says Cho.
From the comedy club, she got on to the small screen, appearing in a Golden Girls spin-off, The Golden Palace. And in 1994 she got her own TV sitcom, All-American Girl, based on her life as a rebellious Korean-American girl. It wasn't a career highlight: better things were to come, such as the off-Broadway show I'm the One that I Want, and a regular spot on The Arsenio Hall Show.
It was Williams who got her involved in the big charity comedy show, Comic Relief. Devastated by his suicide in August 2014, Cho set up the charity #BeRobin, which is dedicated to helping feed and clothe homeless people. A month after Williams' death, she lost the other half of what she refers to as her "comedy parents", Joan Rivers, who she first met in the 1990s.
"She was really fun and funny, but also incredibly maternal – that's a side of her that people don't really know, she was a really gentle person," says Cho.
Activism has always been a central part of what Cho does. She's been at the forefront of gay rights, anti-bullying and anti-racism campaigns for years. But it's only recently that Cho has begun talking about her personal experience of sexual abuse and rape. It's a key element of her new standup comedy show, "The Psycho Tour", which kicked off in Orlando last June and will be in Hong Kong for two shows next month before wrapping up in Detroit in April.
"I think with Bill Cosby and all that, the conversation around rape has shifted and so we are talking about it a lot more than we used to and I think that's important," says Cho.
The Cosby scandal – he is alleged to have abused more than 40 women since 1965 – blew up as Cho was preparing the material for "The Psycho Tour" and he absolutely features in the show. Still, something as brutal as rape doesn't obviously lend itself to comedy. How does she approach it?
"It's about finding a way to talk about it, finding the story. There are funny elements to my experiences even though it was really hard and tragic," she says.
There are bound to be some people for whom Cho is too much to take; you can't be trailblazing badass – and she's got good claim on that title – without ruffling a few feathers. When she dressed up as a North Korean general for last year's Golden Globes and goose-stepped across the stage, not everyone saw the funny side. The gag was set up to make fun of the North Korean government in light of the alleged Sony hack, but as many people criticised her for the stunt as laughed.
"It was odd because I'm actually of North Korean descent. A lot of the accusations came from white people," says Cho, who tweeted at the time: "I'm not playing the race card. I'm playing the rice card."
If you're beginning to think that Cho sounds like an angry woman, stop right there – there's a lot more going on. "It's really about the cathartic rage that I feel. I think that rage is an important emotion to express and it gives the energy to drive the show. You want to be shocking, but you also want to be funny and you want to be feeling."
"The Psycho Tour" is all those things. She comes to Hong Kong after gigs in Singapore – her first time performing in Asia – and she promises to give the crowd something to laugh about and think about, as well as some gags about her Hong Kong experience.
"I try to adapt and make my shows about my experience in that city as well as what I'm doing. I try to make it very immediate and alive," she says.
Margaret Cho: The Psycho Tour, Mar 8 & 9, 7.30pm, KGV School, Homantin, Kowloon. Tickets $380-$680, www.ticketflap.com
Original Link: SCMP