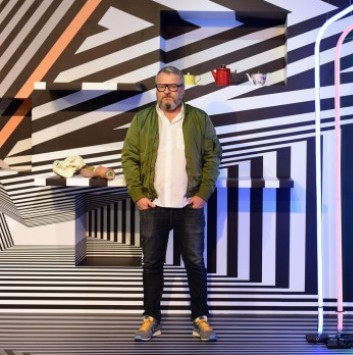 The artist who camouflaged a shop
— April 10, 2016
Not only has the German used military 'dazzle camouflage' for leather-goods brand MCM's shop, he's also used it in the product designs. And for good measure the display includes teapots, a pig, a skull and a severed arm. 'It's … about what a shape is, what a product is,' he explains to Kate Whitehead

Don't try to put Tobias Rehberger into a box. The German artist's work isn't the sort that fits in a frame and he'd much rather it was out in the world, with people rubbing up against and interacting with it, than being gawped at in a museum. He does his own thing – and has a good time while he's at it.
Sitting in MCM's flagship store, in Central's Entertainment Building, the 49-year-old seems to be on his best behaviour, his PR minder by his side. His beard is freshly trimmed and, in a crisp white shirt, jeans and trainers, he's rocking the urban-cool look. But every now and then there's a flash of the raucous, hard-drinking side he's known for.
In Hong Kong for a week for the launch of a collection he designed for the German luxury leather goods brand, as well as Art Basel, he insists he hasn't got jetlag, he never gets it. His secret?
"Get drunk on the first day," he says.
The PR scowls, but Rehberger doesn't seem to notice.
The MCM collaboration began with the bags and it was a 20-year-old assistant – the youngest in his full-time team of 12 – who persuaded him to take on the job. As he explains how it came about you get the sense that Rehberger is porous, open to ideas and giving things a shot, especially if there's a good chance he or his team might get a kick out of it.
"'You have to do it, it's so cool,' she said. And I thought, 'OK, if she says it's a good thing, let's try,'" says Rehberger.
Employing the bold black-and-white graphics that he has become known for – the "dazzle camouflage" employed during the first world war to make it difficult to visually pinpoint a target – he recreated the German brand's logo and worked the design into a collection of backpacks, shopping bags and clutches. MCM loved it so much the brand asked him to make over the Hong Kong store – all 8,600 square feet of it.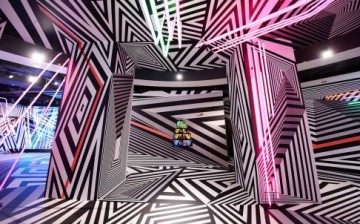 This isn't as wild a leap as it sounds because Rehberger's perhaps best-known work, which cemented him as one of Germany's leading contemporary artists, was a massive, functional installation for the 2009 Venice Biennale. He designed the cafeteria at the biennale pavilion and called it " Was du liebst, bringt dich auch zum Weinen" ("Whatever you love, will bring you to wines"). It was a wild, retro-inspired space, juxtaposed with a jumble of forms and colours but with black and white the unifying theme.
The walls, floors, ceilings and furniture were covered with the disorienting camouflage used by the dazzle ships of the first world war. It won him the top prize, the biennale's coveted Golden Lion. The jury said he'd earned the award for "taking us beyond the white cube where past modes of exhibition are reinvented and the work of art turns into a cafeteria. In this shift social communication becomes aesthetic practice".
"I'm not very good at starving. I've never had to struggle for success, it was just happening"
Rehberger has applied dazzle camouflage to interiors elsewhere. In 2013, he created a temporary replica of his local Frankfurt bar in a New York hotel, covering the entire space in black and white geometric stripes. He even reproduced the fittings, right down to the radiators. And yes, he did drink there – and felt right at home.
A year later, he worked on the real deal – a 1918 British warship, the HMS President. Using a print of pipework viewed from different perspectives, he completely covered the ship, to mark the centenary of the first world war. His handiwork was unveiled in July 2014, on the River Thames.
If a German decorating a British vessel that saw active service in the Great War were not noteworthy enough, "That was special because it was a ship that had been used in the war in this desert camouflage," Rehberger says. "I thought, 'Can you make it in the same technique, but that it's clear it's not made for military reasons and still use the same strategy?'"
So has he done it again in Hong Kong? Yes and no. The fact that, here, he has been working with a retail space has thrown up different questions.
"It's more about what a shape is, what a product is and how you look at it and how you deal with it and what your focus is," says Rehberger. He speaks like this a lot – long sentences that throw up lots of ideas and directions, much like his camouflage.
So, it's a shop, but not a shop, I venture. Considering the exorbitant rent MCM must be paying for the prime Central spot, that doesn't seem like the most obvious approach to turning a profit. I hesitate and the PR suddenly lights up.
"Yes, everybody thinks it's a shop, but what if it's not really a shop but it is," she says.
She's clearly been hanging out with Rehberger. I turn away from the pair and take in the shop that isn't a shop. The geometric patterns in the vast interior make it hard to judge distance and the pillars and escalator – all camouflaged – add to the confusion. It's not easy to spot the merchandise, which is designed with a similar print. What's more, alongside the bags on the display shelves are teapots, a pig, a skull propped up against a severed arm.
"We have the teapots and scientific models and then the bags blend in and you see them less. That's one of the good things about it – it brings up things you normally don't think about because you are so conditioned to do things in a certain way and then suddenly, there, hiccup," says Rehberger.
And it's this hiccup, he says, that gives us the chance to think about the way we deal with life. Are we making our own decisions or have we become conditioned to doing things in a certain way?
I don't think I'm alone in having been conditioned into thinking that the items on the shelves of a retail space should be for sale. How refreshing to visit a shop that dares to be different, although it's hard to see this becoming a hot retail trend. The teapots are pretty – Rehberger sourced them himself – and the pig is fun, but they are not going home with a smitten customer.
"They are something that drops out a little, make you stumble about what you thought you already understood. Especially here, where you are expecting to come and have objects to buy and suddenly you have this almost emptied out teapot shop," says Rehberger.
The artist enjoys playing with the viewer – are you seeing what is really there or what you expect to see? Take that severed arm, which will turn out to be, on closer inspection, a scientific model of a worm. Twice I mention the "severed arm" to Rehberger and he doesn't pull me up on it. True to form, he doesn't intrude on my perception of the scene
For last year's Art Basel Miami – in another underground venue – he had some fun with this notion of perception. His installation – the mural "1661-1910 from Nagasaki, Meiji, Setti" – covered the space in brightly coloured, wallpapered mosaic tiles. Close up, all you could see was a pixelated blur of colours but step back and you realised you were looking at an orgy.
Rehberger's embrace of so many types of media sets him apart from other contemporary artists, especially in the West. Gallery owner Urs Meile represented one of Rehberger's most recent works, a pigmented wax, steel and wood sculpture-cum-timepiece, at this year's Art Basel Hong Kong. Two years ago, Rehberger created a huge installation entirely made of porcelain for Galerie Urs Meile in Beijing.
"He is very open to new media that he's never used before," says Meile. "His approach is not the typical Western way. You find that with some other artists working in Asia; probably the most famous is Ai Weiwei, who works with endless different materials."
Meile suspects that the tendency towards conceptual thinking might be the reason why Western artists are less likely to experiment with a range of materials. In the West, artists tend to begin a project with a concept and approach their art with a clear vision, doing paintings or sculpture, working in wood or bronze, but "in Asia they don't have conceptual thinking as we have it", says the gallerist. "They think, 'I would like to do this' and then it's trial and error. Through this they make a completely other experience."
With the exception of Leonardo da Vinci, suggests Meile, Western art history didn't have a tradition of experimenting with unusual materials until the late 1970s, and the start of conceptual art, when cheap materials began to be used.
"But to use, let's say, high-end materials to do something, this is unusual in the West," says Meile.
It's no surprise, then, that Rehberger feels right at home in Asia. In the last six months, he has made at least 10 trips to the region and has a number of projects in the works here. For a Bangkok shopping mall, he is putting together an installation that "looks like an exploded Las Vegas sign". He says retail spaces are new to him but concedes that shopping malls are where people go to hang out in Asia.
The can-do attitude and pace in Asian cities appeal to Rehberger, who likes to get things done quickly. At art school in Frankfurt, in the late 80s, he was taught by German artist Martin Kippenberger, who is known for working in a wide range of styles and media.
"Martin taught me to always push yourself and try not to make yourself comfortable when you find something interesting. With Martin it was not about solutions, it was always, 'OK, but what if – and then what if from the other side'. That's the art I'm most interested in, if it's more about problems than questions and answers," says Rehberger.
He graduated in 1992 and moved to London, but stayed only a year in the British capital.
"If I have an idea I need immediate access to the thing," he says. "When I need teapots, I need the teapots now. In London, at the time, you had to travel half a day to buy a pencil. It was annoying."
From London he moved to New York before returning to Germany, where he has lived since, dividing his time between Berlin and Frankfurt. Berlin, he says, is where he finds inspiration, meets friends and hangs out. Frankfurt offers fewer distractions and is where he gets his work done. It's also where his family lives.
Rehberger's wife specialises in restoring old frames and the couple have three children, aged 16, 11 and four.
"Since they were young, they have been coming to my studio and hanging out. For them it's normal to take a spray can and do things. I think you can sense they are visually educated, they all have a good eye – not that I hope they become artists," he says.
Rehberger's father was a hobby painter and, as Tobias grew up, he was surrounded by oil paints and canvases. His father painted portraits and landscapes, copied works by artists such as Picasso and sometimes designed and made furniture. Rehberger started out playing with his father's materials and when he came to have his first gallery show, "I copied the entire body of my father's work, copying the paintings four times as big. It was an installation, a reflection of me as a professional artist and where that comes from.
"I thought it was a good way to introduce myself."
His father apparently found it funny. Someone finding his work amusing seems to be a factor that signals to Rehberger that a mission is at least halfway to being accomplished.
Since that introduction, life has been good to him. He's never had to live the life of a struggling, starving artist.
"I'm not very good at starving," says Rehberger. "I've never had to struggle for success, it was just happening."
He almost flinches at the suggestion that commercial projects such as the one for MCM might distract him from more personal work.
"It's all my own stuff. It's not less my own stuff if I'm doing this or something in the studio that no one ever sees. There is no difference. If I want to do something, I do it, and if I don't want to do something, I don't do it," he says. "I was never in the position that I had to do something that I didn't want to."
As if to underline the fact he hasn't had to endure long, cold winters going hungry in a lonely studio, the conversation turns to lunch and from there to restaurant recommendations. Rehberger has arranged to meet some artist friends after their commitments at Art Basel.
"Thursday and Friday we plan to check out five restaurants a day – for breakfast, lunch and dinner and a couple in between," he says.
Whether or not you are in the market for a new leather bag, it's worth dropping into the MCM store to be dazzled by Rehberger's disorienting graphics and take a turn through the shop that isn't really a shop.
Tobias Rehberger's installation at the MCM store (basement, Entertainment Building, Central) will be in place until May 2.
Original Link: SCMP