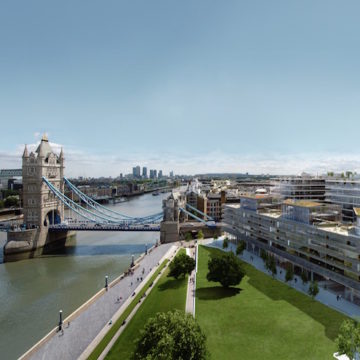 London property prices start to slide
— June 22, 2016
Experts suggest Brexit, and a likely devaluation of sterling, could inadvertently make the city's luxury units more attractive to overseas buyers

The London property market is a complex beast.
After a long run and much talk of a bubble, prices in the city have fallen, but the reason for the slump isn't clear-cut.
Certainly fears over a possible Brexit have cast a shadow, and Thurday's referendum will put an end to that uncertainty — but there's plenty more weighing on the market.
Two new London developments speak volumes about the city's current market, and the impact of the recent slowdown of Chinese investment in the British capital.
The developer Berkeley doubtless had its eye on the Chinese market when it gave South Quay Plaza in Canary Wharf, a residential development that is set to change the London skyline, a lucky 888 residential properties, including 188 affordable homes.
Designed by Foster + Partners and with excellent transport links — it's close to City Airport and the Crossrail which will open in 2018 — South Quay has much appeal for Asians.
"Chinese buyers account for 25 per cent of sales so far and most of those were buyers coming in early, they are very comfortable about buying off-plan," says Berkeley Homes managing director Harry Lewis. Another quarter of the sales have come from the Middle East, with the rest British.
Lewis says Chinese buyers have shied away recently, the combination of a slowdown on the mainland and a very pricey London.
"We have seen a slowdown in Chinese buying since January. But they are still one of the major sectors of the market," he says.
It has been a similar story at One Tower Bridge, a 376-unit luxury apartment development on the South Bank, opposite the London mayor's office. Billed as "five-star living", many flats have balconies overlooking Tower Bridge and are on the market for about £2,700 – £2,800 per square foot.
When sales began in 2013, wealthy Chinese buyers were a target audience.
The project is more than 90 per cent sold and 25 per cent of those went to Chinese buyers, most buying off-plan early. The remainder of buyers were Middle Eastern and local British investors, most buying for self-use.
But while sales remain strong, interest from Chinese buyers has waned and only three of the last 15 sales were to Chinese investors.
"This is the first time Chinese investors have had to experience a downside in investing their own personal wealth, and that things can go less well than only going in one direction," says Adam Challis, head of residential at JLL.
"And that's what has been happening in the Chinese stock market for over a decade."
But savvy Chinese investors find ways around the mainland's attempt to restrict the outflow of money, he adds.
"London developers who understand this dynamic make adjustments to the deposit conditions.
"I know of a scheme where the deposit requirements were changed to annual stage payments instead of front-end within the first year."
There is also talk of a Qualified Domestic Individual Investor Program (QDII2) that would allow investors in six major cities, including Shanghai, to invest directly in overseas assets such as stocks, bonds and real estate.
These investors would be able to export up to 50 per cent by value of their net worth, overriding the 2007 policy that put a US$50,000-cap on exchanging foreign currency.
Matthew Richardson, research director at European Real Estate, says the reason for the recent property price slump isn't clear-cut.
Prime property prices fell by 11 per cent in the first quarter, but other parts of the city have got off more lightly.
"Overall investment transaction volumes have fallen off quite a lot, particularly in the first quarter.
"It's an easy and lazy story to say it's all Brexit — that's certainly contributed to it, but that's not all," says Richardson.
Rightmove, the online property portal, reported on Monday that asking prices increased by 0.8 per cent in May, ahead of this week's referendum on European union membership.
But Greater London is the only area in England and Wales to report a monthly decline in asking prices, dropping 0.2 per cent.
Investors who were putting their money into London property last year were well aware, says Richardson, of the upcoming referendum and were still quite happy to invest.
Instead he sees a cyclical downturn in the market and says this is the first property cycle that has been impacted by large cross-border flows driving pricing.
"There's a lot of international money, and the residential and commercial market has become a different place. Most of the guys in London are pricing based on markets which are often in the Far East and Middle East," he says.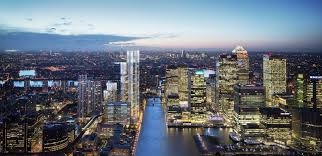 Those two new developments — South Quay Plaza and One Tower Bridge — both have over-the-top luxurious penthouse apartments for sale, too.
If the UK does vote for a Brexit that could inadvertently make them more attractive to overseas buyers, says Matthew Maxwell, director of financial institutions credit at ANZ, as an exit would almost certainly mean that sterling would devalue.
This would make assets cheaper for overseas buyers and could trigger increased international sales, possibly tempting Chinese investors back into the market to snap up the trophy penthouses.
The two developments are part of a new trend that is seeing developers turn to overlooked markets away from the so-called "golden postcodes".
"Buyers are looking further afield for value, away from Mayfair," says Tom Bill, head of London residential at Knight Frank.
He said growth was "polarised" between prime areas in the east and west of London with investors shifting from the most-expensive areas to those where there was still money to be made.
Traditionally higher-value western areas such as around Hyde Park have seen a slowdown due to recent tax changes, while the opposite is happening in lower-value markets such as the city and its fringes.
"As a result of this polarisation, in 2016 we expect a 2 per cent decline in western markets and five per cent growth in markets east of Mayfair and south of the river" says Bill.
"The centre of gravity is moving east and is supported by efficient infrastructure."
Original Link: SCMP