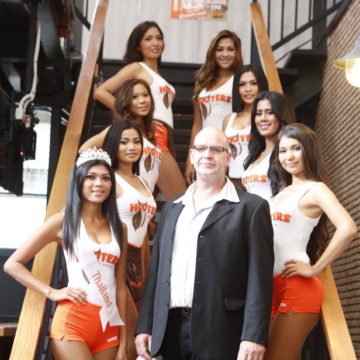 Hooters on defensive ahead of HK launch
— June 22, 2016
Mike Warde, whose company plans to open 30 branches of American restaurant chain in East Asia, denies waitresses need big breasts to work there, but a job applicant tells a different story

A 1980s American restaurant chain is set to change the vibe of Wyndham Street, in Hong Kong's Central district, when it opens in mid-July. Hooters – known for its scantily clad waitresses and Buffalo wings – will occupy a prime spot on the strip of bars.
Bangkok-based Destinations Resorts is bringing the franchise to Hong Kong following the opening of four Hooters restaurants in Thailand. The company is under contract to open 30 restaurants in Asia within six years, with outlets currently being fitted out in the Philippines, Phnom Penh and Singapore.
By the time the Hong Kong Rugby Sevens comes around next April, Hooters Asia general manager Mike Warde expects to have three restaurants in Hong Kong, with another two possibly on the way.
"I always wanted to work for an American brand bringing the American concepts into Asia because I know Asia and I know the industry," says Warde, who grew up in Hong Kong, cut his teeth in the food and beverage industry working at Mad Dogs and The Peninsula hotel, and most recently worked for Great Vision helping the late Paul Buxton oversee Bulldogs, Quarter Deck and Shamrock.
The Wyndham Street Hooters will have a large ground-floor restaurant and bar and a "private room upstairs for the rugby boys", says Warde. And it's here for the long haul, having signed a 10-year lease for the site.
But not everyone is happy. Fran Thompson is the managing director of Pathfinder Talent Solutions, a search and selection company focused on the IT and financial services industry. Her firm, which works primarily with women, helping them restart their careers after children and offering coaching to get their careers on track, is located on the first floor of Yu Yuet Lai Building on Wyndham Street, directly above Hooters. After two-and-a-half successful years in the office, she has been forced to cancel her lease and move.
"Hooters is misogynistic and outdated. I don't want my brand tarnished or associated with it. When we tell people where we are, we don't want to say we are the headhunters above Hooters, especially as we work with a lot of women," says Thompson.
The second Hooters will likely open on Mody Road in Tsim Sha Tsui and the company is currently scouting for a third location, but it won't be Wan Chai.
"We're not going into Wan Chai, to convince people that we're not what people think we are. We're a sports bar, a family-oriented, fun-loving, entertainment outlet. We have standards for our service and food," says Warde.
Hooters girls are the "brand ambassadors" and wear skimpy orange hot pants and tight white vests. Warde denies the girls are dressed provocatively, saying they are dressed in sportswear. When it's put to him that women wear sports bras, not push-up bras, when they do sports, he laughs. And he insists that breast size is not a factor in the recruitment of Hooters girls.
"That's a myth. That was 30 years ago," he says. He pulls up a photograph on his phone of Thai Hooters girls and points out the girls by name who have small breasts. "The reason they don't look flat chested is because they are wearing Wonderbras," he says.
However, the Post spoke to one of the Hong Kong women who has applied to work as a Hooters girl and is on the list for training. Contrary to Warde's insistence that breast size does not factor into hiring decisions, Scarlet – not her real name – said her friend who applied didn't pass the selection process.
"Her boobs are smaller, so of course they won't hire her."
The chain has been recruiting women to work as Hooters girls for a few months. Warde says they have 12 Hong Kong women, one Japanese woman and two European women who are interested, but that they can't speak to the press because they haven't gone through training. And he adds, a little dismally: "Normally we have a lot of fall-off if they don't want to put the effort in."
Being a Hooters girl does require a fair amount of effort. In addition to the standard waitressing duties – serving food and drinks to customers – they are also expected to learn 12 choreographed dances and perform two-minute dances at regular intervals.
"They stop whatever they are doing, wherever they are, and dance every 45 minutes. In Thailand guests pay them to do hula hoop and the money goes to charity. We have pom-poms and we take them to the rugby pitch to support teams," says Warde.
He believes the training programmes – for service and dance skills – represent an excellent opportunity for young women who earn "premium pay", plus tips, and are given free gym memberships. In Hong Kong they will be expected to attend three kick-boxing classes a week to stay in shape.
"We teach the girls to be a lot more respectful of themselves, have more confidence in themselves. They have a fit body and fit mind and we bring out their characters because we put them all over social media," says Warde.
Scarlet, the would-be Hooters waitress, was initially attracted by the promise of generous remuneration and a fun working environment, but after two rounds of interviews (the second was a uniform fitting) she is having second thoughts.
"At first my friends said it's a perfect job for me because I love partying and getting sexy, but then my ex-boyfriend said it's cheap and degrading and now other friends are warning me there will be perverts," said the 24-year-old, a former beauty therapist who is looking for a new position.
At the uniform fitting, she found the shorts and vest provided were too small and asked for a larger size. "They said, 'This is the largest size' – I think that was true. But it's crazy that the largest size is extra small. My boobs were exploding and my ass was half showing out," said Scarlet.
"When I went for the uniform fitting they said I'm the only girl with boobs. They want to hire locals, but most local girls are really skinny," she said.
Another disappointment for Scarlet is the salary. The job was advertised as offering premium pay, well above the standard rate, but she says she was offered HK$15,000 a month for a five-and-a-half-day week and could earn more as a beauty therapist.
"They said I would get good tips, but in Hong Kong I don't think the guys would pay a lot. There isn't the tipping culture here," Scarlet said.
She recently returned from a holiday in Thailand where she spotted the Phuket Hooters. She didn't go in despite the fact she is applying to work for the chain. "I just walked past it. It didn't look attractive. It looked like there were lady boys in there."
Warde denies that lady boys have been recruited to work in the Thai Hooters. "No. You're not the first person to ask. They've applied, but it's not the image the franchise would appreciate. It's a very straight bar," he says.
The first Hooters restaurant opened in Florida in 1983 and the company began franchising in 1986. It became known as a "breastaurant" – a dining venue where scantily clad women serve as waitresses.
In the US, Hooters has faced competition in recent years from other "breastaurants" such as Tilted Kilt Pub & Eatery that are pulling in a younger crowd. As a result, sales have stagnated and the chain is shrinking there. From 2012 to 2015 the number of locations fell 7 per cent, as reported by Business Insider. Warde casts aside the suggestion that the concept is outdated.
"In Asia we are a new brand. And in America they've been closing the ones that haven't been performing and reopening others. Over the last four years it's growing, they are on the up again," he says.
But the figures on entrepreneur.com, which ranks franchises, put the Hooters franchise at No 462 out of a ranking of 500, making it very close to the bottom of the list. Hooters' ranking has slipped from 381 in 2014 to 425 in 2015, according to Franchise 500 Rank History.
Hooters' Asian expansion is the largest franchise expansion in the region, says Warde. But bringing a 1980s American brand into Asia will doubtless have its challenges. The previous Manila Hooters has closed because it fell below par. Scarlet said she'd heard that the tipping at the Manila venue was getting out of hand and it was becoming more brothel than bar.
"Guys were asking for more. It was getting very nasty," she said.
Warde says he's heard the rumours about the closure of the Manila franchise – which is nothing to do with Destination Resorts – and puts it down to a cultural misunderstanding.
"There was the same thing in Thailand. It's just uneducated people that need to be educated. Once they are told, 'Excuse me, no,' they're OK. Boys from England come out, the Northerners come to Thailand and they are like, 'How much are your birds?' Come on boys, go down the road if you want to do that," says Warde.
He says he is sponsoring the Hong Kong Scottish women's netball team and that the team will make Hooters its home bar. And he's in discussions about working with the Hong Kong Rugby Union.
"Most sports bars are in Wan Chai. The sports guys are saying to me, 'We want out of Wan Chai because our wives and our girlfriends don't like us going into Wan Chai.' And so we're in SoHo," says Warde.
Original Link: SCMP