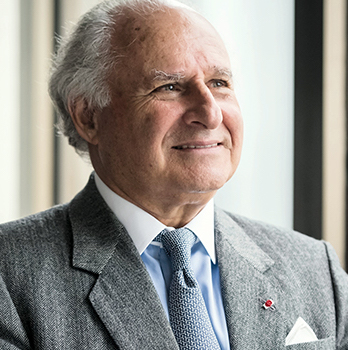 Nostalgia's Guardian
— June 1, 2016
He's chairman of the oldest registered company in Hong Kong – that's merely part of his day job – and Sir Michael Kadoorie still takes time to enjoy life to the full. As The Hong Kong and Shanghai Hotels celebrates its 150th birthday, Kadoorie talks to The Peak about his early years in post-war Shanghai, his love of vintage cars and flying, and how The Peninsula was once saved from demolition.

Sir Michael Kadoorie's office on the top floor of St George's Building overlooks the harbour and across to the family's iconic property, The Peninsula Hotel. The room is rich with history – a glass cabinet of personal treasures, a carriage clock that marks the passage of time. The carpet is green, his late father Lawrence Kadoorie's favourite colour. Indeed, this was once his father's office.
The 74-year-old billionaire prefers to keep a low profile, but has agreed to a rare interview because this is a very special year – the 150th anniversary of The Hong Kong and Shanghai Hotels, Limited (HSH). He enters with a big smile. "Hello, you must be Kate. Very pleased to meet you," he says, and greets me with a two-handed handshake.
The immediate recognition, the friendly welcome – it's signature Peninsula treatment.
While he has his photograph taken a Gurkha guard stands in the doorway, a reminder that Kadoorie is one of the wealthiest men in town. Forbes puts him at Number 10 on its Hong Kong's
50 Richest People list, with a net worth of US$6.3 billion. His role as chairman of HSH is just part of his day job. He also chairs CLP Holdings, the power company his family co-founded in 1901. Hongkongers might think of the Kadoories every time they turn on a light – CLP power serves 80 percent of the city's population
– but they are more likely to associate the family with the goodies under the HSH umbrella. In addition to 10 Peninsula hotels, the portfolio includes the Peak Tram, the Peak Tower and the Repulse Bay Complex – all much- loved local landmarks.
Kadoorie is intimately involved with the hotels. Not only do they re ect his great passions – aviation and vintage motors, two very boyish pursuits – but he cares about the heritage properties in a way his father didn't.
Take the Repulse Bay Hotel. Built in 1920 it was a holiday spot for locals and a favourite haunt for expatriates in the region, but by the early 1980s there were plenty of hotel options in Central and guest numbers were down. The decision was made to demolish it, but just before the bulldozers came in, Kadoorie had an idea. He asked the general manager Tony Oliver to preserve the verandah – the woods, brass, lights and canopies – and store it all in the garage.
"I asked him to check it every month for woodworm. And then we took down the entire front of the building, retained everything of value and then put it all back. It's actually three inches off the original site," says Kadoorie.
That attention to detail and the determination to make something new while preserving the past, speak volumes about Kadoorie. "My father didn't share any thoughts on heritage buildings, his vision was always on the future," says Kadoorie.
In 1973, there was talk of demolishing The Peninsula Hotel and rebuilding it in a land swap; Kadoorie senior was in favour of the plan. Fortunately, rapidly escalating oil prices massively increased construction costs and two years later, it was decided a rebuild wasn't viable.
"We were very lucky, fate determined that," says Kadoorie.
THE GENTEEL APPROACH
Restoring heritage buildings is something HSH has done enough times to be well accomplished. The group has an experienced team in place to manage such projects, the most recent of which was The Peninsula Paris, opened in 2014. The next big restoration project is the former Myanmar Railway Company headquarters in Yangon, slated to be open as The Peninsula Yangon in about 2020.
While Myanmar has been opening up in the last few years, investors have been coming to Yangon in droves to see what they could get their hands on. Viewed from Traders Hotel during a personal trip in 2013 (this hotel was rebranded in 2014 to Sule Shangri-La, Yangon) across the street, the 1880s railway station looked beautiful, although in obvious need of repair. It was a hot ticket and all the big hotel groups were vying to lay claim to it. So how did The Peninsula manage to secure the property?
"We are very fortunate today being in a position where we are very small and we are looking at the very highest level and striving to achieve that within the group.
As a result people come to us. We probably have more suitors than we could ever consider," says Kadoorie.
What a wonderful position to be in. Kadoorie's choice of the word "suitors" hints at a bygone era when travel was something done slowly and with style, when the prospect of taking a journey sounded romantic. In keeping with that sentiment, he has no plans
to start rolling out Peninsulas. As he points out, "Ten hotels in 150 years, you'd hardly call that quick!" Rather, HSH prefers to operate in a measured way, doing what it does best at its own pace.
"We don't look to have more hotels, we look and try to have
the best in the city," he explains, adding that it takes the team about seven years to create a Peninsula hotel. "The objective is really to grow at a pace that we can digest, to look for areas where our own guests come from so you have a lot of repeat guests."
The Peninsulas in Hong Kong, Paris and Tokyo all see a lot of guests from South America, so he says that if a good opportunity came up in Miami that would be a tempting option for a new hotel. Likewise Istanbul, the gateway to Asia and Europe, is an attractive option.
"Istanbul is the fifth largest tourist entry in the world; I didn't know that until recently. Plus the fact that we have been courted by partners who have a strong presence in Turkey and of course are able to deliver the best site," says Kadoorie.
There we go again with the romance, with suitors and courting. It does make for a more genteel approach to discussing business strategy. There is no doubt that Kadoorie is first and foremost a businessman, but his manner isn't aggressive. Perhaps that's part and parcel of growing up with the business. It was going to be his to run, so perhaps the question was how to do it with style.
He was fortunate enough to learn from some of the best in the business, people like Leo Gaddi (appointed the Peninsula's general manager in 1948 and five years later had the ne French restaurant named after him) and Felix Bieger (a three-time GM of the hotel who lent his name to the glamorous top-floor restaurant).
"I watched and learned and absorbed. Because you are dealing with people and I enjoyed very much that intimate interaction," says Kadoorie.
He mentions his interest in people several times and it seems genuine. He looks you in the eye when you speak to him and it seems he's not just listening to what you're saying, but also picking up on the non-verbal clues. He notices the details. A little later he says: "It's always exciting when you are talking to people, seeing how they live, what their wishes are and how one can accomplish, by a little change here and a little change there, something better. And quite often those changes come from the people who are actually doing it. It's a living thing."
Here he is talking about the hotel – "the living thing" – and how it's the people who make The Peninsula the success that it is. And it's clear he has observed people – not just hotel staff, but everyone. This is probably in his genes, but one can't help wondering if his unusual start in life may have made him even more attentive.
JUST IN TIME DELIVERY
Kadoorie was born in Hong Kong in July 1941, ve months before the outbreak of the Paci c War. His father Lawrence was chairman on the board of HSH and when the family returned to Shanghai soon after his birth they were caught up in the war. Michael spent his early childhood in Chapei prison camp in Shanghai, but he doesn't remember much until they were released.
"Our home had been kept for the Chinese puppet governor (Wang Jingwei) and so it had been preserved and immediately after the war there weren't hotels, so that became allied headquarters," says Kadoorie.
For the first six months after the war there were plenty of people in the large house. In addition to the family, there was a bomber crew ("My great aunt would say, 'Boys, go out and exercise your plane'") and Sir Alwyne Ogden the British Consul-General was also resident. Barely five years old and surrounded by such colourful personalities and aircraft – its no surprise Kadoorie has had a lifelong fascination with both.
"My first flight was in a C47, which was the equivalent of a DC3, belonging to the RAF. They had been living in the house. I came down from Shanghai with my mother and my sister in 1946 and we stayed in The Peninsula Hotel. My first recollection of life in Hong Kong is The Peninsula," he says.
Kadoorie weighs his words carefully. He remembers how the ballroom of The Peninsula was transformed into a shelter for Jewish refugees from Shanghai ("They put a sheet down the centre with women and children on one side and men on the other. It was a very turbulent period for many people who were displaced."). His father busied himself with restoring electricity to help get Hong Kong back on its feet and then the family embarked on a long post-war holiday.
"My parents had the opportunity to go and they took it. I was eight years old and we travelled around the world by sea plane, by aircraft, to Australia, New Zealand, America, Europe and South America," he recalls.
It stoked his passion for aviation. He learned to fly a helicopter in 1974 in the UK – it took just three weeks of lessons – and 20 years later when The Peninsula was expanded with the addition of a 30-storey tower he took the opportunity to top the tower o with a helipad. Now all The Peninsula hotels have helipads and his son Philip has caught the bug.
"My son has a commercial helicopter licence and he's about to undertake his xed wing training," says Kadoorie with obvious pride.
Philip sounds like a chip off the old block. The 22-year-old has finished university in Boston, worked in London for a bank and a property company and is set to join the family business soon.
"Hopefully at the end of the year, after spending some time in Beijing to learn a little Mandarin, he will join the family firm at the beginning of next year," says Kadoorie.
His eldest daughter, 30-year- old Natalie, has been attending executive meetings for some time. She got married just over a year ago and is focused on doing the things she wants to do before starting a family. The middle child, Bettina, is finishing up a Masters in lmmaking at Columbia University.
"They spend a lot of time with the family in different areas. We try and programme it so we see them every two to three months – the unity is there although each one is doing a separate thing," says Kadoorie.
The Kadoorie family has always been close. In fact, Lawrence Kadoorie and his brother Horace were so close that they had only one bank account, says Michael. Another thing Kadoorie picked up from his father was a fascination with cars – he calls them "motor cars", which lets you know that we are not talking budget vehicles. Michael was a young director in 1976 when it came time to change the hotel's fleet of green Lincolns, the brand carrying Ford's top models. Rather than replacing them with more Lincolns, his father suggested Rolls-Royce. It initially seemed a bold and expensive move, but Michael did the maths and was surprised by the result.
"We found there was only a 20 percent difference. Why? Because a Lincoln had to have a steering change from the left to the right. And there was a 20 percent surtax – it was a Commonwealth Preference tax. For Rolls-Royce it was seven percent rather than 20 percent. So we went to Rolls-Royce and since then we've only had Rolls-Royce," says Kadoorie.
That Rolls-Royce tradition is going strong – The Peninsula Hong Kong has a fleet of 14 Phantoms. And on the top floor of the iconic hotel the China Clipper lounge is testament to his other great passion – flying. Kadoorie oversaw the selection and installation of all the exhibits including an original Clipper engine, a propeller and the instrumentation.
"Some people like horses, some people like other things. Flying is something I've loved and met a lot of interesting people through," says Kadoorie.
He's looking forward to the latter part of the year when the 150th anniversary celebrations get underway and hopes they will give a lift to Hong Kong. Tourism is critical to the city and he admits that Hong Kong hasn't been as welcoming to mainland visitors as it might have been.
"Many years ago when Japanese tourists were travelling for the first time and coming [to Hong Kong] we had to adapt and they had to adapt. There is to be some accommodation that if you are not a seasoned traveller it is all new. We should encourage people to come here," says Kadoorie.
How best to entice tourists to Hong Kong? He is full of praise for the first ever Formula E Hong Kong ePrix, which is planned for the Central Harbourfront in October. And before we know it the conversation has shifted back to one of his favourite subjects – those marvellous motors. Kadoorie certainly makes running a hugely successful business look like a lot of fun.
[PDF url=http://www.hongkongkate.com/wp-content/uploads/2016/06/P62-69_kadorrie.pdf]