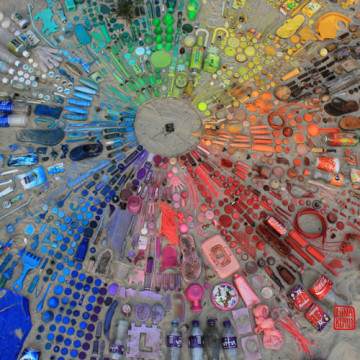 The medium is the message for green artists
— June 23, 2014
A small group of artists are hoping to inspire change in Hong Kong's attitude towards the environment.

They are all environmental artists, a small band who seek to deliver a green message with their work. Monti Lai Wai-yi paints using the pigment of leaves, Benjamin Hao Lap-yan creates art from soil and liina klauss (who prefers to render her name entirely in lower case) collects rubbish to use as her colour palette.
Eco-art – the use of found materials to create something new and raise awareness about the environment – is still in its infancy in Hong Kong, but the small group of artists believe that despite the challenges, their positive social footprint is growing.
Hong Kong came as a shock to the German klauss when she arrived in 2007. She had been working as a fashion designer in Berlin and her first trip to Shenzhen was a window into the rapidly increasing cycles of fast fashion and consumerism.
The birth of her son soon meant a change of lifestyle, and since her husband had a secure job, klauss was in the fortunate position of being able to carefully choose what she wanted to do.
"Did I want to continue to do fashion and be part of this cycle of production or do something closer to my heart that I see as more meaningful? The moment I made the decision, I felt so much more at home," she says.
The turning point came in 2011 when klauss and her family were camping at Tai Long Wan on Lantau. Dismayed by the amount of rubbish that washed up on shore and became caught in the trees close to the campsite, she began gathering armloads of the material.
Creating something from nothing was not new to klauss – in Berlin she had created artworks from old books and newspapers – and she began sorting the rubbish by colour and then size.
After assembling her "colour palette", she laid out an abstract picture on the sand with the material, took a photograph of it and posted it on social media, hoping to raise awareness about the rubbish washed up on our beaches.
"The message in itself is enough. I think the trash is strong enough a message," says klauss.
Today the rooftop of her Lantau home is filled with rubbish collected from the beach. It is an assortment of flip-flops, plastic toys, glass medicine bottles and even a few police hats from China, all faded by the sun. The rubbish is clean – thanks to the sea – and she sorts it all by colour and size. She has created art on beaches all over Hong Kong and, most recently, in Taiwan. Again it was a family affair, camping on the beach in Kenting National Park. Four green groups from Taiwan joined in, with participants helping to collect and sort the rubbish.
Although klauss knew that plastic and waste is carried over long distances by ocean currents, she was still surprised to find rubbish from Hong Kong, travelling all the way to the shores in Taiwan.
"The artwork stayed there for the whole weekend and reached perhaps 200 people. And the pictures will travel the world," says klauss.
Her eco-art isn't limited to beaches. A new project – "lost'nfound" – has enabled her to bring rubbish and her message to the city.
First exhibited on the Stanley Promenade as part of the Ocean Art Walk in April, it consists of a self-styled hawker stand filled with colour-coded rubbish that, from a distance, looks convincingly like a small shop.
"People think it's a shop and they can buy something, then they come close and see the labels don't have prices on them but have words like 'responsibility' and 'awareness'," says klauss.
Anyone interested in taking something from the "shop" is asked to write what the word on the "price tag" means to them. Klauss collects the payment receipts with handwritten environmental messages and plans to display them later. The hawker-style stall has attracted the attention of a wide audience, including a local fisherman's wife who told klauss that she has always reminded her husband not to throw things overboard.
"I can see an increasing awareness in local people. Everything matters – this talk with the fisherman's wife, she makes a difference by telling her husband," says klauss, who gives talks in schools and works closely with Plastic Free Seas, a local NGO.
She hopes to find more places to exhibit her lost'nfound project and is eyeing space at the PMQ complex in Central and Clockenflap music festival.
Cutting through the red tape in Hong Kong is time consuming, but she has partnered with Ocean Park to showcase lost'nfound as part of the park's environmental awareness campaign, Blue Matters, that runs until mid-July.
Environmental artist Monti Lai Wai-yi says the bureaucracy involved in exhibiting in Hong Kong is a challenge. Having studied at Aalto University in Helsinki, Finland, she developed the attitude to not ask for permission and to just go right ahead and create art wherever and whenever she wanted.
Once, Lai created a large styrofoam stamp with the print, "smile : )", which she used to leave marks on the snow. Rather than being reprimanded, she was encouraged by the Finns who were happy to enjoy a lighthearted moment in the middle of the long winter.
Here, however, there are limitations. "Getting permission to do something is not easy and most people are too busy to go through the process. It's the main thing holding back environmental art here," says Lai.
Nature has always been an integral part of her life. She grew up in the New Territories and lived with her aunt, a farmer.
"After school I didn't go to the shopping mall. I would play outside on my bike, chase birds and help with the farming. The natural world is in my blood and when I create art I bring this into my work," says Lai.
Her first outdoor exhibition was in 2004 at Kadoorie Farm and Botanic Garden, and she has been hooked ever since.
When she returned from her studies in Finland in 2010, Lai was appointed the artist in residence at Lingnan University and, as she cast about for a focus for her work, she took a walk up the hill behind the university. Inspired by the varied colours of the leaves, she collected the foliage and ground them to create a pigment to paint with.
"Collecting the leaves, grinding them with a mortar and pestle, it was a mindful process – that's why I don't use an electric blender," says Lai.
"Leaves as Words" is a participatory project in which she encourages people to create their own pigment from leaves and use it to write messages on postcards. She collects the participants' addresses and, after the event, sends the postcards out at random.
"That way you are getting a green message about nature from someone you don't know," says Lai.
She has also used home-made leaf pigment to send a political message about the development plans for the New Territories. "One Square Foot" is an interactive installation made up of square-foot tiles – the unit used to measure Hong Kong flats – that are covered in leaf pigment to highlight the impact the development is having on the natural environment.
Benjamin Hao Lap-yan, 26, also uses the natural environment to deliver his message. Inspired by a month-long artist's residency in Iceland where he became aware of the variety of colours of the soil, he began collecting samples on his return to Hong Kong. He has 25 soil samples from all over the city, ranging from yellow to milky brown, red and even pink.
"So many people in Hong Kong came as refugees from China or elsewhere, they don't have a sense of belonging. The soil gives us that sense of a motherland, of belonging," says Hao, who mixes the soil with rice powder, then shapes it into cubes for display.
Another of his projects involves collecting a local plant, boiling it and blending it to a paste to form sheets of paper. More recently, he has been collecting the leaves and flowers from bauhinia and sweet olive trees to make aroma infusions.
"It's art with a sense of smell. I believe a culture and people are strongly influenced by the nature around them, and I want to discover and record what is unique about the nature of Hong Kong," he says.
Although most local artists are focused on either traditional art forms such as painting or computer-generated or multimedia art, Hao believes there is a growing awareness about nature and the chances it offers for expression.
Original link: SCMP