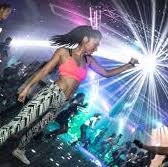 Rise and shine and rave
— December 18, 2016
Daybreaker dancing is an early-morning dance party without the drugs or the drink. Morning's when we're most optimistic, explains global movement's founder Radha Agrawal. In Hong Kong, it's got competition

A DJ is pumping out tunes to a packed house and the sweaty crowd is dancing wildly, their arms in the air. It looks every bit like a big Saturday night on the dance floor at a hip club, but it's not. It's almost noon on a Sunday – and no, this party crowd hasn't been going all night. They've had their beauty sleep and didn't start dancing until 9am.
Welcome to Daybreaker: a pop-up disco for the health conscious. It's a global movement that began in New York in 2013 and has spread to 16 cities around the world from Toronto to Sao Paulo. Hong Kong had its very first Daybreaker event in October and there are plans to make it a regular fixture.
Daybreaker is the brainchild of Radha Agrawal, who describes herself as a long-time entrepreneur and "community builder", and co-founder Matt Brimer. They were both fed up with the New York nightclub scene, which was focused on alcohol and the latest designer drugs.
"We couldn't find anywhere you could go to connect with [the] community. Clubs were full of mean bouncers and everyone on their cell phones, there was a level of judgment. It was a disconnected experience. We wanted to create a safe space where people could let their hair down and dance," says Agrawal.
And so the idea to create an early-morning dance party without any drugs or booze was born. The events are usually held on a weekday morning – Hong Kong's Sunday morning event was an anomaly – and are a mix of fitness class and dance party.
Why first thing in the morning? Agrawal says this is the time when we are most optimistic. The sun has just come up and the new day is full of possibility.
"At night we are more tired. A lot may have happened in the day, you're tired, your boss may have shouted at you, and your energy is low. In the morning there is the excitement to get your day going and wipe the slate clean," says the 37-year-old.
The Daybreaker movement seems to have inspired some similar local groups: First Light , a 7am disco in the dark basement of a Sheung Wan building which launched in October, and Jousun Sessions , which had its first morning dance and yoga session at Sun Yat Sen Memorial Park in Sai Ying Pun earlier this month.
Gert Jan Mattens was inspired to start First Light after learning from Belgian friends about a morning party in Brussels called "Wake Up Brussels" and discovering similar concepts in other cosmopolitan cities such as Berlin, Paris and San Francisco.
Every other Thursday morning, First Light Cocoon is held from 7am to 8.20am at Premium Sofa Club in the heart of Sheung Wan. Most of the attendees are aged 25 to 45, about 70 per cent female and all young professionals, Mattens says.
He describes a typical First Light event: "You enter the space and get acquainted with its setup. We turn off the lights. The DJ starts spinning. It's incredible what happens when you dance when people can hardly recognise you. You're free of inhibition, you're in your own sacred space while feeling completely liberated. Your body is reset after. We put candle lights or dim lighting to transition back into what's after, whether it's a shower at your gym or going straight to the office.
"First Light always comes with some fitness/wellness aspect, whether it's a gong sound healing, guided meditation or warm-up movement therapy. It's typically attended by people who seek to break their routine and like to do something unconventional."
Agrawal has researched the science of why the early morning dance-offs feel so good and has come up with a name for it: DOSE, based on the four chemicals released in your brain when you dance with a big group of people.
"The D is for dopamine, you get from a sense of accomplishment; O is for oxytocin, the cuddle hormone you get from intimacy, from dancing and holding someone's hand; S is for serotonin, which increases your sense of self-worth; and E for endorphins, which is also known as the 'runner's high'," she says.
The focus on this being a community event is critical. There is plenty of research that shows that the key to health and happiness is feeling connected to people and part of a community.
"I just read a paper that now one in four Americans report they have zero friends they can confide in. That number has tripled over the past 30 years – it's enough to make me dedicated to helping people get connected," says Agrawal.
For the Hong Kong event, Agrawal teamed up with actress, singer and yoga teacher Rosemary Vandenbroucke and model turned fashion show choreographer Walter Hau, who produced the event, as well as Calvin Klein. Vandenbroucke joined a Daybreaker session in Los Angeles earlier this year and became convinced it would work well in Hong Kong.
"Hong Kong can be really stressful and we have a tendency to unwind in really unhealthy ways. And a lot of people's morning routines are really monotonous and they don't connect with anyone, this is a platform for everyone to get together and thrive," says Vandenbroucke.
The Hong Kong event was staged at PMQ and began with 100 people joining a one-hour session that was divided into four 15-minute slots of yoga, capoeira, body combat and then 1990s aerobics.
Then another 300-plus people were invited to join the dance party section, 80 per cent of them were women. In addition to a DJ blasting out the music to keep the energy levels high, there was a horn section playing live music, professional dancers up on stage and bubble machines.
The Hong Kong event was invite only and targeted at "wellness influencers", those in the wellness industry, but Vandenbroucke says the next event, which will be held just after Lunar New Year, will be opened up with 50 per cent of the tickets available to the general public.
Vivienne Tang, editor of lifestyle magazine #legend, loved the party atmosphere of the Daybreaker Hong Kong event. "It was a little like clubbing, but a healthy version of it. There was a Saturday night vibe, everyone was in a good mood, it was a lot of fun," says Tang.
Agrawal says the Hong Kong event began with a little trepidation, as invitees had no idea what to expect and were a little wary, but they soon warmed up with the support of the MC, dance instructors and performers. The MC told people to let go of their inhibitions, and anxieties, and to connect with each other.
The Daybreaker movement seems to share some of the ideals of the 1960s hippie movement – being in a loving, caring, sharing, non-judgmental community – but Agrawal is keen to stress that while the message is similar this is a crowd of young professionals, not hippies in the unwashed and unemployed sense.
"It's taking its ideals from the hippie movement – a progressive, mindful community – and is in part inspired by the Burning Man experience," Agrawal says, referring to the annual art festival in Nevada's Black Rock Desert.
An estimated 350,000 people have attended Daybreaker events and the community keeps growing through word of mouth. Agrawal is in talks with people in Miami, Philadelphia, Austin, Singapore and Bangkok to bring the dance event to their city.
Over the course of three hours, she says she enjoyed watching the Hong Kong crowd move from being fairly cautious and conservative to jumping up and down and crying. Yes, crying.
"Every single Daybreaker experience people cry. It's a journey – as city dwellers we become hard and wear a lot of armour," Agrawal says. "When you dance as a group you begin to break down those barriers and let in love and energy, it's a cathartic experience."
Original Link: SCMP