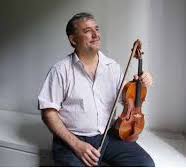 Violinist Leo Phillips
— January 24, 2017
The musician, who led the orchestra on the soundtrack to the film Philadelphia, has performed as leader or concertmaster with more than 30 orchestras 

CHILD'S PLAY I don't think I picked up the violin so much as had it thrust under my chin. Both my parents were very keen. My father is an artist, my mother is a music teacher and my sister plays the cello. I started pretty young, when I was five or six. It's such a physical thing playing a string instrument that I think it's good to start young.
Towards the end of my school days people were already asking me to play professionally. I played the Mendelssohn concerto in my school's centenary concert and one of the other parents came to my dressing room and said, "Give me a call in a day or two, I may have something for you." I was very excited by this burgeoning career opportunity so I did give him a call and he said, "I often get students to help me shift boxes in Harrods."
But soon after that I had a stroke of luck – my sister's cello teacher was Johannes Goritzki, who ran the Deutsche Kammerakademie, so I ended up going to Germany a lot to play at the Kammerakademie and then I joined another German orchestra. I did a lot of travelling – it was terribly exciting aged 18 or 19 and doing all that.
A FUNNY THING HAPPENED … After a couple of years of that, Felix Wurman, who was the cellist in Domus, a wonder­ful group that he put together, sat me down and said, "You have to take your playing more seriously and do a bit more studying." So, in 1985, I went to Chicago for a year to study with (violinist and teacher) Shmuel Ashkenasi. In Chicago, I also got into improvised comedy.
The stuff I learned from that, especially related to chamber music, was incredible – the idea of co-operating. One of the first rules you learn as an improvise person is that you bring a brick to a team not a cathedral, so you can subtly alter things in various ways. It's all about patterns and connections that are hidden from the audience.
I returned to the UK and again had a stroke of good fortune – my sister had been playing as an extra with the Chamber Orchestra of Europe (COE) and they were looking for an emergency violinist. She mentioned I was free and, so, I went on the tour. It was revolutionary to me – I'd not played in a great orchestra and COE is one of the greatest the world has ever known, it was amazing. They asked me to join the next tour and, two months later, I was a member and then I became principal second and that led to other things.
NO STRINGS The principal trumpet at COE mentioned me to the BBC National Orchestra of Wales. I was 23 or 24, very young, and they invited me to come in and lead in Cardiff. David Atherton was conducting and, the week after, the phone rang from Hong Kong, where Atherton was at the time the principal conductor (of the Hong Kong Philharmonic) and he asked me to go there. Then the phone just didn't stop ringing with all this guest leading work.
It's actually quite a tricky job because, unlike going in as an extra to an orchestra where everyone is tremendously friendly to you, if you go in as the lead concert master, especially if you are just a guest, people tend not to talk to you in the same way and it can be quite a lonely job. The guest leading was often abroad – I was out of the country more than eight months of the year. That went on for about 15 years.
LOVE OF MY LIFE Chamber music is the great love of my life – it's what I much prefer. Some of the big romantic symphonies never really got to me in the same way. They can make you feel as though you are a really small part of an enormous machine, whereas chamber music is so immediate and massive and intense. In order to support the chambers, I was doing a lot of guest leading and I was doing film sessions in London – I played on the score of Gladiator (2000) and I led the orchestra for Philadelphia (1993).
BANGKOK NIGHTS One of the things about starting young is that people think of you as a violinist. It was very stuck in my mind that I was perceived as a violinist and I wanted to move away from that and try something new. I wandered around for a while and, in 2002, I found myself in Bangkok, where there was a young chamber group run by a guy who asked me to teach them. I went around, gave them some coaching and they said, "Can you come back tomorrow?" Then I was asked to do a bit of conducting and more teaching, and it all unfolded from there.
SCALES MODEL I've been based in Bangkok since then, but I still go overseas a lot to teach. I love teaching – I like the reactiveness of it, to be able to show things without the stress of concerts, which can be quite heavy duty sometimes. It was only when I started teaching myself that I realised how much I'd learned from the teachers I'd studied with – Ashkenasi as well as Sándor Végh and Dorothy DeLay.
I've matured more as a musician in the years since I've been teaching. I've just finished a little book of scales, I've given it to a few people to have a look at and hope to have it published. People are encouraged to learn scales as a robotic, automaton thing. One of the scale books that prompted me to write this said that scales should be played using the whole bow and an even tone. I think this is absolutely not the approach – I think scales, just like a piece of music, should be played as if they are the greatest piece of music in the world and played with phrasing, direction and narrative. In that way, every bit of playing we do feeds our music sense.
So often youngsters, particularly in Asia, say, "How can I play with more emotion and feeling?" It's not to do with that. You can learn quite simply by phrasing scales, and it becomes part of how you approach a piece of music.
Original Link: SCMP