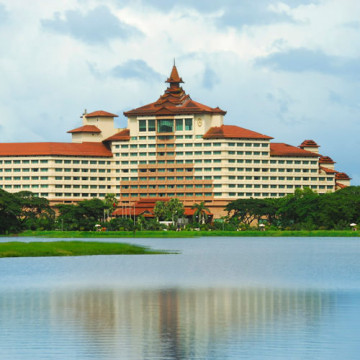 Hotels in Yangon
— March 12, 2013
Myanmar might be on the hot list of places to visit, but visitors should be wary of touching down in Yangon without a hotel reservation.

The surge in visitor numbers in the last few years has vastly outstripped hotel room supply, and the city is struggling to meet demand.
It's an issue that's not going away any time soon — the major hotel shortage is expected to continue for the next five to 10 years.
Visitor numbers have been steadily increasing for some time. Between 2009 and 2011, international visitor figures grew about 25 percent each year.
Last year saw a 54 percent increase in arrivals, as the country undertook economic and social reforms.
What does all this mean for travelers?
Not only do they need to book well ahead, they've got to be prepared to pay comparably big bucks for a room. Two- and three-star hotels are charging more than US$100 a night for average rooms. Rising accommodation costs Shwedagon Pagoda, one of Yangon's most popular tourist attractions.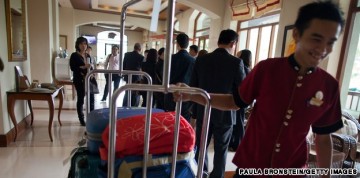 Average daily rates increased 350 percent from 2007 to 2012, according to a report by Jones Lang LaSalle Hotels.
The company's senior vice president Andrew Langdon has direct experience. When he visited Yangon in 2011, he stayed in a four-star hotel and paid US$70 a night. He returned in December 2012 and paid US$260 for the same room.
"In the space of about 12 months the rate had gone up almost 400 percent — and it's going to go higher," says Langdon.
It's a simple matter of supply and demand. In 2012, hotels were running at an average 70 percent occupancy. This year, occupancy is expected to run at 80 percent, according to Jones Lang LaSalle research.
Meanwhile, last year's room rates were up 50 percent on 2011. That will likely increase another 20-25 percent this year. Myanmar's Ministry of Tourism estimates there are 8,000 hotel rooms in Yangon, of which 1,500 to 2,500 are of international standard. The few name brand hotel groups that do have a presence are almost exclusively Asian — large American and European hotel groups have been kept out by strict economic sanctions.
Thomas Henseler, general manager of one of Yangon's most exclusive hotels, The Governor's Residence, recommends guests book at least six months in advance.
"Last year was extremely busy with average occupancy for the year going up from 55 percent in 2011 to 75 percent in 2012," says Henseler.
Among the current crop of big brand hotels are the Parkroyal from Singapore, The Chatrium Hotel from Thailand and the Sedona Hotel from Malaysia.
Hong Kong-based Shangri-La Hotels & Resorts is one player that's ahead of the game. In 1996, the group opened a 22-story property in Yangon's central business district — Traders Hotel Yangon. A year later, the group built two 21-story towers near Kandawgyi Lake, intended as serviced apartments. The project was put on hold as the Asian financial crisis struck, but last year work restarted on the project, which will put 240 two-, three- and four-bedroom apartments on the market.
No room at the inn? Build more inns
This isn't Bangkok. Showing up and winging it isn't wise in Yangon. "The Shangri-La apartments are scheduled to be completed in mid-2013," says the hotel's general manager Philip Couvaras.
The serviced apartment market is strong, according to Langdon. Yangon has only a handful of quality serviced apartments and they're running at 100 percent occupancy, with a waiting list of more than 100 people.
"A friend told me that there are lots of new expats being sent there, they're in their early thirties and they're being given a US$10,000 per month housing allowance because that's what it costs to rent anything decent there," says Langdon.
Other upcoming hotels include the 270-room Centrepoint Towers Hotel, set to open in April, and the 100-room Nawarat Hotel in Hlaing Township, which is also scheduled in the spring.
Vivienne Gan, public relations vice president at Langham Hospitality Group, says the group is looking at a number of sites in Yangon.
But hotels take time to build — three years on average — and even those groups that manage to buy the land soon or do a joint venture hotel still won't be up and running until 2016 at the earliest.
The message to tourists is clear: book your accommodation well before you fly, especially during the peak season from November to February.
There have been reports of unprepared visitors who have found themselves on the streets or knocking on monastery doors, but this isn't only ill advised, it's against the law. International visitors are required to register with local authorities before they arrive at a private residence.
Myanmar Travel agent Nway Nway stresses the importance of booking a hotel room in advance.
"In truth, we don't allow our tourists to stay in local houses or monasteries for their own security," she says.
Original Link: CNN Travel