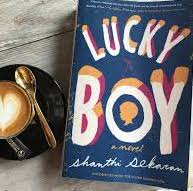 US immigration debate
— February 22, 2017
Shanthi Sekaran – herself the child of immigrants to the US – dramatises a hot-button issue with her story of Soli and Kavya

Lucky Boy
by Shanthi Sekaran
G.P. Putnam's Sons
Lucky Boy is a tale involving the immigrant experience. And it's an exploration of motherhood, fertility and racism. It's also a compelling and relevant read, given all that's happening on Planet Trump.
Solimar – or Soli – and Kavya are both immigrants to the United States, but from different sides of the tracks. Soli is an undocumented Mexican and Kavya is an Indian-American living a comfortable life in Berkeley, California. Their stories converge over the "lucky boy" of the book's title.
The burning question at the novel's core is this: how can a woman justify taking another's child as her own when the birth mother is willing and able to look after that child?
To answer that question, author Shanthi Sekaran – herself the daughter of Indian immigrants to the US – rolls up her sleeves and gets down to the nitty-gritty of relationships. No detail is too small to note. It's getting under the skin of both people and place that is the real joy here.
The chapters alternate between Soli and Kavya's perspectives. We are introduced to Soli as an 18-year-old itching to leave her small Mexican village, and then to happily married Kavya, swanning around her trendy neighbourhood. As we switch back and forth we learn that Soli longs for a better life, Kavya a baby. And then we discover how far they are prepared to go to realise their dreams.
Soli is cheated by the man her father pays to smuggle her across the border and escapes a dangerous situation only to find herself in another and then, briefly, in love. When she shows up on her Berkeley cousin's doorstep, she is penniless, filthy – and pregnant.
Kavya, meanwhile, turns out to be less than cookie-cutter perfect. She has been disappointing her parents since she was a child and her relationship with her mother, although close, has an edge. Her attempts to conceive put a strain on her marriage with Rishi, who is also Indian.
It's the minutiae of tracking the cracks and strains in this relationship and the way Kavya and Rishi keep coming back together to support each other that makes her a fully realised and likeable character. When fertility treatment doesn't work, she sets her sights on adoption and her mother flips: "This baby could have any kind of problem. Drug addiction. Aids. Psychotic behaviour."
As we switch back and forth between the two women, we are drawn into their worlds: their pain, fears and dreams. It is possible to sympathise with and understand both sides of the burning question. That both women lay claim to Soli's son, Ignacio, tells of how deeply each loves the child.
o Soli, the little boy is "Nacho" and she straps him to her as she goes about her daily chores cleaning the home of the Cassidy family.Life is peaceful, until an accident brings her to the attention of the police. Her undocumented status lands her in detention and Ignacio is put into foster care.
To Kavya the boy is "Iggy" and she falls for the child as soon as she meets him. She knows there are no guarantees when he comes to live with them and that the arrangement is temporary, but she can't hold back and comes to see Ignacio as her own. Even Rishi, who is more comfortable working in his Silicon Valley office, is drawn in and comes to see himself as a father.
They are both blind to the obvious. It's clear to the reader that this is a car crash waiting to happen, and yet they can't stop hoping and then believing that not only can they provide a better life for Ignacio but also that they deserve him more than his own mother does.
Meanwhile, Soli is going through hell in detention. She is beaten, raped and forced to drink her own breast milk to avoid starvation. What keeps her going are thoughts of being reunited with her son. The pace picks up and the book combines the unputdownable quality of a thriller with emotional depth.
Some of the story's lighter moments are in the gentle send-ups of the upper-middle-class mothers of Berkeley. When a child falls over in the playground and grazes her knee, her mother tries to console her with a kale leaf. But the portrait of Berkeley is far from flat. It's a liberal town whose residents mostly embrace diversity and are sympathetic to immigrants, even illegal ones, but, when you have the privileged rubbing up against the desperate, there is bound to be conflicts.
Soli's treatment in detention centres – the brutality, unfairness and difficult choices she is forced to make – will likely shock readers. It's not enough that she is separated from her son – she is then made to suffer daily indignities until she is a shell of a person.
This is the sort of novel that will do well as a book club read – there are plenty of issues to debate over a glass of red, particularly as President Trump keeps promising to build that wall.
Original Link: SCMP