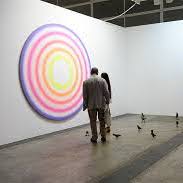 The last post
— February 28, 2017
Intelligence Squared's cultural debate will look at the pros and cons of social media and its place in the evolution of the way people look at art

March is art month in Hong Kong, and to coincide with the opening of Art Basel, Intelligence Squared's annual cultural debate will be held on March 23. The subject: Social Media is Killing Art.
It's a dramatic statement, but is it true? While many decry social media for the general dumbing down of culture, you'd be hard pressed to find anyone in the art world, whether artists or gallerists, who can't see an upside to social media.
Stephanie Kelly is director of the Affordable Art Fair, which holds 230 fairs in 14 cities, including Hong Kong. She is adamant that rather than killing art, social media is democratising it.
"Look at the evolution of art, from caves to the church to rich merchants to museums where the public get access to it. And slowly, more and more people are getting access to art with more museums. It's the next step in the democratisation of art," Kelly says.
Although she doesn't believe that social media will ever replace being able to see art "in the flesh", she does see it as a valuable way of engaging with a new audience.
"A lot of people feel intimidated by the art world and think that you need to be a millionaire to engage. People are now starting to believe that they can be a part of that tribe. You can go to Art Basel, take a photo and feel like you have got ownership, virtual ownership," she says.
Claire Hsu, who co-founded the Asia Art Archive in 2000, admits she's not a big fan of social media, but as part of an organisation that is dedicated to making knowledge free and accessible, she can't ignore it.
"The beauty of social media is that you can create content for specific communities. We have two Facebook sites – one for educators and students, and one for general audiences; Instagram for lighter content and to target the younger generation; and WeChat for getting into China," Hsu says.
She warns that the bite-sized information shared on social media only allows for superficial engagement, but that if it is seen as an entry point to deeper research, there is benefit.
"We are living in a very different reality where we are constantly having to document things to make them real. It's very distorting. But you could say that, perhaps for people who don't have a chance to go to Art Basel, it means they can look online," Hsu says.
Catherine Kwai, the founder of Kwai Fung Hin Art Gallery on Ice House Street, recently returned from a trip to Europe, where she visited museums in Paris, Vienna, Milan and Zurich. She stood to one side and watched to see how people responded to the art, and whether they took photos. She was surprised to see that very few did.
"In Asia, people are so crazy about taking photos and letting you know where they are. A lot of people who go to Art Basel and other art fairs don't go to understand the art. They want to take a photo and immediately post it on social media to impress their friends. It's an identity," Kwai says.
That said, Kwai – who, incidentally, did get her iPhone out to take a few snaps in the European museums as an aide-memoire – is currently advertising for a social media editor for her gallery. She believes you can't ignore its potential for promoting artists and shows.
Magnus Renfrew, former Art Basel Hong Kong director and founder of ARTHQ Group, recalls visiting European galleries in his youth at a time when there were signs telling people not to take photos.
"It was supposed to be a place of quiet contemplation and taking photos might interfere with that. In Asia there has been less of a culture of museum going because there is less of an infrastructure. It's a newer phenomenon," Renfrew says.
He says some art works lend themselves more easily to being shared on social media, particularly ones with geometric compositions, strong colours or with the square format favoured by Instagram. And he acknowledges claims that the medium has encouraged artists to create work in formats favourable to social media.
"There is the possibility that because works are more easily shared in a certain format that it may consciously or subconsciously affect what people produce," he says.
Kelly recently watched a TED Talk that raised the concern that if art is led by social media, there is a risk that artworks will be created to fit an algorithm.
"Art going into an algorithm is a potential danger, whether it's artists creating crowd-pleasing art or collectors not being exposed to something outside their remit," Kelly says.
Social media may or may not be changing what artists produce, but there is no doubt it is changing the industry's business model. Particularly in high rent cities such as Hong Kong, some galleries can't afford a bricks-and-mortar shop space, and are instead opting for a smaller offices with viewings by appointment, and having a visible presence on social media and at art fairs.
"Take the Unit in London, which just focuses on Instagram shows and has done incredibly well. And there are some young and emerging galleries in Kowloon that are moving towards that. Blink Gallery in Kwun Tong does fairs and then a lot on social media and electronic direct mailing," Kelly says.
Social media's next big impact will be on the artists themselves, says Kelly, enabling them to disrupt the business model and go directly to consumers. "The rules are changing; people have to get on top of things. It's a great opportunity for artists," she says.
It's also worth noting that social media is used differently by different people. While galleries use it as a key marketing tool and art lovers use it to post snaps of favourite pieces, artists take the opportunity to share their creative vision.
"I enjoy following artists [on social media]. Then it's more about looking into the process and what inspires them. It's a great way of looking into the mind of an artist," Hsu says.
But do people who post art on social media actually buy art? Kelly says most of the people who attend the Affordable Art Fair in London do so to buy art, but in Hong Kong most people come to learn about art.
"It's enabling people to say, 'I love art. It's part of my personality and lifestyle.' They might not buy the first year, but the second or third year they may come with a budget. We need to cater for both audiences – those who would more likely take a photo of art than buy it, as well as create a quiet environment for people who want to view art and build a relationship with the gallery," Kelly says.
The bottom line is that social media isn't killing art, but its limits and uses should be recognised. Hsu thinks of it as the first step towards getting people to look at the Asia Art Archive's content, but it's not the big picture. And for Renfrew, it's a "force for good", but only as part of "a range of different ways of getting different information about what is happening in the art world".
Gilles Dyan, founder of the Opera Gallery, says the promotional potential of social media can't be ignored. "Ultimately it gives internet users the desire to know more about us and visit our galleries, because in the end nothing will replace the direct relation with art," Dyan says.
Kelly agrees that technology can't replace being face to face with an artwork.
"Artwork should speak to you. Social media isn't yet able to replace that emotive response you get from seeing artwork in the flesh," she says.
Original Link: SCMP