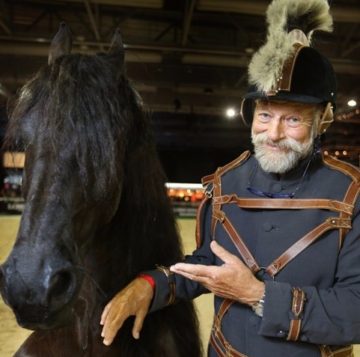 The Ringmaster
— March 5, 2017
Born in northern Germany, the horse lover who spent his early life travelling around the world before finally settling down in Canada, reveals why he changed his name from Peter to Pedro and why he likes to dress up in quirky outfits

Born to ride I was born in northern Germany, in Hanover, where the Bavarian horse breed comes from. It was farm country and we used to ride a bit as kids with the farm horses. When I was older I took some riding lessons. I always tried to stay close to the horses, never professionally, but it was a feeling I had for the horses. I was a banker by training and became one of the youngest bank managers in Germany. Then I was accepted to go to university to study economics. I quit my banking career, but before starting university I went to Brazil for three weeks with 150 Bavarian folk dancers – I just went along for the ride. I enjoyed Latin America and Brazil so much I changed my name from Peter to Pedro and continued travelling around. After five months I found out my mother had died from cancer so I flew home. After a few months back home, I continued travelling around the world.
Courses for horses I went to North America and a place called Spruce Meadows, in Calgary, a large equestrian centre where they had Bavarian horses. The riding master came from the place where I grew up and said, "I can use you – you speak German, you know horses." That was the start. I did everything from cleaning the stables to announcing in German, Spanish and French. I started setting up the (showjumping) courses for events – this is where the German eye for detail came in. I worked under one of the best course designers at the time, Pamela Carruthers, and learned a lot from her. And then I travelled for nine months around Central and South America and did tour guiding. I would do that each year and then return to Canada in the summer. On my third year back at Spruce Meadows, in 1979, I met my wife, Janet; she is a horse-riding trainer from Holland. I knew straight away she was the one. When I left Spruce Meadows that year – I was hitchhiking down to California and on to the Caribbean – I told her that when I got back and got my first pay cheque I'd like to take her out to a nice restaurant. I did and the rest is history.
Jumping around In 1983, finally, I settled in Canada and organised an international trade fair. We made an agreement with Equitana, the largest fair for equestrian sport, and I would manage Equitana Canada. In 1984, Janet and I got married in Hawaii. There were just 12 of us, close family. While I was working at Spruce Meadows I travelled all over the world and visited other (showjumping) events and picked up ideas and brought them back. I went to Rotterdam, Hickstead, Dublin and other shows. Europe has tradition, we didn't. But tradition can weigh you down; it doesn't allow you to improve if something new is possible. We added the North American ingenuity and flexibility to our own tastes and that's how we became the No 1 show venue in the world (in 2001/02 and 2003/04). Spruce Meadows was a very special place for me. I was the owner Ron Southern's right-hand man for many years and learned from him what I couldn't have learned at university in 100 years, about communication, business, sales and respecting people.
Into the ring In 1985, just before my third trade show, I had immense pressure and stress. I started working at 7am each day and would have a meeting with my boss in the evening. By then, Janet and I also had a baby – nine months exactly after our wedding night, German engineering. I loved my work, was very much involved, but one night, all of a sudden, I blacked out – I had high blood pressure. The doctor told me I had to take four weeks rest or I was risking my life. I had to change professions – it was fun, but it was too much and my body said no. I was sorry to leave Spruce Meadows. I got a job at a resort in the Rocky Mountains as a closer for timeshares. I started as a salesman, then became a sales manager and, after 18 months, I was business partner. After 10 years, I sold out of the company and started other companies. Then another (equestrian) family said, "We need someone to help with the communication between the riders and the judge and the TV. Can you come to three big shows a year and be the ringmaster?"
Strong bonds I have a special relationship with the riders. Many of them are second generation; I worked with their fathers. William Whitaker, I worked with his uncle (British showjumper and Olympian John Whitaker). My job is to call the riders and let them know when they must come in. In any sport, especially if it only takes a minute or so, it's all in your head. I try to assure them that if anything goes wrong I'm there for them. I make sure the riders are safe and on time. If a horse loses a shoe, I make sure it gets replaced and we move them down the line. Also a rider can fall off the horse in the ring and I'm at the gate and stop the horse. I have a special energy with horses, I can calm them. When I'm standing there, they feel there is a power there and they don't run me over too often. I've never been knocked down. I've done the last six Olympics for the International Federation for Equestrian Sports and I'm doing Japan (in 2020).
Dressed to impress I like to be there as a friend of the riders, to look after them, but they also have to respect me and I have to earn their respect. When we have live TV, I expect them to be there when I call them. On the other hand, if they have a problem with the horse then I will help them. It's always safety first. I get so much enjoyment, not just from working with the horses, but making people smile. I started dressing up for my role as ringmaster 30 years ago, when I came back from Hawaii with a pink tropical helmet. I put it on and the riders and the people loved it. From that helmet I went to wilder costumes and I have costumes now designed for me in Italy. Franco Dragone who designed the outfit I'm wearing (at the Longines Masters) in Hong Kong also designs for Madonna. When I dress up in different costumes it, hopefully, gets people more interested in the sport.
Original Link: SCMP