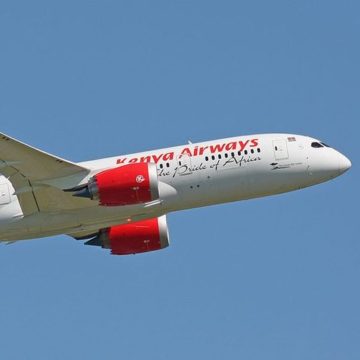 Flight review: Kenya Airways
— March 31, 2017
Flight review: Kenya Airways B787-8 Premier World

BACKGROUND
Kenya Airways took delivery of the first of six Dreamliners in 2014, and uses them for its major European and Asian routes.
CHECK-IN
I flew in to Nairobi's Jomo Kenyatta International Airport from Livingstone (Zambia) at 2150, transiting airside for flight KQ860, which was scheduled to depart at 2359.
LOUNGE
The Simba Lounge is new and has a pleasing décor, but although signposted from the airport's check-in/security area, it took a bit of finding if you're transiting from another flight (it's up an escalator near the spa). At 2230 there were 30 people in the lounge, which has a maximum capacity of 38; with some guests stretched out barefoot on sofas, it felt crowded and understaffed. The buffet selection was limited (lentils, spinach, beef and rice), but there was a full selection of beverages, as well as a range of newspapers and free wifi.
BOARDING
This was from Gate 19, a four-minute walk from the lounge, and boarding for business class passengers began at 2327. However, instead of crossing an air bridge, we were led down some stairs, along a corridor and across the dimly lit tarmac to the plane. No one greeted us as we boarded the plane and we found our seats ourselves. A minute later the cabin crew – aware that people were now boarding – took their spot at the door to greet passengers. (Staff later explained that the bridge had been broken for "about a month" due to a technical problem.) I asked for my jacket to be hung up and was offered a drink and newspaper and given the menu.
THE SEAT
There are 30 business class seats in a 2-2-2 configuration split between two cabins of 18 and 12. I was in seat 2A – a window seat in the forward cabin. The seat was firm and comfortable, detailed in shades of brown and grey, with excellent legroom and a generous central armrest. In addition to the usual overhead storage there was plenty of storage in front of me, with separate compartments for a bag and shoes, as well as a water bottle holder beside my elbow.
There were both USB and recessed power ports and a 15.4-inch touchscreen TV. The seat adjusts easily into a comfortable flat bed, and of course the Dreamliner uses "smart glass" instead of window shades, making for a more natural and gentle adjustment to changes in sunlight.
THE FLIGHT
Thirty-five minutes after take-off the meal was served – a choice of roast chicken, pasta or cold roast beef with chocolate mousse for dessert. As it was a late-night flight most passengers slept through the journey and it was a quiet flight. I had opted not to be woken for breakfast, but woke up just as it was being served and had the tea and fruit
The captain announced our descent to Bangkok and requested that all passengers going on to Hong Kong remain on board. Shortly afterwards a flight attendant returned my jacket, and seemed uncertain when I explained that I was going on to Hong Kong so wouldn't be getting off. We landed in Bangkok at 1305, and the pilot again asked that Hong Kong passengers remain on board; but at 1325, after the economy passengers had all disembarked via the business class cabin, he announced that all passengers would need to disembark and re-board the plane at Gate 8 in one hour.
After killing an hour in the transit lounge we re-boarded at 1430. The staff in the transit lounge explained that although Bangkok is only meant to be a "technical stop", meaning no disembarking, when the flight arrives early the ground staff cleaning crew aren't ready and everyone needs to get off the plane. The flight took off at 1507 – after two hours on the ground – with an estimated 2 hours 11 minutes to Hong Kong, during which a meal was served.
ARRIVAL
The plane landed at 1835 and was at the gate five minutes later – five minutes ahead of schedule. Immigration was smooth, and my bag arrived promptly on the carousel by 1900.
VERDICT
The flights themselves were smooth and the onboard service very good, but issues with the lounge and air bridge at the homeport, and the unexpected Bangkok transit, could have been dealt with better – addressing these slight hiccups by ensuring passengers are fully informed would keep everyone happy.
FACT FILE
DEPARTURE 2359
JOURNEY TIME 13 hours 46 minutes
CONFIGURATION 2-2-2
SEAT PITCH 74in/190cm
SEAT WIDTH 31in/79cm
SEAT RECLINE 176 degrees
PRICE Internet rates for a return business class ticket from Nairobi to Hong Kong in mid-May start from HK$16,384 (US$2,111) including taxes and surcharges
Original Link: Business Traveller