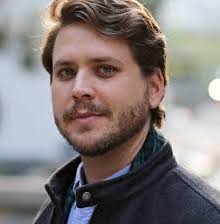 Moonlight producer on his HK thriller
— April 6, 2017
Andrew Hevia was a Fulbright scholar in Hong Kong when he bonded with fellow Star Wars fan Joshua Wong, with whom the Cuban-American is working on Dark Room, film about a crime that obsesses a witness

Andrew Hevia – co-producer of this year's Oscar winner for best picture – is developing a mystery thriller set in Hong Kong and hopes to start filming within the next 12 months.
Cuban-American Hevia first came to Hong Kong in 2015 on a one-year Fulbright scholarship and fell in love with the city.
"I wanted to spend more time in Hong Kong and having a project was a good excuse," Hevia says.
Fresh from his Oscar success with Moonlight, Hevia returned to Hong Kong in mid-March for Filmart, a major film financing forum, and to announce the project he's working on with local director Joshua Wong. The pair met at a coffee shop screening old Star Wars movies in 2015, within days of Hevia being in Hong Kong.
"He had just completed a series of commercials for Star Wars: The Force Awakens in Cantonese and said he wanted to make a feature film. He had a movie replica light sabre – clearly we had something in common," Hevia says.
Wong was born and raised in Australia and spent three years in Britain before moving to Hong Kong when he was 21. United by a love of Star Wars, Hevia and Wong fast became friends and spent a lot of time together pitching projects.
"We landed on a film that's set in Hong Kong that he will direct that we developed over the course of my Fulbright," Hevia says.
Titled Dark Room, the English-language film is about a British-born Chinese photographer who comes back to Hong Kong and accidentally photographs a crime, then becomes obsessed with solving that mystery.
"It's a very classic film structure – that single incident that forces you to revisit a moment and try to determine how you perceived it," Hevia says.
Raised in Miami, Florida, Hevia says during his year living in Hong Kong he realised the two cities have something in common – that many people living in Hong Kong are from elsewhere. This issue of originality prompted him to start a local film festival in Miami – the Borscht Film Festival – to tell Miami stories as a way to express identity and how the city relates to residents' identities.
Hevia thinks that Hong Kong shares some of those issues. He hopes Dark Room will be a movie that is authentic to the Hong Kong that he and Wong have experienced and that makes the city accessible to the outside world.
"It's a contemporary Hong Kong and over the course of the film our character, who is an outsider to Hong Kong, plunges deeper and discovers the complex layers of the city and different stories go along with it. It's a way to explore the city, but through a much more accessible field," Hevia says.
Commenting on the Oscars debacle that saw La La Land mistakenly announced as the best picture winner, Hevia says the moment was as confusing for him and the Moonlight team as it was for television viewers.
"It was surreal in every way imaginable. If you've ever had that dream where you show up for work unprepared like you're not wearing shoes or something – that dream, but Warren Beatty is there and Meryl Streep is watching in the audience going, 'wah'. It took me an hour to process that had even happened, and by then it was an after-party and there was caviar and champagne and you're thinking, 'I guess it did happen'," Hevia says.
Original Link: SCMP