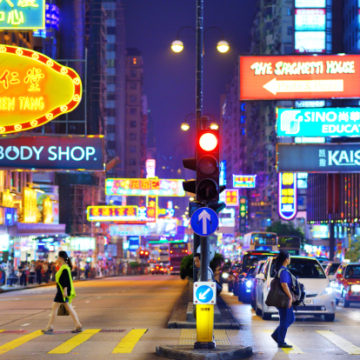 Hong Kong rents seen nearing bottom
— April 3, 2017
Realtors predict the city's rents will bottom out in the second half

HONG KONG — Retail rents in prime locations continue to fall from the lofty heights that peaked in 2014, but realtors here forecast they are likely to bottom out in the second half of the year. The rental adjustments are bringing about structural change — midrange brands are gaining more visibility and while rents in the core areas are still largely too high for small boutiques, the situation is looking brighter for them too.
"We have seen a dramatic turnaround in the fortunes of the retail sector. For as long as I can remember it's been a landlord's market and for the first time we are seeing what can be called a tenant's market," said Simon Smith, senior director of research at Savills.
Rents in shopping malls — favored for the sake of convenience by both locals and mainland Chinese, particularly during the hot and humid summers — have remained more stable than those for street-level shops, which have fallen about 40 percent from their peak.
Smith believes that the recent rental adjustment cycle has overshot in the prime street store segment and that rents are likely to bottom out in the latter half of the year.
"If you compare the economy today with eight years ago, rents have returned to those levels, but the economy is in much better shape. The rents don't reflect the strength of the fundamentals," he said.
Retail leases in Hong Kong are usually for a three-year period and most of the very expensive tenancies have now expired. Joe Lin, executive director, retail services at CBRE Hong Kong, expects rents to fall another five percent this year and then bottom out.
"We don't believe the rents will rebound quickly. Chinese tourists used to buy a lot of luxury products, now they buy more midrange products. Rents won't go up so high again without the luxury momentum," said Lin.
He said the city is undergoing a period of structural change. While the falling demand for luxury goods has seen high-end brands such as Prada, Ralph Lauren and Abercrombie & Fitch pull back from Hong Kong, affordable local brands have gained ground.
"Giordano and Baleno, both local fashion chain stores, have opened flagships in prominent districts. They couldn't have afforded to do this a few years ago," said Lin
Shopping malls are also seeing a change in tenants. During the so-called Golden Decade of the retail boom, malls preferred to have jewelry and luxury brands, but as those categories are no longer performing so strongly, the malls are inviting more food and beverage outlets and independent labels, said Lin.
Over the last few years, independent fashion boutiques have moved into revitalized buildings in industrial areas such as Lai Chi Kok and Kwun Tong. With business assured from the working population in the area, particularly at lunchtime, as well as lower rents, this has been largely a successful move. But Lin believes it won't be long before some take advantage of lower rents to move closer to the prime areas.
"In the coming future, not too far away, I expect we can see some single operators in the secondary streets in the core areas," he said.
Take, for example, Percival Street or Lan Fong Road in Causeway Bay. These secondary streets are just around the corner from Russell Street, which in 2013 surpassed New York's Fifth Avenue to become the world's most expensive shopping street. And Grenville Road in Tsim Sha Tsui is close to another uber-pricey street, Canton Road. There are now many vacant shops in these secondary areas — spaces that Lin believes could accommodate independent labels.
But that time is still a little way off. Jamie Dredge, cofounder of Polkadot Boutique, said that while rents have fallen dramatically, they are still high.
"If you want to be on street level it's still too expensive. You either have to be on a higher floor in a prime area or else street level in a lesser-known area," she said.
Her boutique is on the second floor of a building on Hollywood Road in Central. Although in a core area, it is less visible and she relies on social media, word of mouth and doing collaborations with other businesses to get her store noticed.
"In Hong Kong small businesses are willing to collaborate with each other. We just did an event with Benefit Cosmetics to support each other and introduce each other's customers. It was a success," said Dredge.
Elisabeth Lau is a British-born Chinese fashion designer who came to Hong Kong with her husband in 2014, just in time to take advantage of the government initiative PMQ, a creative arts hub. While she didn't qualify for the cheap rents offered to local designers, the rent was still lower than in other areas.
"PMQ allowed me to test my business and now I have the confidence to go somewhere else," said Lau, owner of The Refinery, which sells fashion, accessories and lifestyle brands from around the world.
She opened a second store in January 2016 in Tai Koo, outside the primary shopping area. Keen to get as close as possible to the city's shopping hub Causeway Bay, she will close the Tai Koo store and this month will open within Eslite Bookstore in Hysan Place in Causeway Bay.
"Causeway Bay is a much more desirable area, but much more expensive. I wouldn't be able to afford a freestanding shop in this area. It's just a one-year lease. I'm small and flexible and my overheads are not that high, so this gives me visibility with more affordable rent," said Lau.
Smith said Lau's opportunity is typical at the moment — landlords are hedging their bets by offering short-term leases to tenants.
"The tenant takes less of a risk and the landlord fills the space and leaves the opportunity to ask a higher rent if things change," said Smith.
While the drop in Mainland spending has led to much negativity in the retail market, Smith said that will change as new cross-border infrastructure comes online. The Hong Kong-Zhuhai-Macao Bridge will open next year as well as the high-speed Guangzhou-Shenzhen-Hong Kong Express Rail Link. And in 2023 the Hong Kong Airport's third runway is due to open.
"All these events should provide an upside benefit. The express rail link will deliver the same number of passengers to the West Kowloon terminus as use the airport — this will boost retail," he predicted.
Original Link: WWD