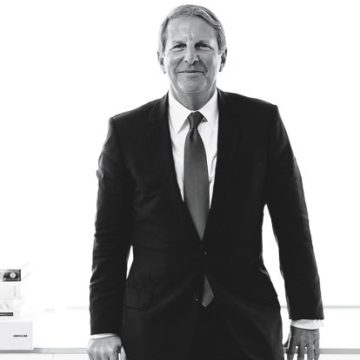 Global Brands Group Aims for $5B
— June 14, 2017
The company expects its growth to come organically and from new licenses.

HONG KONG — Global Brands Group saw strong profits and sales growth last year — and it's already looking to 2020, when it aims to be a $5 billion company.
The group reported an 89.4 percent jump in net profits to $90 million on an 11.6 percent increase in revenues to $3.89 billion for the year ended March 31. This compares with net profits of $47 million on sales of $3.49 billion the previous year, with the increases attributed to the growth of new and existing licenses. GBG owns or does licensed products for brands including Juicy Couture, Kenneth Cole, Kate Spade, Under Armour, Zoo York, Chaps Ralph Lauren, Dockers, Nautica, Calvin Klein, Tommy Hilfiger and Lucky Brand.
"We're almost a $4 billion company which in the market context makes us one of the largest wholesale companies in the world — we are 90 percent wholesale," said Bruce Rockowitz, the group's chief executive officer and vice chairman.
The group unveiled its new Three-Year Plan (fiscal year 2018 to 2020) under which it will focus on reaching $5 billion in revenue by end of the fiscal year 2020. Acquisitions will not be a major focus, instead the group intends to grow organically, including from new licenses.
"Where we will spend some money on acquisitions is really smaller acquisitions to tuck into our platform. We are pretty satisfied with what we have so it's really smaller businesses that can fill in the mosaic for us," said Rockowitz.
He said there is a lot of "doom and gloom talk" in the U.S. regarding retail, but noted that retail sales show a 4 percent compound annual growth since 1992. He suggested that focusing on declining sales in shopping malls (down 5 percent in the last two years) distorts the picture and that a more accurate one is gained from looking at sales across the board, including online and e-commerce.
"What's happening is people are still buying, there is still growth, it's just a question of where they're going," he said.
Bricks-and-mortar stores are part of the retail future, he said, but he expects there will be fewer and they will work alongside an e-commerce strategy. Shoppers will be able to go to a store to try something on, then order it online and have it delivered and if they don't like it they can return it to the store.
"Retail stores will be more of a showroom and carry a lot less inventory and will complement e-commerce. That's the future and that's what we're working on," said Rockowitz.
He believes China has put too great a focus on e-commerce and that some of the big retail players on the Mainland are waking up to the fact that physical retail stores are a good complement to online.
As for last year's results, the group reported a 19.8 percent increase in the total margin to $1.42 billion, representing 36.4 percent of revenue. Meanwhile, the core operating cost, the measure of how well a company is doing, was up 64.5 percent year-over-year to $173 million.
In the three years since sourcing firm Li & Fung spun off GBG in July 2014, the group has worked on laying down strong fundamentals for the business — weeding out weaker brands, focusing on larger ones that have the potential to scale globally and investing in its management.
"Over these three years we've really crystallized our business model and today we are the go-to company for people to license their brand and to be the operating partner for their brands," said Rockowitz.
Kid's clothing and footwear, which remains the core business, reported a 3.9 percent increase in revenue to $1.6 billion compared to the previous year while the core operating cost reported a healthy growth of 62.2 percent. A highlight of the children's sector was Under Armour, a strong performing brand in the U.S.
"We have the kids' license and have now gone from kids' fashion into boys and girls swimwear, outerwear and underwear," said Rockowitz.
The fastest-growing segment is men's and women's fashion, which the group began just over three years ago. The category saw revenue increase by 31.5 percent to $820 million year-over-year. Footwear and accessories reported revenue of $1.28 billion, an increase of 5.6 percent over the previous year.
A smaller but rapidly growing segment of the business is Brand Management, which saw revenue increase by 75.7 percent to $188 million, largely as a result of the merger with CAA, the L.A.-based talent and sport agency.
"With this partnership we are the largest brand management company in the world," said Rockowitz.
Commenting on last week's announcement that the group is looking to acquire BCBG Brands for $23 million, Rockowitz said it was an amazing opportunity.
"When we talked to retailers about this brand they said they wanted it in their stores, so the opportunity we saw was great. We are anxious to do it, but it has to be on the right terms and what we've negotiated at this point is the right terms," he said.
Although BCBG is a strong brand, Rockowitz said the business suffered from a lot of issues, including having too many stores and excessive overheads and it needed to be repositioned. BCBG filed for Chapter 11 bankruptcy in February. Under the terms of the agreement, as outlined in a press release from BCBG last week, Marquee would own the intellectual property assets, while GBG would own the operating assets. Rockowitz said it was too early to confirm the precise nature of the deal.
"It's still uncertain 100 percent whether we will end up with it or Marquee will end up with it because it has to be approved by the court. I would say we are at the preliminary stages of that process," he said.
Original Link: WWD