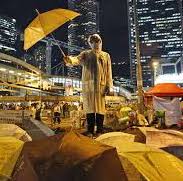 Campaign of 'lawfare'
— November 14, 2017
Dapiran covered Article 23, the government's campaign of 'lawfare' and the expulsion of pro-democracy lawmakers at the Hong Kong International Literary Festival, but says he still has great hope for the city's future

It is a rainy Sunday afternoon on the last day of the 10-day Hong Kong International Literary Festival. The audience packed into the lecture theatre at the Hong Kong Museum of Medical Sciences is listening intently to corporate finance lawyer Antony Dapiran discuss public protests in Hong Kong.
Although it is barely a year since Dapiran finished writing City of Protest: A Recent History of Dissent in Hong Kong – about unrest in Hong Kong since the 1960s – he says he could easily add a few more chapters based on what has happened since then.
"Hong Kong's rule of law has been compromised," Dapiran says to moderator Nisha Gopalan from Bloomberg.
"But legally people tell me that no rules have actually been broken," Gopalan replies.
"Nothing has been broken except people's confidence in the judiciary," Dapiran says, raising a laugh from the crowd.
He has coined a phrase for the Hong Kong government's recent efforts to clamp down on dissent, referring to it as a "campaign of 'lawfare'".
"At the explicit or implicit urging of Beijing, the government has used Hong Kong's legal system to crack down on dissenters," Dapiran says.
He gives the example of the four incoming pro-democracy legislators who were disqualified for insincerely taking the oath of office. This was achieved thanks to a retrospective interpretation of the Basic Law that permitted wholesale new provisions that oath swearing had to be taken openly and solemnly. If you missed your first chance, you were out.
"When a government uses the court system to achieve political ends, I would argue that's no longer rule of law. That's what we call rule by law and that's what's happening in [China]," Dapiran says.
Dapiran's book is a measured look at protests in Hong Kong. He is not a radical or an activist, but a smart lawyer who studied at Peking University, is fluent in Mandarin and has a reasoned take on what is happening in Hong Kong.
He has much faith in the city's Court of Final Appeal. He says the judges who currently sit on it are fair minded and have a strong sense of the rule of law. They also respect the heritage of the fundamental principles of law that govern the way in which power is exercised in Hong Kong.
"I know that they themselves are under political pressure. Although they would never admit to it, they are under the pressure of second-guessing by Beijing in the sense that if they make a decision Beijing doesn't like, will it just issue another interpretation of the Basic Law and change it? But I think that as long as the Court of Final Appeal continues to make good decisions, that's going to be very helpful," he says.
He adds, however, that there is a need to stay vigilant regarding any interference in the appointment of judges. Unlike in the US, where there is an open process with confirmation hearings, Hong Kong's judicial appointment process is secretive.
"If there is any sense that new incoming Court of Final Appeal judges are not up to scratch [and] that there is some influence from Beijing in that process or that process is in any way undermined, then I think we really need to start worrying," he says.
Dapiran reserves judgment on Chief Executive Carrie Lam Cheng Yuet-ngor, the leader of Hong Kong's government, saying she has made a few positive statements and appears to be a better listener than Leung Chun-ying, the previous chief executive. He doesn't envy her job of needing to keep Beijing happy and arguably implementing Beijing's directives in Hong Kong while also keeping Hong Kong people happy. "Irreconcilable duties, it seems at the moment," he says.
He believes Lam has an opportunity to do better than Leung by listening to the community, responding to them and being honest about any pressures she faces from Beijing.
"Some degree of honesty and open communication will go a long way to healing the deep mistrust that arose under the CY Leung administration. Can she ultimately reconcile those conflicting duties? I'm not sure that anyone could, especially under the current administration in Beijing which seems increasingly combative and increasingly inclined to want Hong Kong to bend to their will," he says.
In response to an audience question about protest fatigue, Dapiran says that last year's Legislative Council election result showed that a high number of Hongkongers supported the protesters. "But that said, there is the sense that people are tired of protests," he says.
Lam has indicated that Beijing wants to introduce Article 23 legislation that would outlaw acts of subversion against the Chinese government. Dapiran says the growing independence movement in Hong Kong, although small, has scared Beijing into wanting to introduce Article 23 even faster.
"The government is at some point going to be forced to come up with some kind of proposal and that will be a litmus test both for how much Hong Kong bends to Beijing versus what they think is genuinely going to be in Hong Kong's interest," he says.
The key question then, he says, will be how Hongkongers react. Will it prompt a repeat of the 2003 protest that saw half a million people march on the streets? Would that even work a second time?
There is a question from the floor about pro-establishment protesters. Dapiran says he finds their commitment to their cause questionable, pointing to the protests outside Legco during debates to enact the constitutional reform bill.
"You had the pro-democracy protesters on one side of the cordon and on the other side you had the pro-Beijing protesters – a group of men in matching T-shirts, shorts and red hats with numbers on the back of their shirts, lined up in very neat, dare I say military-looking rows – standing there, impassive. I don't think they were spontaneously expressing their views on Hong Kong politics," he says.
The lively debate has turned pessimistic and Dapiran insists on closing on an upbeat note, convinced there is much to be positive about in the city he has called home for almost 20 years.
He believes the Occupy protest was successful in the sense that it alerted a generation of young Hong Kong people to key issues about the city's future. It also stimulated a vibrant cultural scene – think of the artwork and banners on display during the protest – which has continued.
"Even if Beijing will continue to do what Beijing does and the Hong Kong government will continue to be complicit – in all that I see from the people around me, Hong Kong is still a great, vibrant place to live and a place to have a great deal of hope in its future," he says.
Original Link: SCMP