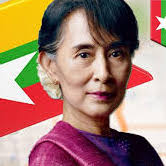 Myanmar violence puts festival guests in the spot
— October 4, 2017
Boycott of next month's Irrawaddy Literary Festival announced by one guest over Muslim minority humanitarian crisis, while another, Lonely Planet's Tony Wheeler, accuses its patron, Aung San Suu Kyi, of not saying enough about it

The ongoing violence in Myanmar – described by the UN human rights chief as a "textbook example" of ethnic cleansing – is making some writers wary about next month's Irrawaddy Literary Festival (ILF), particularly as festival organisers have not directly addressed the situation and Aung San Suu Kyi is the festival's patron.
Tony Wheeler, co-founder of the Lonely Planet guidebook, says he has not booked his flights yet and is undecided about whether to attend the event scheduled for November 3-5.
"I'm between a rock and a hard place," Wheeler says by phone from his home in Melbourne. "If you go, you could be looked upon as ignoring the problem and trying to pretend things are normal when they are not. On the other hand, if you don't go when you were going to go you are not confronting the problem."
Australian children's writer Gus Gordon has decided not to attend and will write off his airfare, which has already been paid.
"It became increasingly evident that, aside from the potential safety risks, it was the wrong thing to do. It didn't sit well with me that I was about to go to a literary festival and speak about stories when a humanitarian crisis was happening my doorstep," Gordon says.
More than half a million Rohingya Muslims have fled Myanmar following the latest and most deadly upsurge in years of government oppression and communal hatred between minority Rohingya Muslims and Buddhists in the country's Rakhine state.
Both Wheeler and Gordon express frustration that the festival organiser has not addressed their concerns.
"I found it surprising the festival hadn't – and still hasn't – acknowledged it in any way," Gordon says. "The statement put out recently again doesn't mention the current crisis at all. It is very odd. That troubles me as well."
Wheeler says the festival organiser had told him it wanted to be "apolitical" about the situation.
"They won't stand up and say this is a terrible situation because Aung San Suu Kyi, who is patron of the festival, is guilty, guilty, guilty and should be saying more about it," Wheeler says.
Michael Vatikiotis, Asia regional director of the Centre for Humanitarian Dialogue and author of the 2017 book Blood and Silk: Power and Conflict in Modern Southeast Asia, says he plans to attend.
"I generally don't let anything get in the way of engagement in troubled places. Moreover, the festival is probably needed more than ever because in the current situation there's a danger there will be no dialogue, only divisive rhetoric," he says.
Jane Heyn, who founded the festival in 2013 when husband Andrew Heyn was British ambassador to Myanmar, responded by email: "The [ILF] board has decided that it would be inappropriate for the ILF, a literary festival, to make public statements about the situation in Rakhine state.
"The festival is of course liaising with all participants individually, including discussing any concerns they may have about the situation in Rakhine state."
Wheeler, who first visited Myanmar about 30 years ago when visitors could only get a seven-day visa, says if he goes, he fully intends to address the political situation.
"I'm not going to go there and say Lonely Planethas been good fun, they've got a nice new guide to Italy. I'm going to have to confront the situation there," he says.
Wheeler has also been thinking about other countries where majority groups have been trying to either sideline or straight up get rid of minority groups. "One of these is Pakistan where effectively they've got rid of their Hindu, Sikh and Christian minority," he says.
He adds that the person he was most interested in hearing at the ILF event was John Simpson, who last month wrote an article heavily critical of Aung San Suu Kyi.
Simpson, BBC News world affairs editor, wrote in The Daily Telegraph: "The woman who dedicated her life to liberating the people of Burma has morphed into a monster, and the slight figure in pastel silks, admired around the world for her gentleness and bravery, seems to have vanished altogether."
It is not known if this will be the subject of his talk at the ILF because the festival has yet to announce its programme or the broad themes of the event.
Heyn, whose husband became the British consul general to Hong Kong and Macau in October 2016, described the programme as "a work in progress and will remain so for a while yet".
Among the 25 writers listed on the website as confirmed to attend are Scottish poet Carol Ann Duffy, Financial Times correspondent Victor Mallet – whose new book River of Life, River of Death: The Ganges and India's Future is out this month – and Canadian author Madeleine Thein, a former teacher of creative writing at City University of Hong Kong.
It is believed that Aung San Suu Kyi will not attend this year as she has done in previous years.
Original Link: SCMP