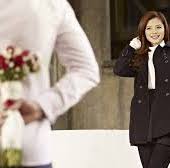 The wage of consent
— September 24, 2017
Website founder says that single men tend to receive more digital "winks" the higher their salary, while the number of winks women get starts to tail off after they earn more than US$7,600 a month

When it comes to dating, Chinese men are most interested in what women look like, while women want to know about a man's income. The next consideration is a prospective partner's profession: primary-school teachers and nurses are in high demand among men, while women favour men in IT or finance – areas men least want their partner to be working in.
That's according to Dr Song Li, founder of Zhenai.com, one of China's biggest matchmaking sites – who apologises if his findings may not seem "politically correct".
"We have such a big database. Professors at the University of Hong Kong or a university in the UK or US might be interested in using our data to study the psychology of love," says Li, who has the infectious enthusiasm and quirky personality commonly seen among bona fide serial entrepreneurs. "I'd love it if our data could contribute to society."
He's not kidding about the volume of data. Zhenai.com says it has 120 million registered users, and new users join the dating platform at a rate of 40,000 to 50,000 a day.
Born in a suburb of Shanghai, Li trained as a molecular biologist at Cornell University in the US and, after realising he wasn't suited to fiddling with Petri dishes in a lab, switched to Columbia University, where he earned a PhD in finance.
After years working as a senior investment banker in the US and Hong Kong, he fulfilled his dream of setting up his own business. First came MeMeStar, a short message-based chat forum that he sold to the Chinese telecom firm Sina. Following a one-year "lock-up period" imposed by Sina he set up a music sharing company that eventually pivoted to become Zhenai.com.
"I wanted to create an online community for music lovers, but we noticed that the people who came to this community were really there to meet other singles so I decided that I'd just go straight to dating," says Li, who met his wife Kathy at a drinks event in Hong Kong. She was a private equity fund manager at the time – now she's a venture capitalist – and he was an executive director of equity derivatives at Morgan Stanley.
The charming, slightly geeky former investment banker might not seem like an obvious candidate to be a font of knowledge about the dating world, but he is an avid reader of psychology books and, as he says, "the stats never lie".
Zhenai.com offers two broad services: one is what Li calls a "self-service dating service" where members pay 400 yuan (US$60) a year to browse members' profiles, chat and arrange dates; the other is a more exclusive offline, face-to-face matchmaking service that costs 4,000 yuan for six months.
The self-service platform allows members to send each other digital "winks". Li has studied the relationship between a member's monthly salary and how many winks they receives. "You can almost very accurately calculate for every 1,000 yuan salary increase how many more winks he will receive," he says. For women, salary doesn't affect how many winks they receive – until they earn 50,000 yuan or more, when they see the number of winks tail off slightly.
Sharing other insights into Zhenai.com's data, Li says that on average, women prefer men who are three years older than them, while men seem to prefer women three years younger than them, but that changes the wealthier the men are. "The higher the earning power of the man, the more likely he would [be to] ask to date a younger woman," Li says.
The more affordable "self-service" dating site is popular with those in their 20s, but he says there is a very definite trend that when women reach the age of 27 they opt for the more pricey matchmaking service.
Many will be familiar with the Chinese term sheng nu – or "leftover women" – used to refer to women in China who are unmarried in their late 20s. It's a term that was much discussed with the release of Leta Hong Fincher's 2014 book, Leftover Women: The Resurgence of Gender Inequality in China, while last year it got a lot of coverage following the cosmetic firm SK-II's emotional advert on the subject, which went viral.
Li has some interesting thoughts on the subject. He points to what he calls the "80/20 principle" in the animal kingdom, where 20 per cent of the male species "owns" 80 per cent of the females, leaving 80 per cent of males mateless. "My view is that it's the natural order of things to have leftover men, but you become a leftover woman by choice. It's a self-imposed criteria – she can always find a mate," Li says.
He says that the better educated a woman is, and the more economically well off, the higher the standards she will set. "A lot of people are saying leftover women can't find a man, but mostly it's because she sets very high standards; she doesn't want to compromise," says Li.
The matchmaking service claims a success rate of 78 per cent – this is based on the number of couples who tell their matchmaker they want to be "exclusive" with their date, meaning that their profile is hidden on the site. The matchmaker does a lot more than just introduce people, she – and it's always a woman as apparently both men and women feel more comfortable discussing their romantic life with a woman – is also responsible for "managing expectations", solving misunderstandings and serving as a middle person to ask embarrassing questions.
For example, if a woman is interested in a man, but doesn't want to appear to come on too strong by asking serious questions about the future, she gets her matchmaker to do it. "They want to know from the very beginning, before they waste time, whether the husband and wife will manage the finances collectively, whether she has to live with her in-laws and whether he wants children and how many," Li says.
The matchmakers get a minimal base salary and earn commission for every match, so it's in their interest to make good matches and smooth out any dating hiccups. Zhenai has 50 matchmaking centres in 37 cities across China, and Li says he expects the company to generate 1.5 billion yuan in revenue and 200 million yuan in net profit this year.
Li is confident that the dating platform will continue to grow rapidly, at least for the next 10 years. This is because the Chinese government aims to migrate an additional 250 million people from the countryside to the cities over the next decade – and he expects many of them to be potential customers.
China's rising divorce rate is also driving business. According to figures released recently by the Ministry of Civil Affairs, the "crude divorce rate" – which measures the number of separations for every 1,000 people in China – doubled in the decade through 2016 from 1.46 to three. The number of couples who actually divorced last year rose 8.3 per cent from 2015 to 4.2 million – and the trend is expected to continue.
One of Zhenai.com's most in demand services is one that matches divorcees – it's especially popular in Beijing, Shanghai, Guangzhou and Shenzhen.
"It's getting more popular every year and we are even thinking perhaps we should develop a separate app due to the high demand," says Li.
Zhenai.com has conducted focus groups with divorcees and the findings suggest that the more economically well off women are, the less likely they are to put up with a husband they are not happy with.
"In terms of percentage, I think a lot more women in China work than women in the US. Women have more economic independence and are less willing to put up with a husband with whom they have fallen out of love," he says. "I expect the divorce rate will continue to rise as the standard of living increases, especially for women."
He hopes to expand the business to other parts of Asia – most likely Hong Kong and Taiwan – and will begin with the "self-service" dating platform because the set-up cost is lower than establishing matchmaking centres.
Original Link: SCMP