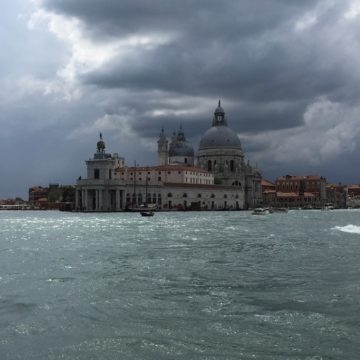 24 Hours in Venice
— November 15, 2017
A city impossible not to fall in love with

Spend any amount of time in Venice and its canals, unexpected piazzas and air of mystery will weave its spell on you. If you only have 24 hours and want to fast track the courtship, avoid the tourist draws. This is quite easy to do – only a minute or two away from the throngs on the main drag you can nd yourself in a quiet quarter for an intimate take on the city. Don't worry about getting lost. In fact, assume that you will and roll with it – it's all part of the romance of Venice.
8.30AM
It's going to be a big day, so power up with a double espresso at Caffe Girani in the historic heart of the city. The Girani family has been roasting and blending coffee since 1928 and is run today by mother and daughter team Gigliola and Roberta Girani.
9AM
To fully appreciate the splendour of Venice – that it really is an ancient city built on water – begin by getting a little distance and take a boat ride around the lagoon. The island of Murano is a popular destination to see the glass factories, but head a little further out and you'll reach the quieter island of Burano. The shing village oozes charm with brightly painted houses and lace makers – Philippe Starck owns three properties here so it must be doing something right.
After a wander around the village, jump back on the boat and head to Orto di Venezia, a winery on the nearby island of Sant'Erasmo. This is the only vineyard in Venice, made all the more special by the magnums of wine aged underwater in the lagoon, a natural cellar with no light and a constant temperature. As the boat returns to the city, take a moment to consider that the city is made up of 117 islands linked together by water canals and small bridges. Its history dates back to 400AD when people drove wood pilings into the mud, sand and clay of the lagoon to create a foundation. Over the years, the constant ow of mineral rich water around it has caused the wood to petrify and harden.
1.30PM
Enjoy lunch at Aciugheta, sitting out on the terrace in a beautiful small piazza. Although this popular restaurant sits in the heart of the tourist belt, it is actually a favourite about local Venetians. And for good reason – this pizzeria-trattoria is consistently good and reasonably priced. It is best known for its small regional snacks. The small anchovy pizzas are an absolute must and the arancioni rice balls are very good too. And wash it down with a Spritz.
3PM
Let Elisabeth Rainer, author of the My Pretty Venice guide, show you some of the more offbeat artists workshops and boutiques. Many of these shops selling handmade bags, shoes and accessories are so small you could quite easily walk past them. Acqua Alta is a bookshop you'll never forget – because of regular ooding, some of the books are stored in a large gondola, others in bathtubs and you can even climb up stacks of spoilt books to peer over the wall at the canal.
5PM
Stroll along the Grand Canal to Palazzo Venier dei Leoni, an 18th-century waterfront palace that Peggy Guggenheim bought in 1949. She lled it with a vast collection of modern art by many of the leading names in the art world: Jackson Pollock, Picasso, Miro and Wassily Kandinski. In 1969 she donated her collection to the Solomon R. Guggenheim Foundation that eventually opened the collection year-round.
6.30PM
It's cocktail hour and time to enjoy the classic Italian cocktail, a Bellini. Made with Prosecco and pureed white peaches, it was invented at Harry's Bar, and what better place to sip one than at Harry's Bar itself (www.harrysbarvenezia.com). Opened by Giuseppe Cipriani in 1931, it is still going strong on the St Mark's bay waterfront. Truman Capote and Orson Welles used to drink there and Ernest Hemmingway wrote about the bar in Across the River and into the Trees. Although it is a big tourist draw, there are also plenty of Venetians who use it as their local.
8PM
Your appetite whet, jump on the Belmond Cipriani Hotel's complimentary boat shuttle for the ve-minute ride across the lagoon to the hotel's Michelin-starred Oro Restaurant. Oro means 'gold' in Italian and the main dining room, which looks out over the lagoon, has a gold-leaf domed ceiling embellished with a stunning handmade Murano glass chandelier. Chef Davide Bisetto is the rst Italian chef to be awarded two Michelin stars in France and his menu is very creative, focusing on ne ingredients, pure avours and beautiful presentation. To get a taste of his genius, try the eight-course tasting menu that is paired with wine. If you are lucky enough to be staying at the hotel, you don't have far to go to bed. And when you wake up in the morning you can work off the indulgences of the night before with a swim in the hotel's large saltwater swimming pool.
Concierge Insider
Understand the history of Venice before you go – the BBC documentary Francesco's Venice is a good primer.
Avoid the tourist crush in July and August. Spring is a good time to visit, or else October when it's quieter.
Don't rely on credit cards. Some ATMs won't accept foreign cards and some restaurants won't accept credit cards – always have cash on you.
Wearcomfortableshoes–youwillbedoingalotofwalkingand jumping on and off boats.
[PDF url=http://www.hongkongkate.com/wp-content/uploads/2017/11/24-Hours-In.pdf]