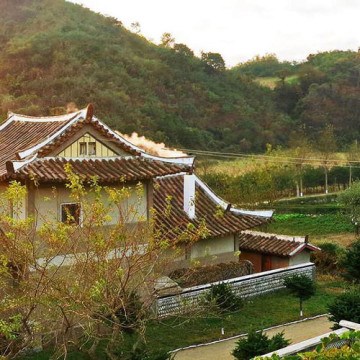 Sleep in Kim Jong-il's bed
— June 2, 2014
The power had gone out. I was lying on the floor in the pitch black, listening to waves crashing on the beach outside, wondering whether the late North Korean leader Kim Jong-il had heard similar sounds as he fell asleep here.


For two nights in 2006, "Dear Leader" slept in the same bed I was lying in: just a traditional, Korean-style mattress rolled out on the floor. Fortunately, kitchen stove channels heated the wood from below, keeping it warm even when the electricity failed – a regular occurrence given North Korea's notoriously unstable power supply.
Kim Jong-il's visit marked the opening of the Mt Chilbo Homestay – one of the few homestays in North Korea, if not the only one, that is allowed to host foreigners. (All foreigners, that is, except for Americans, who are allowed to visit during the day but cannot spend the night.) While the owners are proud that Kim Jong-il was a guest, they do not publicise which bed he slept in, or that visitors can stay there: doing so would be seen as disrespectful to the late leader. I was able to pinpoint his room only by befriending a guide, who let me in on the secret.
Billed by tour operators as an opportunity to see how locals live, Mt Chilbo is located in North Korea's remote northeast – a forested region of stunning natural beauty. But as one might expect, parts of the experience felt staged. The 20 houses, for example, looked nothing like the average North Korean homes that we could see just beyond the electric fence at the property's entrance. The houses of the neighbouring village – whose name we weren't told and which we weren't allowed to photograph – looked dark and dank, with villagers washing their clothes in the stream. The two-storey homestay accommodations, meanwhile, had running water, an (admittedly erratic) electricity supply and televisions proudly displayed in every living room.
But opting for a homestay like Mt Chilbo does have its benefits. Not only do guests have the unusual opportunity to mix with North Koreans who are not guides and minders, but they also can wander around the homestay grounds – rare freedoms in a country where visitors are always within sight of a tour bus and a guide is never more than a few metres away.
Going beyond the perimeter fence, however, is absolutely out of bounds. A guard checks the gate at sunrise to make sure no one has tried to slip out.
Throughout Mt Chilbo there were reminders of the dictator's hold on the country. In House 16, where I stayed, portraits of Kim Jong-il and his son Kim Jong-un hung side by side in the living room, just as in every other home across the country. Here, however, was another photograph of Kim Jung-il: wearing his trademark dark shades, he is pictured walking up the paved pathway outside House 16, a party of officials and military men following him. A family of four is lined up to greet him.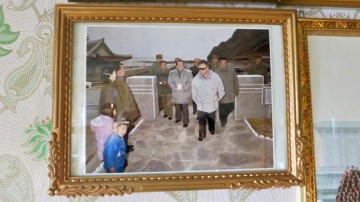 Now in their early teens, the children in the picture easily remember Kim Jung-il's visit; it was a landmark event in their lives. With a few words of English and plenty of excited gesticulating, they explained that he spent two nights in the guest room upstairs, which hadn't been redecorated since his stay. With a retro 1960s feel that is common in North Korea (in many respects, the country has been frozen in time since the Kim dynasty took power in 1948), the walls were neatly wallpapered, as was the ceiling, and there were yellow polyester curtains and a vase filled with plastic flowers. A lacy white cover enshrouded the electric fan. I had to stoop to see myself in the full-length mirror – but that wouldn't have been a problem for the house's most prestigious visitor; he was1.6 metres tall.
After a filling lunch of noodles, fried fish and plenty of kimchi, a game of volleyball – a favourite among North Koreans – was quickly arranged. We briefly debated how to split the teams – perhaps men against women? But the North Korean homestay owners had already decided: they would take on the foreigners. And they were good. The Australian who good-naturedly offered to even up the numbers on the foreigners' team was quickly put to shame. The North Koreans played a fast, tight game.
As soon as the game finished, a stocky North Korean with legs of solid muscle suggested a wrestling match; a fit 40-something American was cajoled into it. The two men briefly bowed and reached forward, taking hold of each other's belts. They strained and grunted. Local children pushed their way forward for a better view. There seemed to be more at stake here than just a bit of fun: the North Koreans cheered on their man, we rooted for the American. The contest was close until suddenly, the North Korean flipped the American onto the sand.
Advised by our guides that we should present our hosts with a small gift, we all dutifully bought items such as snacks, cigarettes and soju, a potent local liquor traditionally made of rice, wheat or barley. After a session of local folk songs around a campfire on the beach, we piled back to one house for a nightcap.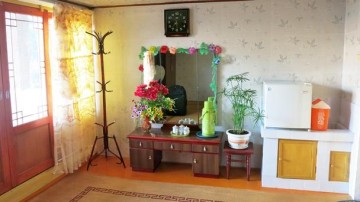 Tired after a long day of translating for us, our guide left us on our own. Without any Korean speakers in the group, we relied on gestures and laughter to communicate with our local hosts. The lady of the house welcomed us in and set the table, putting out a rice bowl and a shot glass at each seat.
Her husband returned home a few minutes later, looking surprised to see 12 tourists – who weren't North Korean or Chinese – in his living room. But when we produced the soju, he cracked open the bottle and poured it into a rice bowl, lifting it to his lips and downing it in one swallow. We cheered him on, so he knocked back another bowl. And another. If the visit taught us one thing, it's that the North Koreans know how to put back a drink.
The shot glasses, we realised, were not for the soju – they were for the water.
Practicalities
Foreign travellers must arrange visits to the Mt Chilbo Homestay through a tour agency. Four tour groups that offer trips to the region also include stays at the homestay: Young Pioneer Tours, Bestway Tours and Safari, Uri Tours and Koryo Tours. Those who want to stay in Kim Jong-il's bed should ask for House 16.
Original Link: BBC Travel