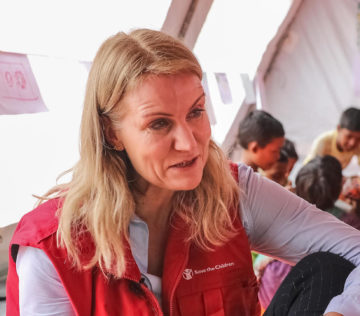 The left behind
— December 16, 2017
This is a children's emergency, says former Danish prime minister Helle Thorning-Schmidt, of the 600,000 desperate Muslims who fled Myanmar, more than half of whom are aged under 18 and at risk of being trafficked or enslaved

Helle Thorning-Schmidt, the former prime minister of Denmark, has seen a lot in her nearly two years as head of Save the Children International, but the Rohingya camp she visited at Cox's Bazar in Bangladesh was one of the most shocking sights.
Of the 600,000 Rohingyas who have fled from Myanmar into Bangladesh and are living in makeshift huts, more than half are children.
"When you are there you see that this is a children's emergency – the tiniest children are walking around barefoot, they have no clothes on, and very small children are carrying even smaller children," the charity's chief executive says of her October visit to the camp.
The most vulnerable children are those who have been orphaned – many have seen their family members killed in front of them. Alone in the camp, they risk being snatched by child traffickers operating in the shelters. The vastness of the sprawling camp, which is some distance from a main road, means that anyone can enter.
In addition to handing out basic humanitarian supplies and food, and setting up emergency health units and safe spaces for youngsters, Save the Children is also trying to identify unaccompanied children and reunite them with relatives in the camp. They have told of fleeing terrible atrocities.
"The rape of children, children seeing their family members being burned in their houses, being shot in front of them, having to flee and walk for days to get to Bangladesh – this is a very serious humanitarian operation," says Thorning-Schmidt who was in Hong Kong for less than a day en route from Beijing to Geneva and set aside time to speak to the South China Morning Post.
It's impossible not to be disturbed and shaken by the children's accounts in the recent report "Horrors I Will Never Forget" – available on the Save the Children website. They tell of children burned alive in their homes by the Myanmese military, of girls being raped and abused.
One 15-year-old girl called Halima told Save the Children about the military surrounding her village and opening fire on people indiscriminately. Both her parents were killed, leaving just Halima and her elder sister. "We want to be free from fear. We want to live our lives in peace. Please help us. We beg you," the girl said.
Thorning-Schmidt says although the situation may seem hopeless, it isn't, and she wants to bring the message of these children to the world.
"The Rohingya people have no one to speak for them. They don't have a diaspora, they don't have anyone famous who can speak up for them or go on TV. That is why it is so important for me and the rest of Save the Children to speak up for them," Thorning-Schmidt says.
She says Hong Kong is a compassionate place and people here have shown themselves to be generous. There are more than 40,000 individual donors in Hong Kong who give regularly to Save the Children.
"That is gold for us. It's money we can count on, it means we can plan for it. For example, if we want to scale up education for Rohingya children we more or less know how much we can," she says.
Save The Children is scaling up its operations in Asia in an effort to reach the more than 360 million deprived children in the region. These are children who belong to an ethnic minority group, who are from a religious minority, disabled children, refugee children, and girls, who are actively discriminated against or not given opportunities.
"The child who has a combination of these things – from an ethnic minority background that doesn't fit in, is a refugee and a girl – she is one of the most marginalised children today and she is the one we want to focus on in reaching the Sustainable Development Goals – the Rohingya girl," says Thorning-Schmidt.
The United Nations proposed 17 Sustainable Development Goals in 2015 – to replace the Millennium Development Goals. Save the Children has translated those 17 goals into three areas of focus: ensuring that no child under the age of five dies of a disease that could have been prevented; giving all children quality education; and ending violence against children. The last focus is perhaps the most challenging.
"Too many children are victims of war and conflict in the world," says Thorning-Schmidt.
She is especially concerned about the current crisis in Yemen, where she says more than 100 children are dying every day from diseases that could have been prevented if they had been able to reach them earlier, for example cholera, a disease that is rare in the developed world.
"The Yemen crisis is probably the worst humanitarian situation right now because of the scale of it. It is truly a children's emergency," says Thorning-Schmidt.
Early this month, the United Nations appealed to the Saudi-led military coalition to lift its blockade on Yemen, saying eight million people were on the brink of famine.
One of Save the Children's key strengths is that it is such a large organisation and operates in so many countries. Founded in London in 1919 by Eglantyne Jebb and her sister Dorothy Buxton, it aimed to feed starving children after the first world war. Today it has a staff of 25,000 operating in 120 countries. Last year alone the organisation touched the lives of more than 157 million children.
"One of the reasons I was attracted to Save the Children was the mission, the scale. We are not happy doing things well somewhere, we need to scale it up to the whole world, which I think is fantastic because that is where it really has an impact," says Thorning-Schmidt.
Thorning-Schmidt was the leader of the Social Democratic Party for 10 years and became Denmark's first female prime minister when she took office in 2011, serving until 2015. Although she admits that it's an unusual transition – "most politicians stay in politics" – she says it was a good move and she really believes that in her current role she can help create a better world.
"Every day I can look at my spreadsheet and see how many children we have been in contact with today, how many children's lives have we touched and changed. I think that practical and tangible way of changing things is quite an amazing thing," she says.
On a trip to China's Yunnan province last year to visit "left behind children" whose parents have migrated to cities to work, she was struck by how a relatively small amount of money can have such a positive impact on a child's life.
In Yunnan, Save the Children was primarily concerned with ensuring access to early childhood development through care centres. Most children in the area go to boarding school, and this training ensured they are well prepared for the experience.
In hearing the stories of the Rohingya children in the refugee camps in Bangladesh and sharing them with the world, Thorning-Schmidt says the children have issued a challenge to world leaders to stop the violence and create a safer future for them.
"What they have had to endure in their short lives is just not right and we have the power to change their future," she says.
The future for the Rohingya children looks bleak. Those without relatives to look after them are at the risk of being put into child labour, sexually abused or trafficked. And those with relatives to look after them risk growing up without a future.
"They are not wanted in Bangladesh. They don't have access to education. They are some of the most deprived children on the planet," says Thorning-Schmidt.
Immediate appeals for funds for the Rohingya will be spent on health care and basic supplies. The next step from there will be to provide education in the camps.
"Education is a healing thing. When a child comes into a normal setting of being a child again, when you sit and learn, that is when they also start healing these invisible wound of war," she says.
Original Link: SCMP