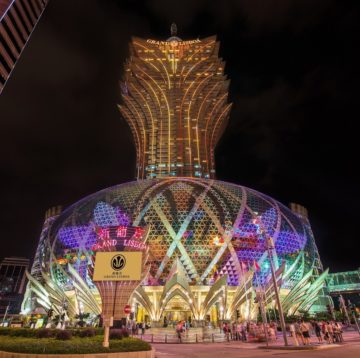 Macau's best casinos
— January 15, 2018
A 2018 guide

Macau's casinos have seen some tough times in recent years, but take a walk along the city's casino boulevard, the Cotai Strip, and you'd never know it — a couple of mega casinos have opened recently and more are in the works.
The casino hub is bouncing back from some recent tough times.
Macau's casinos were at their peak in 2014 when gaming revenue was more than US$45 billion, cementing the city's position as the world's casino capital.
And then Beijing launched its anti-corruption crackdown, targeting the casinos and its VIP gambling segment, and the industry was hard-hit. The casinos experienced 26 consecutive months of gross gaming revenue decline and it wasn't until August 2016 that the industry saw a turnaround.
All of Macau's six casino operators — SJM Holdings, Wynn Macau, Sands China, Galaxy Entertainment Group, MGM China Holdings and Melco Crown Entertainment — have expanded in the last few years, most opening big new properties.
The Cotai Strip is where it's all happening — three of the operators with big casinos on the Macau Peninsula have recently opened or are currently building new mega-casinos on the strip.
In line with a Macau Government initiative to seek economic diversification, casinos are being encouraged to develop more family-friendly projects and entertainment to help draw visitors.
Before you place your bets
Macau — the only part of China where gambling is legal — now has 40 casinos. It has its own currency — the pataca, or MOP$ — but in the casinos the currency of choice is the Hong Kong dollar.
In fact, some casinos only accept Hong Kong cash.
The house rules are pretty much the same across the city and the casinos offer similar games. Baccarat continues to be the most popular game by a long stretch. This is followed by the slot machines — which take up a generous chunk of most gaming floors — then Black Jack and Roulette.
The casinos, open 24 hours, tend to be quiet in the morning and pick up after lunchtime.
The second peak period is after dinner when the atmosphere can get very buzzy, especially around the "lucky tables."
It's easy to spot where the action is happening — a crowd of three or four deep will gather around a table where a gambler is on a lucky streak and other punters will join in, throwing their money behind him and hoping to catch some of the magic.
The atmosphere can be electric.
The classy one: The Wynn Palace
Opened in August 2016 at a cost of US$4.1 billion, this is one of the sassiest new properties and more than earns its five-star status. It's Wynn Resorts' second local offering after Wynn Macau, which opened in 2006.
An eight-acre man-made lake in front of the hotel not only offers a great view but also provides the entertainment with spectacularly lit and choreographed water shows that run every 15 minutes until midnight.
The casino: There are about 350 gaming tables — of which 60 are used as VIP tables — with another 50 more to be added next year. There are more than 1,000 gaming machines and live table games. Players can enjoy a variety of video slots, video poker, progressive slots and other electronic games.
Hotel: There are 1,706 rooms, suites and villas. It has a similar luxurious feel to Wynn Macau, but everything is bigger, brighter and has a little more bling.
It boasts Macau's largest spa — 48,000 square feet of treatment rooms as well as a water therapy zone, sauna, steam room and relaxation room.
What else? When the new light rail system connecting the ferry landing to the Cotai Strip opens in 2019 the Wynn Palace will be the first stop on the line. Guests arriving on the light rail can take an air-conditioned gondola across the lake to the hotel.
Steve Wynn is a huge art collector and valuable art works are scattered all over the Wynn Macau.
This property is no different — it's a thrill to wander unexpectedly across a Jeff Koons sculpture, 18th-century lacquer screens or four priceless Qing Dynasty porcelain vases.
The Wynn Palace, Avenida Da Nave Desportiva, Cotai, Macau, +853 8889 888
The poser: The Parisian Macau
Opened in September 2016, this Parisian-themed resort is the fourth development on the Cotai Strip by Las Vegas Sands subsidiary Sands China Ltd.
Inspired by the City of Light, it features a half-scale replica of the Eiffel Tower, complete with observation decks and a lift to take you to the top for a 360-degree view of Cotai. The architecture and décor is all French-themed, from a reception inspired by the Palace of Versailles to crystal chandeliers and Chinoiserie porcelains.
The casino: The 135,000-square-foot casino hosts 400 tables with popular games such as baccarat and roulette. There are more traditional Las Vegas-style games such as craps, but it's the local game sic bo — which offers punters a 50/50 chance of winning by betting big or small — that is by far more popular.
There are also 2,500 gaming machines including slots and video poker.
Hotel: The almost 3,000 guestrooms and suites are designed with contemporary French flair and one-third of them have views of the Eiffel Tower.
What else? There's no missing the French theme from the French fine dining restaurants, to bakeries offering cakes and patisseries, to the mime artists, buskers and street artists offering to paint your portrait.
There's an expansive open-air pool deck beside a heated swimming pool and play area for kids with water slides. For an additional charge, guests and visitors can enter Aqua World, which has a life-size pirate ship, pools and a play area for kids.
The Parisian Macau, Estrada do Istmo, Lote 3, Cotai Strip, Macau, +853 2882 8833
The big one: The Venetian
A re-creation of the Venetian Resort Hotel Casino in Las Vegas, this is twice the size of its sister property and is the biggest casino resort in the world.
No expense was spared in bringing Venice to Macau — there's even a Grand Canal Shoppes complete with gondolas, on which gondoliers serenade guests.
The casino: The Venetian isn't just the biggest casino in Macau — it has the world's largest casino floor. Within its 376,000 square feet of gaming space are 640 gaming tables (baccarat, sands stud poker, blackjack, sic bo and roulette) and 1,760 slot machines specifically designed for the Asian market.
Hotel: There are 3,000 suites and each is at least 750 square feet. To mark its 10th anniversary the hotel this year unveiled an extensive refurbishment of guest rooms — the furniture is inspired by Venetian gondolas and the look and feel channels the grandeur of the palaces overlooking the Canal Grande.
What else? There are four outdoor pools and one indoor pool and an onsite golf course on the roof.
The 15,000-seat Cotai Arena has hosted A-list performers such as Rihanna, Lady Gaga, Katy Perry and Beyonce as well as major sporting events including the Manny Pacquiao vs Brandon Rios boxing championship.
An air-conditioned walkway takes guests to its neighboring sister property, The Parisian.
The Venetian, Estrada da Baía de N. Senhora da Esperança, Macau; +853 2882 8888
Original Link: CNN Travel