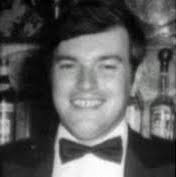 Gay HK policeman's 1980 gun death
— January 15, 2018
Thirty-eight years ago this week, John MacLennan died of gunshot wounds; a public inquiry heard claims he'd been hounded into killing himself because of his homosexuality. It's a case with lessons still for a socially conservative city

On this day 38 years ago two senior officers from the then Royal Hong Kong Police Force's Special Investigations Unit broke into the flat of 29-year-old Scottish inspector John MacLennan and found him sprawled on the floor with five bullet wounds in his chest.
The police were convinced MacLennan had taken his own life, but there were many who suspected he had been murdered and the public furore around the case led to a year-long public inquiry. Even after the HK$16 million investigation – the most expensive in Hong Kong history – there were still those who doubted the verdict of suicide.
I included MacLennan in my book, Hong Kong Murders, and in the late 1990s interviewed legislator Elsie Tu about the case. MacLennan had told her about his ordeal and he'd said the police had been hounding him. He also told her about the secret files he'd seen when he worked at Special Branch.
Tu was never convinced of the inquiry's verdict. Pushed on the decision, she admitted the evidence did point towards suicide but insisted it was still a murder of sorts.
"He was potentially murdered in so far as he hadn't a way out, he was pushed into killing himself," Tu said.
Nigel Collett, a former British Army officer who has lived in Hong Kong since 1985 and has a book coming out next month on MacLennan – A Death in Hong Kong: The Suppression of a Scandal – agrees that the Scottish inspector was pressured into killing himself.
"They were out to get him. He was at the time a rather lowly figure in the sights of a much bigger operation," says Collett.
The two officers who smashed a hole in MacLennan's front door on the morning of January 15, 1980 were Superintendent Bob Brooks and his second in command, Chief Inspector Mick Quinn. Together they headed up the Special Investigations Unit (SIU), a department within Special Branch that focused on gay men in the police force and government.
It is important to remember that homosexuality was not decriminalised in Hong Kong until 1991, before which a gay man could face a maximum life sentence.
MacLennan was gay, but he kept his sexuality well hidden and most of his straight friends on the force had no idea. His closest friend was Christopher Burns, a Scottish policeman who had joined the force about the same time as him. During their first couple of years in Hong Kong, before Burns married, they trawled the girlie bars and low-end nightclubs together. Burns thought MacLennan was a womaniser – that couldn't have been further from the truth.
MacLennan discovered the city's underground gay scene and met a triad pimp called Molo Tsui, who found young Chinese men for him. He began living a double life: many knew him as a police officer with conservative views (he loved Winston Churchill and the British royal family) and a tendency to become arrogant and even pompous when drunk; and others knew him for his liaisons with rent boys.
Special Branch had been keeping tabs on gay men – as much rumour and hearsay as fact – since 1966. This came as a shock to MacLennan when he stumbled across the files in March 1977.
He had asked to be transferred to Special Branch just before he returned home on leave after his first 2½-year tour of duty. The request was granted and he began work in the department on his return. The files listing the names of suspected gay men and details of their liaisons must have made MacLennan nervous, because within two months he had handed in his resignation and applied to join the Metropolitan Police in London.
He later told Tu that the files he'd seen were "political dynamite that would blow the lid off the territory". There were many civil servants rumoured to be gay, among them the police commissioner, Roy Henry.
MacLennan was transferred to another post, away from Special Branch's "black book", to serve out his notice. He began working with the Metropolitan Police, but routine police work was dull and he missed the excitement of Hong Kong. By March 1978 he was back with the police in Hong Kong again, this time in a less glamorous post in Yuen Long, in the New Territories.
He spent his weekends in Tsim Sha Tsui bars, particularly the Waltzing Matilda Inn, which was a lively bar and a popular gay haunt. He continued to be discreet about his Chinese lovers, and if British friends were around would ignore them.
The trouble for MacLennan started in the summer of 1978 when a former policeman introduced him to David Lau, a 17-year-old student who was studying in Glasgow and spending the summer with his grandmother.
MacLennan made a very clumsy pass at Lau, which the student rejected. The matter would have been left at that if Lau hadn't told a friend whose father was in the police force. The incident made its way to the New Territories district commander, who called for MacLennan's dismissal.
It was about this time – in August 1978 – that prominent lawyer Richard Duffy was jailed for having sex with underage boys. In an effort to reduce his sentence, Duffy shared information with the police about the gay prostitution rings and the triads who ran them.
He dished so much dirt that a new department – the SIU – was set up to deal with his leads. It was headed by the homophobic Brooks, who liked to act macho, and his drinking buddy sidekick, Quinn.
"The SIU – or the 'bum squad' as they were known – investigated the judiciary and the government. They said, 'We have to be seen to be conducting a fair and thorough investigation so we have to investigate our own'," says Murray Burton, a lawyer involved in the 1981 public inquiry into MacLennan's death.
Rather than investigate the senior police, such as Roy Henry, the SIU picked on junior officers, and MacLennan was an easy target. When he was told of his dismissal, MacLennan called everyone he thought might be able to help him keep his job. A magistrate introduced him to urban councillor Tu (then Elsie Elliot), well known for being sceptical of the police and a champion of the underdog.
MacLennan's dismissal was overturned, but he'd angered the SIU, and Brooks and Quinn were out for revenge. They tried to persuade a known gay officer to use his boyfriend as bait for MacLennan, and when that didn't work they put the squeeze on a married bisexual officer, forcing him to push his gay former lover turned gigolo into coming up with names of his clients. One of those was MacLennan. The SIU then worked around the clock to round up a handful of rent boys and get them to admit that MacLennan had paid them for sex.
A police officer friend warned MacLennan that Brooks was coming to see him the next morning. MacLennan went to the mess bar, had a double vodka and returned to the office, where a friend recommended that he get a lawyer.
After he'd briefed the lawyer back in the mess, the lawyer called Brooks and asked if the meeting could be postponed. Brooks was livid that MacLennan had been given the heads up and insisted the meeting happen in the morning.
The inquest pieced together the final 12 hours of MacLennan's life. He had a couple more drinks in the mess and went home. At 2am he called the duty officer sounding tired and confused, and requested a wake-up call for 5.30am. Twenty minutes later he rushed into the report room, said he was going on a raid and needed a gun. He signed a .38 Smith & Weston out of the armoury and hurried back to his flat. Half an hour later five shots rang out.
It was the five shots that raised many people's suspicions. How could someone possibly shoot themselves five times? The inquiry conducted extensive research into this and Burton says it found a considerable number of precedents.
"It was probably the fourth or fifth shot that killed him, the initial shots were non-fatal flesh wounds. There was no opportunity for murder – he was in a locked premises with no access from outside – there was a suicide note that was unchallenged and he was about to be the first police officer arrested on these charges," says Burton.
Although homosexuality was decriminalised in Hong Kong more than 25 years ago, Collett says social attitudes are still lagging behind.
"Young people's attitudes have changes tremendously, but the older generation, the generation in power, is still very conservative. I don't think that is going to change soon because much of that is religiously based," says Collett.
He believes Hong Kong is now lagging behind Taiwan and many other places in terms of attitudes towards the LGBT community – "even China is more pragmatic" – but nevertheless hopes a lesson has been learned from MacLennan's death 37 years ago.
"By suppressing people's individuality, their sexual orientation, and making them hide, you start a process that leads to horrors – suicide, death; this is why it is better to recognise the world the way it is," says Collett.
Original Link: SCMP