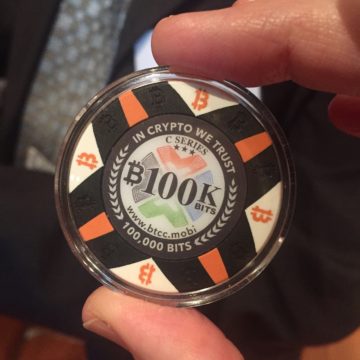 Value judgments and reality checks
— January 16, 2018
Bobby Lee, who co-founded a cryptocurrency trader, explains the very different ways they are viewed by Chinese, Hongkongers and Westerners, and why China's clampdown on trading is only making bitcoin more resilient

Bobby Lee, the co-founder of what was China's longest running bitcoin trading operation, has the polished pitch of a seasoned salesman. He is very convincing and, after 30 minutes of listening to him, I am tempted to buy a bitcoin myself – at least, I would be if I had US$15,000 to spare, because that is what one bitcoin costs on this particular day.
Just four months ago you could have bought a bitcoin for little over US$3,000. The price has increased five times since China cracked down on cryptocurrencies in September, with authorities banning bitcoin trading and initial coin offerings.
"When I recommend people to invest in bitcoin I am not trying to benefit from their investment. I am genuinely telling them that this is something really new, really innovative, it's here to stay," says Lee, the CEO and co-founder of BTCC, which shut its China trading operations in September.
Based in Shanghai, Lee was in Hong Kong this month to give a talk at the Foreign Correspondents' Club (FCC), do a couple of interviews and meet some clients. Even at our breakfast meeting at 8am, he is pretty persuasive. "The people who are dismissive of bitcoin are the people who don't bother to look under the bonnet and see what it's all about," he says.
Lee isn't a salesman by training. His background is in computer science – he earned his bachelor and master degrees from Stanford University – and was working as Walmart's vice-president of technology in China in 2011 when his Silicon Valley-based brother Charlie Lee introduced him to bitcoin. Later that year, his brother created his own cryptocurrency, Litecoin, a clone of bitcoin and often called "digital silver" – as opposed to bitcoin, the "digital gold".
"I left Walmart at the end of 2012, and in early 2013, together with two co-founders – part-time hobbyists who I reached out to – we formed BTCC, offering a platform for people to buy and sell bitcoin in China," Lee says.
Bitcoin was invented by someone calling themselves Satoshi Nakamoto – whose real identity has never been confirmed – and was released in January 2009. Two years later, one bitcoin was valued at about US$1; by the time Lee co-founded BTCC, the price had risen to about US$200. Over the last five years it has bounded through a series of massive rallies, sudden falls and dramatic recoveries. It was this volatility that Lee says concerned the Chinese authorities.
"China thinks it has the right to control the price of bitcoin. They had the audacity to think they can decide what is too expensive versus what is not expensive," he told a packed house at the FCC.
In January last year, Lee says, investigators were sent to BTCC's Shanghai office to look into their activities and ensure nothing illegal was going on. It was a very stressful time.
"Their so-called investigation didn't lead to anything. They were trying to find out if there was money laundering, if there was illegal activity. They told us to trade a few things – we complied – and the price kept going up and up," Lee says.
The price went from 7,000 yuan in January 2017 to 10,000 yuan in May and then hit 20,000 yuan the following month.
"That's when the world was going crazy. It passed an all-time high, did a mini-crash, and then went to 30,000 [yuan] in September," Lee says.
In early September the government edict was issued and 10 days later, on September 14, the Chinese authorities made it clear they would shut down all Chinese bitcoin trading platforms.
Lee lists a string of reasons Chinese authorities found bitcoin "inconvenient", from speculative trading and taxation issues to graft, fraud and money laundering. He says that when BTCC was given notice, no specific law was referenced, but they decided there was no point fighting the order.
"In China if you don't shut down, the fire inspectors, all those departments, come and take a look – look for rats, combustible materials. We played nice and shut down," he says.
Lee is still running the company. While the exchange business has closed, the firm now focuses on a global multi-currency digital wallet called Mobi and a mining pool business.
"Shutting down the Chinese exchange hasn't been a bad thing. The more the regulators try to put the squeeze on bitcoin, the more resilient it becomes," Lee says.
To be clear, bitcoin isn't banned in China – it is just the trading platforms that are. Bitcoin, in essence, is just information. If you own bitcoin you own the private key – a secret number made up of 64 characters in the range 0-9 or A-F – and you can't ban information because it could be written down or memorised.
So has China's clampdown on bitcoin trading sounded the death knell for the cryptocurrency there? Far from it, Lee says.
"China is actually crazy about bitcoin. China is crazy about anything that can make money – investment, speculation, it's in the Chinese blood," he says.
But he adds that bitcoin hasn't taken off in Hong Kong, something he puts down to Hongkongers being very busy with their daily lives and not as receptive to new technologies as mainland China.
"The people here are more insular; they aren't as outward thinking and open-minded. I think there's a lot of old money in Hong Kong," he says.
As he speaks, I can't help thinking of the bitcoin ATM that appeared on Bonham Road in the summer of 2014, and kick myself for not following the urge to check it out. If I'd bought just 10 bitcoin then (US$500 each) they would be worth about US$150,000 now. Such thoughts are not helpful when you are being paid by the word.
The Bonham Road bitcoin ATM has since gone, but there are three other such ATMs currently in Hong Kong – in Central, Mong Kok and Tsuen Wan – where you can buy and sell bitcoin.
Lee says there is also a large difference between the way Westerners and Chinese view bitcoin. Westerners tend to have a libertarian view of bitcoin, seeing it as a tool for freedom of money and independence from traditional financial systems.
"China doesn't care about the libertarian view, they don't care about the political aspects of it. What they care about is income – can bitcoin make me money now?" Lee says.
I am all for libertarianism and can certainly see the value of earning an income, but at US$15,000 a bitcoin, the price seems steep. Lee sees me wavering and reminds me I needn't buy a whole coin – I could just purchase a fraction of one. But it still seems a lot of money for something so intangible. Gold, at least, you can wear, and a flat – even a nano flat – you can live in. This is when Lee reminds me of my age.
"You and I were born in the 20th century. For millennials there's not necessarily much difference between something tangible versus something online. We are moving into the age of augmented reality. For the generation of young people growing up today, cryptocurrencies are normal," Lee says.
So normal, in fact, that Lee predicts by the time today's teenagers graduate from college, they will be expecting at least part of their salary to be paid in digital currency.
"What's tangible in the new world is cryptocurrency, as opposed to this thing we call money today, which has been abused, over-printed and poorly managed," Lee says.
As for the value of bitcoin, he is convinced it will continue to increase.
"We are in the discovery phase of a brand new asset class that literally started at zero dollars. If this asset class is meant to equal gold then it should be at US$8 trillion," he says.
Original Link: SCMP