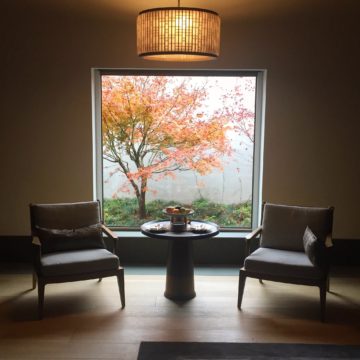 Aman Resorts' first Shanghai property
— January 5, 2018
With its restored Ming and Qing dynasty villas, and peaceful contemplation gardens, luxurious Amanyangyun delivers ancient culture as well as 21st-century pampering

What is it? Officially opening tomorrow, this is the fourth Aman property in China and the first in Shanghai. The resort con­sists of 13 villas and 24 one-bedroom suites surrounded by an ancient camphor forest.
Hang on, I thought you said it was in Shanghai? You heard right – the Ming (1368-1644) and Qing (1644-1911) dynasty villas and the forest originally stood in Fuzhou, in Jiangxi province, about halfway between Hong Kong and Shanghai, but were relocated 700km to the north.
That sounds like hard work. Why bother? It was a labour of love on the part of entrepreneur Ma Dadong. In 2002, Ma visited his parents in Fuzhou, his home­town, and discovered that thousands of trees – many more than 1,000 years old – were being cut down to make way for a reservoir. He arranged to transport 10,000 to a site just outside Shanghai, where they were replanted, the majority surviving the process. Ma also saved 50 Fuzhou villas from destruction, deconstructing them and storing the wood and stone in a warehouse.
So how did it become an Aman? Ma reconstructed one of the Ming villas and was debating what to do with the ancient treasure trove when Adrian Zecha, Aman's founder and former chairman, came to visit. Zecha was blown away by Ma's efforts and a plan for a one-of-a-kind resort began to take shape. That was 10 years ago. Aman Resorts has since been bought by Russian real-estate developer Vladislav Doronin, who has seen the project through. Australian architect Kerry Hill designed the minimalist interiors, with plenty of wood, stone and bamboo.
The trees and villas may be ancient, but the property itself is brand new; on our visit last month, much was still under construction. It'll take a little while for vines to climb the walls and the resort to fully settle into itself.
It's an Aman, there must be a spa. Sadly it was still under construction during our visit, but we did get a peek at the outdoor pool. There's another inside, as well as a Russian banya and a hammam.
When it's finished, the spa should look pretty Zen, with the yoga studio overlooking a reflecting pond for deep and meaningful stretching, and the whole surrounded by bamboo and yet more ancient trees. Speaking of which, on arrival, guests will be encouraged to water the grand dame of them all, a 17-metre Emperor tree at the heart of the property.
If you feel like giving this beauty a hug, you'll need some friends; it takes six pairs of outstretched arms to fully surround the trunk.
Sounds like a visitor could work up an appetite; what's there to eat? Chinese, Japanese, Italian – take your pick. Lazhu is the most locally inspired of the three restaurants and will be overseen by Shanghai-born chef Steve Miao. As a tribute to Jiangxi, the menu has plenty of spicy dishes from the province.
Dedicated Aman junkies may already be familiar with Nama, the Japanese restaurant that was introduced at Amanpuri, in Phuket, in March last year. Nama is the Japanese word for "raw" and also, handily enough, "Aman" spelt backwards. The new restaurant will follow the Japanese tradition of washoku, which translates as "food in harmony". Arva, the Italian restaurant, opened in Aman Venice in October and is soon to be a feature of a number of the group's properties.
Is it all about being pampered and fed? Not at all. In the cultural centre – in a restored Ming dynasty schoolhouse – guests will be taught the traditional arts of the literati of yore, including calligraphy, flower arranging and an ancient tea ceremony.
What's the bottom line? A one-bed­room suite costs 5,188 yuan (HK$6,200) a night and the price rockets to 30,000 yuan for a Ming Courtyard Suite, including 24-hour butler service, breakfast and return transfer to Shanghai airport. Transportation back to the Ming dynasty comes free of charge.
Original Link: SCMP