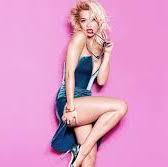 Arc of a diva
— January 16, 2018
British pop star whose family fled war-torn Kosovo when she was seven, is thrilled to be touring again, and Hong Kong will be her first big gig of the year. She talks about acting, growing up in West London and her sold-out UK tour

British pop and R&B singer Rita Ora is looking forward to getting back on the road and touring, and her big first gig of 2018 will be in Hong Kong, where she will perform at Central Harbourfront on Thursday alongside rising Taiwanese hip-hop and rap star J. Sheon.
"I've missed touring a lot, I've missed the interaction with the crowd. Even though I haven't stopped performing – I did some duets while I was making my latest record – I definitely miss being on my own two feet and going on tour," Ora tells the Post.
This week's gig, part of the Billboard Radio Live in Hong Kong series, will be the 27-year-old's second time in the city. In October 2015, the then rising star performed at the Landmark Atrium. This time, she's looking forward to playing a much bigger stage and plans to perform a mix of songs from her first album and her recent singles.
"I'm going to sing a load of really fun songs for people to dance to and have a fun time," she says by phone from London. "I love my job and I love to work all the time so all my fans – including those in Hong Kong – love the shows. I love connecting with my fans."
Born in Kosovo, Ora was barely seven years old when her parents fled because of the war. The family – including her older sister, Elena, who now works as her manager – settled in West London. As a child she played in the area around Grenfell Tower, the 24-storey public housing block that was devastated by fire last summer, claiming 71 lives.
Ora was among the first on the scene to help with the relief effort. "I grew up in that area and London has always been such an inspiring city for me, so it was devastating for me to see there was a tragedy going on. I showed my support because I have a lot of memories around that area," she says.
As a young teen, she told her parents she wanted to be a singer. They were initially apprehensive, but she talked them into sending her to the Sylvia Young Theatre School in London's prestigious Marylebone. Alumni include Amy Winehouse and Emma Bunton.
"When I left school I definitely wanted to try this music thing. My mum and dad are very educated and have degrees, so they found it really scary that their daughter wanted to be a singer. I really tried to prove them wrong. My parents worked really hard to get me into that school and I hope I'm paying them back now," she says.
At the age of 18, Ora was signed by Roc Nation – the US label founded by Jay-Z – and in 2012 released her debut album, Ora. Her second album has been a very long time coming – "I'm aiming for March," she says.
The second album will have fewer collaborators than the first. It will include the two singles she released last year, both of which went to the top 10 – Your Song went to No 7 in the UK, while Anywhere hit No 2.
"The album is quite personal. I've written a lot about my journey and the experiences I've had with people while getting to where I am today, being able to be free with my music," she says.
The delay in bringing out a second album didn't dent her earnings – in 2016, she was reported to have earned £3 million (US$4.1 million) from acting and advertising. She doesn't dispute this figure.
"The most fun for me was being able to venture out into lots of different parts of entertainment. I love to entertain and acting and movies – so I was very happy to get that started," says Ora.
The non-musical gigs include TV roles on The Voice, The X Factor and America's Next Top Model, acting roles in two Fifty Shades of Grey films with a third due out soon, and endorsement deals for Adidas.
"I don't think I'm exploring. I think I'm making the decisions on purpose, which is what I've always envisioned," she says.
Indeed, Ora wouldn't be where she is without being ambitious. She has called 2015 her "meltdown year", because of her problems with Roc Nation and the ensuing court case. She signed with Atlantic records in June 2016.
After turning 25, Ora decided that music and her family were the most important to her.
She turned 27 in November and is feeling upbeat about the future and the upcoming tour that will begin in Glasgow on May 11 and end in Dublin on June 24.
"This year with my Hong Kong performance and my tour coming up, which just sold out, I'm really proud to just get out there, get back on the road with the band, promote my new album and have a good time," she says.
Ora didn't have time to see much of Hong Kong during her first trip to the city, but this time she will spend four days here. "I'd love to have a look around, maybe go to a few shops. I really like Chinese food," says Ora.
And she has a final word for her fans in Hong Kong: "I want to say thank you for supporting my music and having the patience you've had. I just can't wait to get there."
Original Link: SCMP