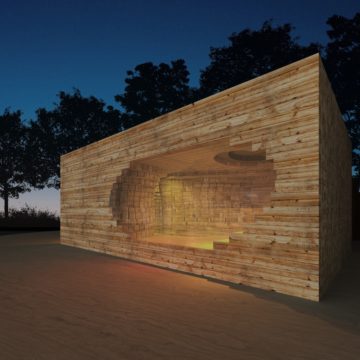 Reimagining Hong Kong's public places
— April 6, 2018
A hot sauna and a cool pavilion are the starting points for an architectural dialogue about public space and social connection in Hong Kong

Growing up on a public housing estate in the 1980s, Hong Kong architect Stanley Siu, a former 40 Under 40 Award winner and a 2017 A&D Trophy Award recipient, fondly recalls the estate's public spaces and in particular the outdoor pavilion where he spent much time as a child. "Different people used the pavilion at different times of the day. Sometimes there would be old guys playing chess, other times young people hanging out," says Siu, who lived on the Sha Tin estate until his early teens, when he moved to New Zealand to study.
When New Town Plaza opened in 1985, it and the wave of shopping malls that followed radically changed the lifestyles of Hongkongers. Instead of chatting to their friends in the neighbourhood pavilion, people now spent their free time at the mall. This, combined with an increasing dependence on technology and a lack of effective public space, is reducing people's social contact time with friends and neighbours.
"Our apartments are getting smaller and smaller; you can't stay in the house. Nowadays public space is always the leftover space from a development, but I hope they can start creating public space-driven development," says Siu.
When Culture for Tomorrow, a new non-profit organisation designed to nurture young designers and architects in Hong Kong, asked him to re-imagine a Hong Kong pavilion for its inaugural project, he jumped at the chance. The brainchild of business magnate, art patron and founder of the K11 Art Foundation, Adrian Cheng, the initiative is focused on rethinking public space. Its first exhibition, Hot is Cool, brought together two structures from different ends of the thermometer: a Hong Kong pavilion and a Finnish sauna, both displayed on the large public concourse in front of Tsim Sha Tsui's Cultural Centre.
Traditional Chinese pavilions were made of wood, but over the years that evolved into concrete. Siu credits avant- garde architect Chung Wah-nam as the father of the modernist style of pavilion.
Chung's pavilion Hu Bian Ting on Junction Road in Kowloon caught Siu's eye. It was originally located in the middle of a lake and designed to look as though it were floating on the water. However, the lake was reclaimed and concreted over, a move that struck Siu as symbolic of the fate of pavilions and public space in Hong Kong, and he used it as the model for his Hot is Cool pavilion, leong4ting2, which he reproduced three times. A key element is stackable wooden cubes that can be used as flexible seating.
"You can pick up the cubes and move them around," says Siu. "It's organic: the whole thing can evolve. There shouldn't be any rules. Sometimes in the public parks in Hong Kong there are too many rules about what you can and can't do." He believes Hong Kong developers have much to learn from Europe's medieval towns and cities, where streets invariably lead to a central square or piazza.
"I love visiting Italy – Rome, Florence, Venice – and seeing how the locals there use public space. The kids play football, grandmas sitting talking and when there's an event they use the piazza. Hong Kong is such a vibrant city, but it's all about speed and technology and we forget about public space to connect with people," says Siu.
In Finland the cold weather, often even in summer, means that public socialising has traditionally been done in a sauna. Initially they were purely functional – a hot-air or steam bath to clean the body – but a culture grew up around them. Today the country of 5.4 million people is served by more than 3 million saunas, with most apartments featuring a private sauna and families often having a second sauna in a country house.
"Some people have a misunderstanding about saunas: they think it's something erotic," says Finnish architect Ville Hara. "But for us it's almost a holy space. We get together with friends and colleagues – men and women – and we respect each other's feelings."
Hara was nominated for the Mies van der Rohe Award in 2013, but it was his most recent work – Löyly, a public sauna on the Finnish coast – that really put him on the map.
"The first thing we do at the school of architecture is learn how to design a sauna. It's the basics of architecture for us," he says. His contribution to Hot is Cool was the Sauna Kolo, a wooden sauna with a shower and changing area; one side was glass-fronted and looked out over Victoria Harbour.
Culture for Tomorrow is planning more public events to stimulate cross- cultural conversations, new designs and innovative architectural thinking.
"Culture for Tomorrow will enable a new generation of designers and architects to realise their forward-looking and people- oriented ideas, and bring them into the community in bold new ways," says Cheng.
This is an excerpt from "Climate exchange", a feature article from the April 2018 issue of Perspective magazine.
[PDF url=http://www.hongkongkate.com/wp-content/uploads/2018/05/633-Perspective-Hot-is-Cool-.pdf]