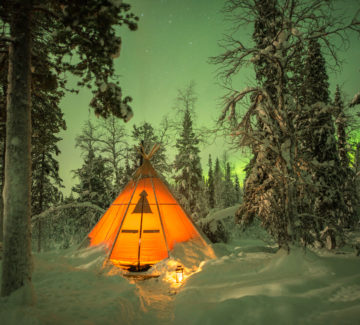 Polar Express
— May 1, 2018
Many of those who visit the Arctic are after once-in-a-lifetime experiences. The Northern Lights rank high on many people's bucket lists and they don't disappoint, but there's plenty more to do, like snowmobiling, dog sledding, snowshoe walking and ice fishing. And when you have travelled so far in search of something out of the ordinary, a regular five-star hotel isn't going to cut it; you want to stay in a place just as unique as those experiences. Luxury tour operator Jacada Travel has tracked down some knockout Swedish properties north of the Arctic Circle that will have you bedding down smack in the middle of an Arctic adventure.

Sapmi Nature Camp
If it's a truly authentic Arctic experience that you are after, you can't beat Sampi Nature Camp – it offers all the fun of glamping with plenty of outdoor activities and a chance to learn first hand about the indigenous people of this region, the Sami.
The camp is owned and run by Lennart Pittja, a Sami who grew up in a family of reindeer herders and is on a mission to share his culture with people from around the world. The camp consists of five traditional lavvu tents, a wooden cabin where meals are served, a sauna hut and a couple of incineration toilets (there is no running water on the camp). Pittja created the camp without cutting down a single tree – that respect for nature is at the heart of Sami culture, they live and breathe sustainability.
The camp is beside a river that freezes over in winter. Strap on a pair of snowshoes and you can pad your way across the river and enjoy the vast expanse of white and the absolute silence. It's a chance for quiet reflection and perhaps a little awe at the beauty of nature.
Pittja has drilled a hole in the surface of the frozen river and dips a bucket in to get fresh water. Back at the cabin he puts the kettle on for a warming cup of coffee. It's a chance to talk to him about his life and that of the Sami people. His first memory is of going up to the mountains in the summer with the reindeer, an annual trip that his brother continues to make with the family's reindeer herd. Pittja is happy to speak not only about the traditions of his people, but also the challenges – climate change, the government and the increasing number of predators that are killing the reindeer.
Dinner isn't just cooked by Pittja, he also caught the fish and smoked it himself too. When it comes to bedtime you snuggle down in a double bed in a traditional lavvu kept warm with a wood-burning stove. In the absolute silence of the early morning you can lie in bed and think about the reindeer who graze the land you are sleeping on and contemplate a life likely so very different from your own. Doubtless you'll find there are some lessons and insights from this stay that are worth taking home with you.
www.sapminature.com
Tree Hotel
Picture a bunch of architects and dreamers on a fishing trip. To pass the time they talk about what their ideal tree house would look like. The ideas are fun and imaginative – one conjours up a UFO-styled tree house, another a mirrored cube – and while they sound like the stuff of pure fantasy this particular pipe dream came off the ground thanks to the determination of Kent Lindvall and his wife Brita.
The Swedish couple ran a 1930s to 1950s guesthouse for six years, but it was failing to attract enough guests to pay the bills. The seven tree houses turned their fortunes around, each built by a Scandinavian architect, are located in a wood in Harads and have proved a huge success, drawing visitors from all over the world.
The 7th Room is the most recent, largest tree house and opened in January 2017. The two-bedroom lodging is 10 metres up in the pine trees and even has its own bathroom with shower (yes, you can actually take a shower halfway up a pine tree). The only other tree house with a shower is the Cabin, overlooking the valley, spacious inside and with a wooden terrace.
My personal favourite is The UFO – it looks especially good at night and is reached by a retractable ladder that leads up through the base of the structure. It's surprisingly spacious inside and can sleep five people. Another fun one is The Mirror Cube which is covered in reflective glass, camouflaging it among the trees. And who says treehouses are only for the able bodied? The Blue Cone (which is actually red – that's Swedish humour for you) has a ramp for wheelchair access.
For guests staying in tree houses without a shower, there are two shower/sauna cabins less than a minute away. Those who want to get close to nature, but don't want to be totally out of touch with the world will be pleased to know all the tree houses have Wi-Fi. And I can confirm that despite being up a tree in the Arctic, the connection is good.
Guests descend from their lofty lodgings in the morning and take a short stroll to the guesthouse for a hearty breakfast, packed with 1930s to 1950s memorabilia and a wonderful counterpoint to the modern tree homes. The Swedes are known for their design aesthetic and this project – where modern meets old school – is a prime example.
Icehotel
Founded in 1989, this hotel in Jukkasjarvi, 200 kilometres above the Arctic Circle, was the first to be built completely from ice – well, to be precise it's 'snice', snow mixed with ice. Since then ice hotels have been built in Finland (SnowCastle of Kemi), Canada (Hotel de Glace), Norway (Sorrisniva Igloo Hotel) and many more chilly places. But surely the original is the best.
Every year the rooms are designed by international artists and built completely from scratch with ice harvested from the neighbouring Torne River. A must is checking out the ice sculptures in all the rooms, each is unique – one is designed as a Fabergé Egg, another attempts to replicate the experience of being inside a cloud (Cumulus) and a fun one has King Kong leering over the bed. The rooms are open for viewing until late afternoon even if you're not checked in for the night.
The ultimate treat is a stay in one of the deluxe suites – this has the advantage of having a warm and private en suite with a toilet, shower, oversized bathtub and a sauna. The ice rooms are kept at -5°C. It is important to dress correctly for a night in subzero temperatures – thermal long johns and top as well as wool socks and a hat should do it and then it's straight into the sleeping bag and zip up for night. A wake-up call in the morning comes courtesy of the roving 'juice man' who will serve you a hot cup of lingonberry juice in bed.
Wake up refreshed and enjoy any of the wintry activities on your doorstep. Dog sledding through the snow-covered woodland is an absolute highlight and the ice sculpting is fun and much easier than you might expect. It has to be said that the Icehotel is quite commercial compared to other Arctic options, but it attracts big numbers of people for very good reason – it really is something special.
www.icehotel.com
Brändon Lodge and Pine Bay Lodge
These sister properties – 20 minutes apart by snowmobile – are owned and run by Goran Widen and his cousin Johan Björklund. It's a family-run business and that is apparent in the warm, friendly vibe guests notice as soon as they arrive. The two lodges are quite different, but share similar outdoor activities and both are great spots for taking in the marvel of the Northern Lights.
The focal point of Brändon Lodge is a two-storey lodge. There's usually a fire going downstairs where guests can relax, read and swap stories and upstairs is the restaurant that serves delicious local dishes. Surrounding the lodge are 15 two-bedroom wooden cabins – each has plenty of space around, making it an ideal retreat for couples wanting some private time or for families.
Pine Bay Lodge is a nine-room guesthouse, all with en suites, and is ideal for a group of friends celebrating a special occasion. I can't think of a better place to celebrate a 40th birthday or large family gathering. The rooms lead off a large open-plan lounge with plenty of comfy sofas in front of a wood-burning fireplace. It's possible to book just one or two rooms, but really it's ideal for a big group who can enjoy the run of the place, sauna and three-course evening meals.
All the usual winter activities are available direct from the lodges – think snowmobiling, snowshoe walking, cross-country skiing, dog sledding and ice fishing. You can also enjoy Dinner on Ice – an evening made all the more special if the Northern Lights are working their magic. And for something different, you can take a trip on a hovercraft (the only one in the region) that skims at speed across the ice and out onto the pack ice. The cousins grew up in this region and know the archipelago like their hands, making them the perfect hosts for a tour of the region.
www.pinebaylodge.se
Fjellborg Arctic Lodge
Imagine arriving at a remote wintry cabin by dog sled, four feisty huskies pulling you through wintry woodland and out across a vast expanse of white until you pull up beside a wooden lodge. There's a fire going in front of the lodge surrounded by seats covered in reindeer skins. Resting your legs after the journey, you sip a cup of warm lingonberry juice. If the place feels remote it's because it is, and that's what people come for – the sense of having truly escaped.
There are half a dozen small cabins arranged around the main lodge, but the one you really want to stay in is the Master Cabin, a two-storey wooden, four-bedroom lodging that is perfect for a family or group of friends. The bedrooms, and even the sauna, all overlook the lake that is frozen in winter. Downstairs there's a wood burner to keep the place cosy and the decor is rustic Nordic style with wooden beams, leather sofas and blankets. You can take your meals in the main lodge, or if you're just too comfortable to leave, enjoy them in the Master Cabin.
www.fjellborgarcticlodge.com