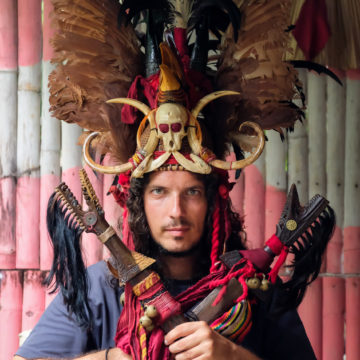 Why this Italian travel writer hates selfie culture
— May 24, 2018
Marco Ferrarese talks about the sense of adventure that brought him to Asia and why contemporary travellers make him sick

Crashing out I was born in 1980 and grew up in a small town called Voghera, close to Milan, with my parents and elder brother. My father didn't like to go far from Italy, or Italian food, so each summer we went to the south­ern coast.
The only thing I really remember from early child­hood was from when I was about seven years old. My brother and I were sitting in my father's little yellow Fiat. The keys were in the ignition and I managed to start the car. It felt like an out-of-body experience – I saw the car rolling down the hill and smashing into a wall. The car was completely destroyed, but my brother was fine and I only had a nosebleed. After that accident I started stammering very badly and could barely talk. I had to spend time in a hospital for speech problems.
Home alone My best friend was called Paco and I spent a lot of time with him and at his house. His parents were hippy types and instead of going to the seaside, his father jumped in his camper van and went to Norway or France. I was attracted to this.
There wasn't much to do in our small town, but it had a big music scene. When I was 12, Paco and I started a band. I really liked heavy metal music and horror movies back then. At school people bullied me because of my stammer. I used the horror movies and things that were unconventional to lift myself a bit because I couldn't really talk.
It took me until I was 14 or 15 and playing in bands to get over this – punk rock helped me to talk. Our first band was called Home Alone; it was a pop-punk band with Italian lyrics and our parents drove us to gigs. Later, when our guitarist turned 18 and got a car, it was easier to get around.
Shock horror When I was in my early teens I wanted to be a writer and loved horror by authors such as Stephen King and splatterpunk books, especially the famous anthology Splatterpunks: Extreme Horror (1990).
I wasn't a very good student; I wrote my fanzine in class – Formaldehyde, which was focused on raw garage punk and sick movies. I did four or five issues – I photocopied 200 copies of each and sold it by mail order. I also sold bootlegged VHS horror movies and even porn to make a few more lire. During my last year in high school, I self-published a collection of short stories called Cannibal that did quite well.
A fortune teller told me When I was 17, I started playing with a band called the Nerds. Even though music was a big part of my life, we never made much money; it was only ever enough to cover our expenses. This band was like a marriage – it was the same bunch of people for 10 years, we'd all met in high school. We were doing well but in 2007 we broke up when the bass player refused to come on a tour of Brazil and Uruguay, and the two others followed his decision. I told them, "If you consider this behaviour 'punk', it's over, because you are not."
That summer I read a couple of books by Italian writer Tiziano Terzani – A Fortune-Teller Told Me (1995) and Behind the Forbidden Door (1984) – which inspired me to go abroad. I was tired of the "American dream" and my early passion for Asia had made a comeback. China in 2007 was gearing up for the Olympics … a hell of steel and concrete in constant motion. I got a job in a second-rate university in Qinhuangdao, in Hebei province, 300km east of Beijing, teaching Italian. I was earning 4,000 yuan a month – that was an enormous amount of money; I went out every night for dinner and beers with friends.
China to Penang It was at this time I wanted to get serious about writing and started the blog Monkey Rock World. After 10 months in China, I travelled slowly from Mongolia to Bali. I was spending just a few days in each place but when I got to Penang, I decided to stay a week, as I really liked the multi­cultural feeling.
On my sixth day there I met Kit Yeng, the woman who would become my wife. She was a tour guide. I was going to Borneo the next day and although I couldn't persuade her to join me, we met soon after, in Kuala Lumpur, and I lived with her and her parents for a month before I continued my travels to Australia. I moved to Penang in 2008 and married Kit and we've been living here ever since.
Book banning I knew that if I wanted to be taken seri­ously as a writer in English, when it is not my first language, I needed to write a book. My first book, Nazi Goreng, a coming-of-age novel about a Malay Muslim youth who joins a neo-Nazi skinhead gang, was full of mistakes and rejected by many people, but then I got lucky and Monsoon Books in Singapore said they wanted to publish it.
It came out in November 2013 and became a bestseller, but was banned in 2015. The book came out a year later in Malay and was banned in 2017, so it's been doubly banned. In order to stay in Malaysia I took a PhD in anthropology with Australia's Monash University – it provided me with a visa and a salary. The focus for my doctorate was on how multi-ethnic Malaysians perform globalised extreme music – heavy metal, punk and their subgenres – based on their pre-existing ethnic identities. I did field work for a year and I also played in a band locally from 2012 to 2016.
Lost in translation The material that didn't make it into the PhD went into a second book, Banana Punk Rawk Trails (2015), which talks about my experiences in the music scene.
My third book, The Travels of Marco Yolo, came out last year and is a collection of travel stories that have run in magazines. I have another book, Punks, Monks and Politics (2016), which is about authenticity in Southeast Asia and there's a big section on heavy metal and punk music. I'm not much into heavy metal and punk at the moment; when I see many Asian bands playing this music I realise it has lost its sense of rebelliousness. In Malaysia and Indonesia, many of these bands are Muslim, they actually conform to the dominant ideology, simply wearing a jacket on top of their religious identity. For me, punk rock is about being yourself and doing your own thing.
Between commerce and danger Kit and I use Penang as a spring­board to visit many countries. Now that Kit has stopped being a tour guide, she follows me on most of my travels – she takes photos for my travel stories. Sometimes I pitch stories from countries I really love, like Azerbaijan. No one goes there or wants to go there, so editors don't want stories from these countries. When that happens, I put them on my website.
The travel scene has become very middle class – it's all about going where everyone goes and taking selfies to show you've been. It makes me sick. I like to see people approa­ch­ing travel in a more independent and adventurous way. Before, when I travelled, I'd spend a couple of dollars and the place was dirty and had nothing – that was an adven­ture. These days, when I travel I try to camp, go by bicycle or hitch­hike. I want to put myself between commerce and danger.
Original Link: SCMP