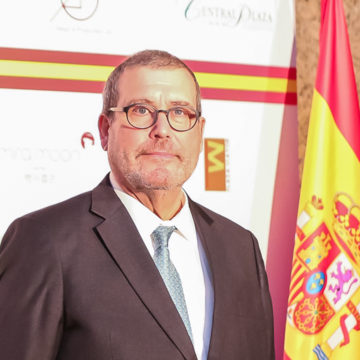 Santiago Martinez-Caro shares his literary picks
— March 24, 2018
From Spanish classic Don Quixote to an Argentinian comic strip to Tai-Pan – the novel that convinced Santiago Martinez-Caro to take up his current Hong Kong posting – these are the books consul general would take to a desert island

Santiago Martinez-Caro had never been to Asia before accepting the post of Spanish consul general in Hong Kong in August 2015 – a decision in large part influenced by James Clavell's novel Tai-Pan.
He started his diplomatic career in 1984 with his first two postings to Yaoundé, Cameroon, and then Lima, Peru, and later served as the Spanish ambassador to Zimbabwe, Zambia and then Malawi.
In his own words, here are the five books he would take to a desert island.
Don Quixote by Miguel de Cervantes, 1615
This is a classic Spanish book, the first modern novel that became an international bestseller. Miguel de Cervantes is Spain's equivalent of Shakespeare. It's a satirical book and I've read it several times. My parents gave me a special children's edition when I was seven. I was brought up in the UK, so my parents had to make me read and speak in Spanish.
They told me that I used to lie in bed reading it and laughing about the adventures of this crazy old guy who believes that he's a knight. This Spanish book was so different from the English books I was reading – Enid Blyton and stories about children called William. It's full of meaning, philosophy and ideas – it's truly one of the best books in literature.
Mafalda by Quino, 1964-1973
Malfada is an Argentinian cartoon strip written and drawn by cartoonist Joaquín Salvador Lavado, better known by the pen name Quino. The strip ran from 1964 to 1973, which were my intellectually formative years. Mafalda is a six-year-old girl – she's very middle class and progressive, and concerned about humanity and world peace.
In each small strip, Quino is able to philosophise about world problems – hunger, human rights, the environment – through the eyes of this six-year-old with attitude. I agree with most of Mafalda's take on life with one exception – she hates soup and I adore it. When I have a spare 15 minutes, I read a couple of pages – it relaxes me and makes me think.
The Courtney series and Ballantyne series by Wilbur Smith
I have a passion for Southern Africa. Sub-Saharan Africa has been the geographical focus of a large part of my career – I was the Spanish ambassador to Zimbabwe, Malawi and Zambia. Historical books have always been my favourite and I've enjoyed these two family sagas by Wilbur Smith.
The Courtney novels are a series of 16 books published between 1964 and 2017, and chronicle the lives of the Courtney family, from the 1860s until 1987. The Ballantyne novels are a series of five books published between 1980 and 1992, and tell the stories of the Ballantyne family from the 1860s until the 1980s against a background of Rhodesian history.
Ten years ago I became a Kindle fanatic and gave away all my hard copies. I bought the Wilbur Smith ones again for my Kindle and carry it with me everywhere.
Tai-Pan by James Clavell, 1966
I first read this when I was a teenager and I've been fascinated with Hong Kong ever since – it's the main reason I'm here now. When I was offered the position of Hong Kong consul general, I'd never set foot in Asia during my 34-year diplomatic career.
I often wonder if I would have said yes if not for this novel. I took 48 hours to consider my decision. During that time I reread Tai-Pan and accepted the position. I was born in New York and have lived all over the world, but Hong Kong is one of the most fascinating cities I've been to, for its history and its current situation. There's always something new coming up.
When Hope and History Rhyme by Amina Cachalia, 2013
I knew Amina Cachalia long before I read her autobiography. She was the mother of my roommate at Atlantic College in Wales in the 1970s. Amina was a South African of Indian origin and an anti-apartheid activist. She was under house arrest for about 20 years. Learning that his passport was cancelled and his parents were under house arrest had a big impact on me.
I visited the family in South Africa. They lived on the border between the coloured section and the white section. One day we were playing ball and the ball bounced to the other side of the road – I was the only one who could cross the road to pick it up.
In 1995, when Nelson Mandela was divorcing Winnie, he proposed to Amina, but she declined out of loyalty to her late husband, Ghaleb Cachalia. She died in 2013, a few months before the autobiography was published. I remain in touch on Facebook with her son, who is a member of parliament in South Africa.
Original Link: SCMP