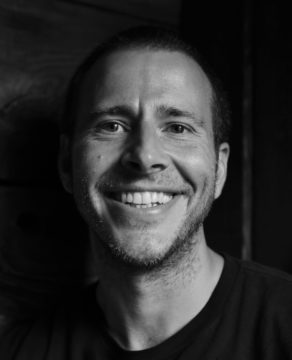 Todd Darling's must-reads
— April 14, 2018
On the Homegrown Foods founder's list is the book that opened his eyes to how food choices affect the planet, a second world war epic, a Stephen King classic, and titles that reflect his fascination with photography

Todd Darling, a pioneer of the "locavore" (local food) movement in Hong Kong, is from New Jersey. He got his first job in the food industry at the age of 17, working in an Italian restaurant in New York. He continued to work in the business while later studying at the University of Vermont.
After dropping out of university and following a girlfriend to Amsterdam, he returned home and got a job as a restaurant manager. He came to Hong Kong in 2003 to manage Red Bar and went on to run several venues under the Pure Group.
In 2008, he set out on his own and set up Homegrown Foods. Today the business owns and operates five venues in three cities (including Posto Pubblico and Linguini Fini in Hong Kong), as well as a pioneering organic farming initiative in Hong Kong.
Here are the five books Darling would take to a desert island, in his own words.
The Americans by Robert Frank, 1958
This photobook had a huge influence on me. I love the energy and emotion of the pictures. It's the only photobook that I frequently return to.
I've been taking photos my whole life, but in 2014 I got serious about it and began working as a freelance photographer, around the time I came across this book. The restaurant business is still my primary way of making money, but I needed something more and photography was it.
When this book first came out it was shunned in America – in fact, it was first published in France – and people said it was critical of America. The introduction to the book was written by Jack Kerouac, whose book On The Road is another one of my favourites. Both books are about a topic I'm interested in: the American dream. Have we ever fulfilled the American dream? If so, are we still fulfilling it? And if not, what went wrong?
Paterson by William Carlos Williams, 1946-1958
William Carlos Williams was a doctor who lived in Rutherford, New Jersey, but worked on the planned city of Paterson – the first planned industrial city in America. I grew up in northern New Jersey and Paterson was 10 to 15 minutes away. I could ride my bike there. Many people would consider it "the other side of the tracks".
Williams experienced the same things I did about Paterson. The book is a collection of five poetry books he wrote over a 10-year period, and includes things like archival newspapers from the 1800s.
In September 2016, I went back to New York to do a one-year course in photography and I stayed on to work on a photobook on Paterson. Inspired by Williams, I've also been including archival material in my book.
The Stand by Stephen King, 1978
My brother is a massive Stephen King fan and when he comes across a really good one he recommends it to me. I've read five or six of King's books and enjoyed them.
I read the uncut version of The Stand, which is more than 1,000 pages – I figured if I was going to do it, I may as well do it properly. This would be a great book to have if you were stuck on a desert island because it's an epic, biblical adventure. It's a book I'd want to read again – I love apocalyptic stories.
The Naked and the Dead by Norman Mailer, 1948
One of the things I like about Norman Mailer is that he switches between journalism and fiction. He bases his books on a very accurate depiction of real life. The Naked and the Dead is a second world war epic about a platoon of soldiers fighting in the South Pacific. Mailer does a great job of creating very colourful characters.
Both my grandfather and my great-uncle fought in the Pacific. They both survived, but my great-uncle was emotionally scarred and never talked about his experiences. I'm interested in the question of whether men are inherently violent or whether we are products of the society we grow up in.
The Omnivore's Dilemma by Michael Pollan, 2006
Michael Pollan's book had a big impact on me. It influenced the way I established my company – Homegrown Foods – and in a large way influenced the way I eat: less meat and more vegetables.
I read The Omnivore's Dilemma soon after it was published and it opened my eyes to the impact that our food choices make on the planet. It's also an environmental book. It made me understand the relationship between local organic produce, and flavour and nutrition.
This was eye-opening for me and it's the reason our restaurants use local organic vegetables, especially when the vegetable is the centrepiece of the dish. We set up the business to connect people to local organic farms in the New Territories and for us to be able to access local organic produce for our restaurants.
Original Link: SCMP