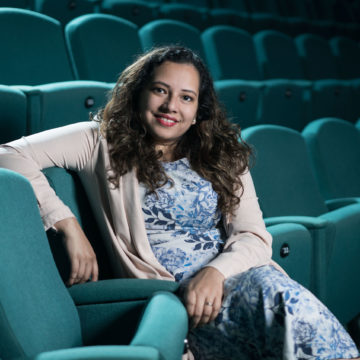 Nashua Gallagher's must-reads
— May 19, 2018
Peel Street Poetry founder Nashua Gallagher's list is a mixed bag of literary gems, from a Jane Austen classic to a comic book series that changed her view about the genre

Nashua Gallagher is head of acquisition and B2C marketing for Asia-Pacific at the Financial Times. She was born in Sri Lanka and moved to Hong Kong with her family at the age of one. In 2005, aged just 15, she co-founded Peel Street Poetry, a literary collective that runs poetry open-mic nights. Next month she will launch her first collection of poetry, All the Words a Stage(Chameleon Press).
Miss Ranskill Comes Home
by Barbara Euphan Todd, 1946
I read this book last year. It's a wonderful story about a woman who gets stranded on a desert island, so I thought it a fitting choice for this column.
The woman is on a cruise just before the first world war when her hat falls overboard, then she falls overboard too. It's a charming, hilariously bumbling tale of her being rescued after three years and brought back to the UK. She finds herself in a world she doesn't recognise, an environment with different values to what she remembers, and she herself is changed as well.
I bought this novel in Persephone Books in Bloomsbury, London. It's a charming bookshop that republishes books from the 20th century. I recommend the place to any booklover visiting London.
Sapiens: A Brief History of Humankind
by Yuval Noah Harari, 2011
In this book, Yuval Noah Harari explains the how and why behind human history. It's a giant tome and you walk away from it feeling a bit more connected to human history.
There are plenty of interesting takeaways. Take, for example, the way Harari talks about how we created systems of commerce because we essentially got to a point where money didn't have an inherent value. We went from bartering to a system of credit. That was interesting to me – just think how prevalent credit cards are now.
Harari writes empathetically and has a deadpan way of looking at things such as nationalism and deeply held cultural beliefs.
Pride and Prejudice
by Jane Austen, 1813
This is the most well-worn book on my bookshelf because it gets read so often. I first read it as a schoolgirl. In Hong Kong we didn't have the cultural rules that I read about in Pride and Prejudice, but when we visited family in Sri Lanka in the summer I found those same rules there. It tickled me as a 12-year-old when I found those rules emanated from the 18th century.
The book has personal significance for me as well. I had an uncle who I cared for deeply, but he passed away when I was quite young. He was a wonderful man and he founded a school called Netherfield School, after Netherfield Park in Pride and Prejudice.
The Sandman Series
by Neil Gaiman, 1988-1996
This is a mythical comic book series about the Sandman, and his siblings who include Desire and Destiny. It is one of the most surprising literary reads I have come across and it changed my view about what a comic book is.
It's got so many layers of meaning – there are biblical references, magical realism. It takes you to alternate realities and there's even a volume based on Chaucer's Canterbury Tales.
A friend at Peel Street Poetry lent me one volume and I was hooked. I read comic books as a kid and wasn't expecting the series to be a serious contender in the literary world. It's masterly presented and would keep you absorbed for many hours on a desert island.
The Ground Beneath Her Feet
by Salman Rushdie, 1999
A friend recommended this epic love story to me when I was 16 or 17. I hadn't read any Rushdie before, partly because he was painted as such a divisive character because of the fatwa of the 1990s.
This isn't perhaps as well known as some of his other works, but it's worth reading. It's an interesting story and the characters are recognisably Asian. It's always compelling to read about characters that look and sound like you.
It's so beautifully written that when I finished it I remember thinking, "Wow, I didn't realise books could be like this."
Original Link: SCMP