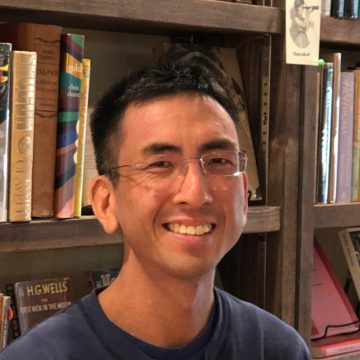 Five books a bookshop owner couldn't live without
— April 21, 2018
From Stephen King to his literary hero George Orwell, bookshop owner Albert Wan has a broad palette. Also on his list are sociological studies of British pubs and American life, and a Sichuan cookbook that reminds him of his mother

Albert Wan, owner of the recently opened Hong Kong bookstore Bleak House Books, grew up in New York and trained as a lawyer. He met the woman who would become his wife in New York and, when she got a job in Atlanta, Georgia, he followed her there and set up a private legal practice, focusing on civil rights and criminal defence. Eight years later, his wife got a job at the Hong Kong University of Science and Technology, and the family moved to Hong Kong in December 2016.
Wan quickly started doing the groundwork for a bookshop, first selling books at local markets and then earlier this year opening the bookstore in San Po Kong. He focuses on quality literature – most of Bleak House's books are in English and second-hand.
The Complete Works of George Orwell
by George Orwell, 2000
Orwell's Complete Works are published in 20 volumes. The first 10 are his fiction and the rest are his correspondence, essays and diaries. I came across it when I was at law school and ploughed through his essays and diary entries, some of which can be quite dry and mundane. Orwell died relatively young and this serves as something of a biography.
Orwell is a complicated guy. At some point he was an informer, but he was also kind, courageous and not many people know that he was an outdoors enthusiast. When I was a lawyer I used to write, and Orwell's essays and works taught me how to think and write.
Orwell is a personal hero of mine. I've even visited the Scottish island of Jura in the Inner Hebrides where Orwell stayed from 1946 to 1948 when he was writing 1984. The cottage where he lived is now rented out as a writer's retreat.
The Pub and the People: A Worktown Study
by Mass Observation, 1943
This is a case of one book leading to another – I found out about The Pub and the People because Orwell reviewed it when it came out. Mass Observation was a social research organisation and in the mid-1930s it looked at city life in Britain. Volunteer observers spoke to various people and kept diaries of their observations. They looked at everything from Sunday routines to how often people visited the doctor.
The book is about pub life in the UK and how the pub serves as a community space in both big and small cities. I like the book because it's an unvarnished, objective take on urban life. It was while I was reading this book that I got the idea for a bookshop and some of the themes of my bookshop – particularly the idea of a community space – I picked up from here.
My first dream for the bookshop involved selling beer and books, but I soon realised I wasn't going to get a liquor licence on the 27th floor of an industrial building. Instead, I focused on opening a bookshop where people could come and hang out, read a few books and not feel the need to buy anything.
The Studs Terkel Reader: My American Century
by Studs Turkel, 2007
Studs Terkel was a radio presenter who interviewed famous people and the ordinary folk of America. He was a good interviewer and storyteller. I came across this book at the fantastic bookshop at Penn Station in New York City.
I especially enjoyed reading his interviews with average Joes, people with real problems but often no solutions. They put up with their situation in the hope that things will be better for the next generation. Again, it was the unvarnished look at life – how people lived, what they said – that especially appealed to me.
Land of Plenty: A Treasury of Authentic Sichuan Cooking
by Fuchsia Dunlop, 2003
My wife introduced me to this book. I love to cook and I learned from my mother in the kitchen. I love Chinese food, especially from Sichuan. Some of the dishes my mum used to make are in this book, such as mapo tofu and fish fragrant aubergine. We are trying to eat less meat and Sichuan vegetable dishes are so yummy.
One of my favourite things to do is cook for the family – we have two children: four-year-old Charlie and six-year-old Ida. Our copy of this book is pretty beat up, which is what you'd expect of a cookbook that gets a lot of use.
The Shining
by Stephen King
I didn't read Stephen King until pretty recently because I was too much of a literature snob. He is a great writer and an all-round good guy. I consider him a writer's writer because he's a source of inspiration for other writers and is generous with advice on the craft. This is a book you can pick up and read quickly and appreciate. I've done that a few times and reread it recently.
The Shining is set in a haunted hotel in the Rockies, where there's a lot of snow. Having grown up in New York, I've seen my share of snow, so this book reminded me of my childhood. Not that my dad tried to kill me, as happened in the book, but because snow is evocative for me.
Original Link: SCMP