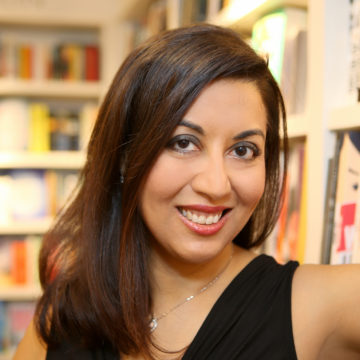 Shonee Mirchandani's must-reads
— April 29, 2018
The 'most stunning book' she's ever read, the ultimate love story, the book that helped her choose family over career – the director of the Hong Kong-based bookstore chain tells us about her favourite reads and what makes them special

Shonee Mirchandani, director of Hong Kong bookstore chain Bookazine, grew up in Hong Kong. She went to Island School, studied law at the University of Hong Kong and later did an MBA at Durham University in the UK.
Since 2002 she has run the family business with her sister, Arti. Here are the five books she would take to a desert island, in her own words.
Buddha of Suburbia
by Hanif Kureishi, 1991
I read this when I was 17 and it resonated with me for many reasons. The Buddha of Suburbia takes you to London in the 1970s – it's the end of the hippie era, but there's still a lot of sex, drugs and rock 'n' roll.
In a way it feels as though today's London is going back to that era with the mix of different cultures and politics. This was the first book that dealt with the complexity of being Indian in a British setting.
Growing up in expatriate Hong Kong, those issues resonated with me. I could relate to the identity crisis that the main character, Karim, experiences – growing up in the suburbs and moving to the city. When you read a book that you can really relate to, it makes you feel less of a weirdo.
Many of my Asian friends growing up in the UK – whether Indian, Muslim or Chinese – went through a similar identity crisis to Karim and this book resonated with them, too.
Midnight's Children
by Salman Rushdie, 1981
After reading The Buddha of Suburbia, I became hungry for books by Indian authors. It was still some time before we had Monica Ali and Zadie Smith, but I found Midnight's Children and it took me to a place I'd never known or grown up in. It introduced me to the period of partition and independence in India.
This is not a book you read in one go and I was constantly going to my father to verify facts – one can never be sure with magical realism or Rushdie. I was mortified to find that Indira Gandhi really had a sterilisation campaign for lower-class villagers.
This is the most stunning book I've ever read and it deserved to win the "Booker of Bookers" in 1993.
The English Patient
by Michael Ondaatje, 1992
In 1996, in the middle of my MBA at Durham University, I came back to Hong Kong for the holidays and watched the film version of The English Patient. I was so overwhelmed that I sought out the book when I was back in the UK. I love the book and film equally.
The movie focuses on the titular English patient and the love affair, but in the book you get to know more about the other characters, such as the Canadian nurse and the Indian soldier.
It's the ultimate love story – the English patient willing to sacrifice everything just to bring back the body of the woman he loves. And you also have the tenderness of the love story between the Canadian nurse and the Indian soldier.
The Road
by Cormac McCarthy, 2006
I read this in one sitting – it was compelling, terrifying, heart wrenching and beautiful. It's the story of a father and son in a post-apocalyptic America. They are heading for the coast, scavenging for food in abandoned supermarkets and houses, and trying to avoid cannibals. They have nothing but an old shopping trolley and a gun with a couple of bullets to protect themselves.
There's a beautiful bond between the parent and child. I loved the dialogue between the two – it's brief and functional. What else can you talk about when you're trying to survive?
The little boy is almost godlike in his goodness and kindness – it's almost a metaphor for the qualities we need in the world today. I can't help thinking this is what civilisation will be reduced to if we continue operating as we are.
The Alchemist
by Paulo Coelho, 1988
I tend to avoid self-help books out of a sense of literary snobbishness, but I loved this. It's about finding your destiny, your dream.
It's a story about a shepherd who has a dream of finding treasure. He searches for it only to discover that it was with him all the time. Along the way he finds love, meets the alchemist and discovers his true potential.
The central message is that if you want something enough, then the whole universe conspires to help you. I've felt that to be true in my own life.
I think the book played a part in me choosing to leave a successful career in banking and law to work with my father in the family business. I moved back to Hong Kong in 2002 and the following year my father passed away.
Original Link: SCMP