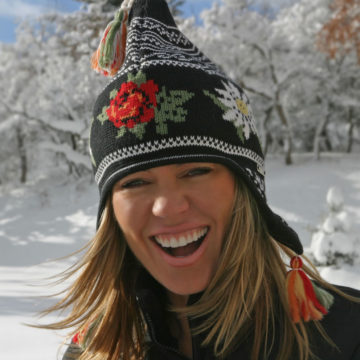 Annabelle's must-reads
— June 9, 2018
Bond's list includes a book about a mountaineering tragedy that her friends thought she was mad to read before scaling Everest and the story behind one of the world's biggest sporting brands

Annabelle Bond earned the title "fastest female climber in the world" in 2005 after scaling the highest peaks on all seven continents in 360 days.
She started by reaching the summit of Mount Everest on May 15, 2004, becoming the fourth British woman to stand on top of the world. She went on to climb the six other mountains that comprise the Seven Summits in less than a year, making her the only woman at the time to have achieved that feat. Her record stood for eight years before being broken.
She has a daughter, Isabella, and recently got engaged to her boyfriend, Ken Hitchner.
Into Thin Air
by Jon Krakauer, 1997
This book was life-changing. I read it before I went to Everest – it's what got me fascinated about the mountain in the first place – and had it with me when I climbed the mountain in 2004.
It's a gripping story about the fateful 1996 Mount Everest disaster. Two expedition groups were on a competitive quest to put their clients on the summit. A terrible storm swept up the valley and isolated a group of climbers in the "death zone", killing 11 people.
Everyone thought I was mad to be reading about tragic incidents on Everest when I was about to climb it, but I wanted to understand what went wrong up there. I learned the importance of having the strength to turn back if need be, and also the importance of monitoring my own oxygen and not having to rely on anyone else to do it for me.
Atlas Shrugged
by Ayn Rand, 1957
This is a monster of a book – well over 1,000 pages – and was recommended to me by my fiancée Ken, who was a philosophy major. It's a very philosophical and thought-provoking read, and Ayn Rand draws fantastic, detailed characters.
It's quite a controversial book. I don't want to get into the politics, but it's quite indicative about what's going on in the world right now.
The main character is an entrepreneurial businesswoman, Dagny Taggart. She's a dynamic character and I found her to be a great role model in many respects. Another character of interest is John Galt – is he real or not? The book makes you think about work and how you approach life. Are you a sheep or a leader?
Shoe Dog: A Memoir
by Phil Knight, 2016
This is the story of Phil Knight, the founder of Nike, and his incredible journey to build one of the world's biggest brands. I've always talked about wanting to create a brand – I should have done it years ago when I finished climbing.
The book made me realise how hard it was to start Nike. Knight took blow after blow from competitors, creditors and cynics, and just as he hit success the government dealt a crushing blow. The foundation of Nike was Phil's relationship with his track coach, Bill Bowerman, and a group of other seemingly quirky misfits who shared his dream. Together they formed the essence of the brand.
Robert Kuok: A Memoir
by Robert Kuok Hock Nien, Andrew Tanzer, 2018
My dad recommended this as a fascinating insight into Asian history and one of the best success stories of our generation. My father was the chairman of HSBC and spent 45 years with the bank. When he was a junior banker, he was approached by many people seeking loans and was often impressed by their success stories.
What I especially enjoyed about this memoir was Robert's dedication to his mother and seeing how she shaped him. Brought up in colonial Malaysia, Robert survived the Japanese occupation, started a multibillion-dollar business in sugar and other commodities, and went on to build a huge multi-industry business conglomerate.
This journey through Asian history and his story to success results in a book that's hard to put down. If only there were more people like Robert Kuok in the world of business today.
And Then All Hell Broke Loose
by Richard Engel, 2016
Since 2005 I have been leading the hikes at a conference in Aspen called Weekend With Charlie Rhodes. I've met many fascinating people on the hikes, including the American journalist and author Richard Engel. He has been a correspondent in the Middle East since the mid-1990s and this book follows his 2004 book A Fist in the Hornet's Nest about life in Baghdad before and after the Iraq war.
This book documents the conflicts of the Middle East, a divided Jerusalem and the wars in Lebanon, Syria and Libya. Richard has repeatedly put his life on the line to bring news to those watching from the safety of their homes. He has been kidnapped by Islamic State and had so many life-threatening moments. It's hard to comprehend living on the edge of your seat every day.
His book gave me a huge sense of unease about the world we live in today and the chaos surrounding the Middle East and Western interference.
Original Link: SCMP