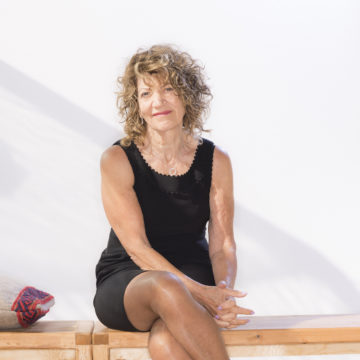 Fat is still a feminist issue
— October 27, 2018
In town for the Hong Kong Literary Festival, the British psychoanalyst, writer and activist talks about riding the wave of feminism in the 1960s and why she is furious that little has changed since she published her first book in 1978

Another country I was born in 1946 and grew up in a secular Jewish family in Chalk Farm, north London. My mother was a New Yorker and my father was a politician and I had an older brother. I wasn't like the other schoolgirls because although I was white, our family seemed to have a very different kind of life. We had people around, it was noisy and argumentative – it just wasn't nice and 1950s English.
Today I live close to where I grew up, but Britain and England has changed so dramatically it feels like another country. My father was a Labour MP. I didn't see him that much because in those days, parliament sat at night. He was always travelling and giving talks and speeches and busy with social justice. He must have influenced me, but we didn't have long conversations.
I grew up in an era when parents and children didn't really talk to each other, which I find just remarkable now. I learned certain ideas just because they were in the atmosphere – I learned that social justice and peace and anti-colonialism were important words. What they meant to me, I didn't really know. I knew that class was really important and there was something bad about it. I knew there was something bad about racism – but I just knew words rather than being educated about them.
The tribes of youth I went to my little local school, the kind where if you were very able you helped the other kids or went up two classes. When I was seven I went to a fancy school in Edgware, which was an absolute disaster for me because you didn't go at your own pace and I was very much held back. I remember feeling troubled by the fact that you got scolded for not showing your workings out as opposed to showing your own imagination; you got scolded for every­thing. That just turned me off and I didn't start to learn again until I was about 19 or 20.
I studied Russian history at London University, which is now part of University College London. It was 1968 and the moment of fervour among youth. Columbia University (in New York) was on fire, Berkeley (in California) was on fire. I dropped out of univer­sity and went to New York. I'd been politically engaged as an undergraduate and in America my life took a different turn.
New York was a noisy, black, Jewish, Latino, Italian culture in those days and I fitted in. There was a huge phenomenon called "youth", which we didn't yet have in Britain, which I was drawn to and I was involved with all sorts of political activities. You'd go to the park and it would be flooded with youth – there were hippie tribes, more left-wing tribes and civil rights tribes and they were all joined up, but they were different.
A woman's world When I got to New York, I discovered a women's studies programme, which one of my friends was the administrator for; it was the first women's studies programme in the United States and was run at a working-class college. I had no money, I just happened to end up there. I discovered that I could use my London University history credits there. So, I did women's studies and then I did psycho­therapy studies as a postgraduate. It was there that I made friends with whom I am still very close; it was where we formed our opinions.
That was the time when feminism was questioning absolutely everything and developing in ways that were quite outside the way we'd imagined our lives. In 1976, my friend Luise Eichenbaum and I came to London and created the Women's Therapy Centre, which was a training institute rather than a therapy centre. It was absolutely crazy. The public loved it. We talked to the local news­papers and women's groups – we had a waiting list from the first week and we had to recruit other therapists to join us. It kept growing. It is still going and does wonderful work around women who have suffered violence or who are immigrants.
Finding my voice On my first date with Jo (Joseph Schwartz) – the man who would become my husband – I told him about compulsive eating and women. He was a physicist and said that if I was gathering information I should write up the results. I suggested writing a pamphlet and he said, "Are you sure you want it to be a pamphlet? I think you've got more." So, I wrote a book and that was Fat is a Feminist Issue, which came out in 1978.
It was very much a work of the heart and very little was changed from the first draft. Soon after it was published, my piano teacher from my childhood called me and said it was wonderful that I'd written it and it would be the first of many books. I wondered what she was talking about, I wasn't going to write another. I didn't have anything to say until I wrote Fat is a Feminist Issue, but once the women's liberation movement and feminism and psycho­analysis and all those fields opened up, I had a lot to say. I've written many books since.
Setting the agenda I was part of this bizarre generation which came of age in 1968 – we were involved in making an agenda; that is the arrogance of my generation. The difficulty of what we're living in now is because we didn't expect the world to turn to rampant capitalism, we thought it would continue to be progressive, but for quite a long time our cultural preoccupations were centre stage.
Jo and I got married long after our two children arrived, but not in the white wedding sense, rather in a "signing the paper" sense. Kids really changed the situation because that's when I started working from home because I realised I couldn't afford any commute time. I stopped working at the Women's Therapy Centre and set up in private practice, although I continued to supervise and go to seminars and be involved.
Starting over My marriage ended after 35 years. Years after we separated, the writer Jeanette Winterson contacted me. She wanted to interview me about my book Bodies (2009), but her father died, so she didn't. About five months later, she wrote to me and said what a wonderful book it was and asked if I'd like to meet. I said sure, so that was that. We got together in 2009 and we married in 2015, although we don't live together.
My most recent book, In Therapy (2017), was something that really absorbed me and I enjoyed because I was doing something in a different form – it was a companion piece to a Radio 4 series of the same name. This year is the 40th anniversary of Fat is a Feminist Issue – things haven't changed all that much. Am I surprised? No. Am I furious and enraged? Yes. Am I sad that my book is in print? Yes, because I wish it didn't need to be. Am I delighted that the younger generation are coming to these ideas? Yes, I am. I'm updating Bodies because the situation is changing rapidly in relation to bodies. And I've got grandchildren, which is a whole other thing going on.
Original Link: SCMP