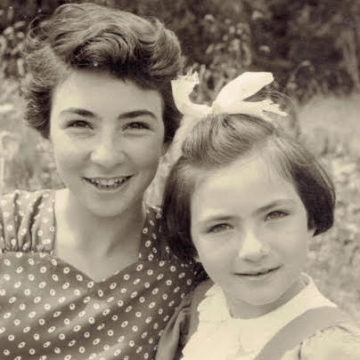 Holocaust survivor
— January 25, 2019
Budapest-born literary agent Eva Koralnik recalls the 1944 Nazi invasion of Hungary that ended her happy childhood

Win some, lose some I was born in Budapest, Hungary, in 1936. My mother was originally from Switzerland. As a young woman, she came to Budapest with her parents, who were setting up a branch of their textile business. She fell in love with the city and learned the language.
Her parents were Orthodox Jews, but very assimilated. Budapest then had about 220,000 Jewish inhabitants, many in the arts and liberal professions. She met my father, who was Hungarian, and they married. At the time, the legislation ruled that if a Swiss woman married a foreigner she had to give back her passport and lose her citizenship.
Everything changes I had a happy childhood. We lived opposite the Opera House. I had a German-speaking nanny, a piano teacher and wonderful grandparents, aunts and uncles. The only thing that made me unhappy was that I was an only child. I was delighted when my mother got pregnant in 1944, but it was the worst moment. The Nazis entered Hungary in March 1944.
I remember my father coming home early that day, March 19, and saying in Hungarian, "They are here." I was seven and had started school several months before, but immediately the school was closed. From that moment on my life changed completely.
Under oppression There was a Christian man who used to sell coal. He came to my parents and offered to take me and said he'd give me back to them if they survived and if they didn't he'd raise me as his own child. I remember my parents discussing this. I was terrified they would give me away, but they said, "No thank you, our fate will be her fate."
My father was taken in April to a labour camp. Adolf Eichmann (an architect of the Holocaust) was in charge of Hungary's Jews. We had to wear a star on our clothes and Jews were thrown out of their professions. We had to sit in the last carriage of the tram. I wasn't even allowed to sit on the park bench. We were allowed on the streets only between 11am and 2pm. No one could leave Hungary because all of Europe was under Nazi control. There was no place to escape.
Train to Auschwitz They began to transport Jews to the death camps in Auschwitz (Poland). Those who lived outside a certain area had to leave their homes within 24 hours and move into another part of the city. They called the houses in this ghetto "Jewish houses" and there were stars on the doors. We had a star on our front door and people came to live in our house.
There was so little room that people had to sleep on the floor and they cut the strings on our Steinbeck piano to make space to put their babies. Later, my father told us that at the camp he was forced to repair the railways that the Allies – the British and Americans – had bombed. This was the route to Auschwitz and he saw carriages packed with men and women. Mothers tried to hand their babies to the people working on the railway in the hope of saving them. People heard rumours about the gas chambers, but we didn't want to believe it. 
A helping hand There was a young diplomat at the Swiss embassy called Harald Feller. He did everything he could to help my mother and other Swiss women who had married and lost their citizenship get to Switzerland. That meant crossing Nazi Austria, so he had to negotiate with the high­est Nazi responsible to get us transit.
Feller arranged for my mother and I and three other women to stay in the same place until he had the papers. He was also hiding people in his home and feeding them at his own expense and at great personal risk. We lived in one room in the middle of Budapest for weeks and someone brought us food. There were air raids all the time.
Guests of the Gestapo My mother was nine months pregnant. She found a doctor with a Hungarian name in the phone book and he took her to a hospital and delivered the baby. Immediately after my sister, Vera, was born, there was an air raid and my mother had to be carried to the cellar. A brick fell on the cot with my newborn sister in it, just missing her.
On October 2 – after six weeks in the room – Feller came and said we could leave. He got a false birth certificate for my sister stating her religion as Protestant. My mother said to me, "If anyone asks where Daddy is, tell them, 'He's fighting on the front.'" By the time we arrived in Vienna we had missed the connection to Switzerland because of air raids. Gestapo officers told us to come with them to their headquarters because there wasn't another connecting train that day.
They had taken the Metropole hotel as their headquarters and set up the base­ment as a prison where they were torturing people. My mother and the women knew what the headquarters was being used for and said they would stay in the station, but the officers insisted, saying the ladies needed to be protected. They took us in a car to this beautiful hotel – I remember the heavy boots of the Gestapo men, dogs on a leash walking up and down and a huge swastika.
They told us to leave our suit­case with them and took us to a large suite and we were served food. The women were terrified and walked up and down all night. In the morning, the officers came to get us, but our luggage was gone. We made it to Switzerland and arrived with nothing. Someone gave us five francs at the station and bought us a ticket so we could get to my grand­mother in St Gallen.
Border trouble In 1946, after the war, my father arrived at the border with just a backpack, but they wouldn't let him in. They said they'd taken in enough refugees. My mother had to find the money to cross the border to see him and finally, for humanitarian reasons, he was let in. He had to sign a form saying he would try to get a visa for Canada. My mother said, "But I'm Swiss." They said, "You should not have married a foreigner. If he had been killed during the war you might have got back your Swiss passport."
With the help of the Red Cross and lawyers we managed to extend the permit and, finally, my mother could work, but my father couldn't so he was at home – he brought us up and did the housework.
The Eichmann trial I wasn't happy in the beginning. I couldn't speak German, but slowly we adapted. I became Swiss and went to school and studied and worked. I went to a famous interpreter school and then to Israel, where I worked on the Eichmann trial. I was in the press room that translates the press reports coming in – I saw Eichmann every day. The worst part was when witnesses said what he had done. They would collapse from the strain of telling their story and Eichmann just sat there stone-faced. One time he said, "Well, I never saw blood." He had just given the orders from behind his desk.
A chance encounter I was a student when I met the man who became my husband. Pierre was studying film in France and we met in a socialist-Zionist youth movement – I was 20. In 1956 came the Hungarian uprising. I was study­ing in London and they were looking for interpreters for the refugees coming from Hungary. I volunteered and went to the airport.
I was sitting on a bus and started chatting to the man next to me, a Hungarian refugee fleeing commu­nists. This was the man who had wanted to take me [in Budapest] – now he was a refugee. Later, I became a partner in the Liepman literary agency in the world rights for the writings of Anne Frank. Many books on the Holocaust came to us because of my personal interest and I helped to get them published.
Pierre worked mostly in France. We married in 1970 and lived in Zurich. My daughter, Ania, was born in 1972 – she is a lawyer in Vienna – and then came my son, who runs the agency now.
Holocaust hero When I was 60, I began wondering what had happened to Feller. I looked him up and wrote to him and asked if he remembered us. He wrote back immediately to say yes, he still had the cable my mother sent him in Hungary to say we'd arrived safely. We met, and it was very moving. In 1999, he was awarded the medal of the Righteous Among the Nations, an honour presented to non-Jews who risked their lives during the Holocaust to save Jews. I presented him with the medal. It was a beautiful ceremony in Berne. He has since died.
Original Link: Post Magazine