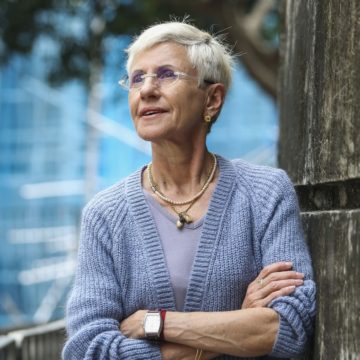 She put Bhutan on the cultural tourism map
— January 4, 2019
A chance invitation to French ethno-historian Françoise Pommaret to visit the Himalayan kingdom in 1981 led to her making Bhutan her home

African adventure My grandparents on my mother's side were Corsican and, like many Corsicans living in France, they weren't well off. The only way out of that was to join the civil service in the colonies, so my grandfather went to the Congo with my grandmother. My mother was brought up there and met my father, who went there as a civil engineer. They married and, when I came along, their first child, they decided to return to France to have me because the hospitals in the Congo were not good.
I was born in 1954 and, when I was six months old, my parents returned to the Congo with me. I grew up in the capital, Brazzaville, and went to school there with my younger brother. I was exposed to other cultures at a young age and that has had a big influence on my life. As a young child, the Congo was a colony and I lived a middle-class, colonial family life. But then came indepen­dence and that's when things got interesting.
In thrall to China I was 11 when the Congo government turned towards China. At the peak of the Cultural Revolution, the government was under the influence of the Chinese and became very anti-colonial. The phones were monitored, everything was monitored. During morning assembly in school we sang (left-wing anthem) The Internationale and then had to shout, "Down with the French colonialists!"
I did well academically. Because I was top of my class, I would have to apologise to my school for coming from a privileged class and having better opportunities. I quickly learned it was just a play to please the authorities, so I didn't mind.
Karma chameleon When I was 17, I went to university in France. I did three degrees in four years – first a BA in Latin and Greek, then a BA in history and archaeology, and then, because I'd had a passion for Asia since I was young, a degree in Tibetan studies. In 1974, after graduating, I went to Asia for the first time. I travelled around Nepal and found Tibet interesting. I didn't fall in the Buddhist pot. I was interested in the culture, but I didn't realise at the time how much Buddhism was a part of it.
Because I found archaeology dry, I switched to anthropology for my PhD, which I did at the Paris-Sorbonne University. I did field work for my MA in Ladakh, in India, and then, in 1981, a contact invited me to Bhutan. It was totally by chance – or perhaps karma – that I went there for two months and, 37 years later, I'm still there.
Back from the dead In 1981, Bhutan was difficult to get to. There was no airport, no phones, no shops, no restaurants. Thimphu, the capital, which now has a population of 110,000 people, had 15,000 people and 45 cars – it was a village. I came by jeep. I loved it because of the people. I already knew classi­cal Tibetan and I learned the official language of Bhutan, Dzongkha.
Initially, I did field work for my PhD; I was study­ing the women who in Tibetan culture are said to die and come back from hell with a message for the living – they are like shamans. I have a book coming out this year written with an American friend, Stephanie Guyer-Stevens, titled Divine Messengers of Bhutan.
I began working in tourism; in those days there were 3,000 tourists a year. I was in charge of trans­lating classical Tibetan texts from the temples into English. I trained the first guides. It cost US$180 a day to visit Bhutan, which included a three-star hotel, three meals, a car, a driver and a guide as well as all entrance fees. Now it costs US$250 a day, so it hasn't gone up by much. Of course, you can spend a lot more if you want to stay in a luxury hotel.
To and fro After six years in tourism, I moved into the education sector, where I did research, compiling material in English about the history of Bhutan. The teachers used that material to prepare school textbooks.
In 1992, I was admitted to the National Centre for Scientific Research in Paris, a state research centre. I returned to Bhutan after five years and since then have been dividing my time between France, where I have my parents and my work, and Bhutan, where I am an associate professor at the Royal University of Bhutan. I used to teach and now I'm in charge of research in anthropology.
An unexpected honour I was asked to write a guidebook on the country and that became Bhutan: Himalayan Mountain Kingdom. Published in 1992, it was the first cultural guidebook on Bhutan. It was first published in French by a Swiss guidebook company and then Magnus Bartlett, from Odyssey Books in Hong Kong, said he was interested in publishing it in English and he has been pub­lish­ing me ever since.
I update it in French, English and German every two to three years. I was very proud last year when King Jigme Khesar Namgyel Wangchuck gave me the National Order of Merit Gold Medal for my work in culture and research. I wasn't expecting it.
We are family Bhutan is a very close-knit society – it's like a family. That doesn't mean it's perfect, like any family there are fights, but what amazes me is how concerned people are about each other. In Buddhism you have to help and have compassion for others.
Perhaps because I've been there such a long time and have such strong friendships, I consider some people my brothers or sisters. If you have a sorrow, they will rally around. I had a death in my family in France a few years ago and they all came to my house and brought food and stayed with me for the night. They organised prayers in the temple for the deceased.
A land of smiles The Bhutan landscape is spectacular, like a more grandiose Switzerland, and it's quiet – aside from the dogs barking at night. Bhutan has strong traditions and the culture, festivals and way of life are well preserved, but at the same time we live in the contemporary world.
In 30 years, Bhutan has moved from nothing in terms of communications to the height of social media and information. There is no censorship when it comes to foreign channels and the inter­net. We have 3G almost every­where, people are on social media, everyone uses WeChat and WhatsApp. We recently had a third demo­cratic election and most of the campaigning was carried out on social media.
We smile a lot in Bhutan and, when I return to France, my neighbours comment that it's so nice that I smile all the time. Bhutan is where my heart is.
Original Link: Post Magazine