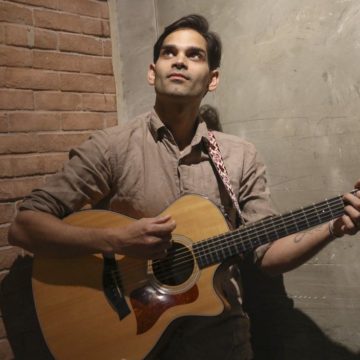 Allman Brown on Spotify gold and his 'privileged' childhood
— March 24, 2019

The musical artist found fame after his songs appeared on television shows and streaming services
End of empire My mum is from Singapore and my dad, a barrister, is from Cheshire, in England. They met at a party in Hong Kong. I was born at the Matilda hospital (on The Peak) in 1984. My elder brother, Charles, was born 18 months earlier in Singapore. We went to Bradbury for primary school and when we were eight my father insisted that we become proper English gentlemen and sent us to boarding school.
We went to Brambletye School, in West Sussex, and would come back to Hong Kong for holidays. I remember the Kai Tak arrivals hall distinctly with its one long ramp down to the people waiting. It was weird growing up in Hong Kong and suddenly being shunted to the middle of the Sussex countryside. I'd never seen snow or had chapped lips before. At school, I auditioned for the choral music group and from there got into five or six other choirs. That's how I started to sing.
In Hong Kong, we lived in Shouson Hill. Our life was Country Club, Deep Water Bay, Ocean Park. I remember playing tennis, jumping off the tops of junks and waterskiing. It was the idyllic expat lifestyle, the last gasp of empire, which only afterwards I realised was privileged.
Drinking games We moved to the UK in 1997 and my parents were together for another two or three years and then separated. My father came back to Hong Kong and I came back periodically to visit him until I was 18. The first time I got drunk was in Hong Kong. I was 16 and lucky enough to be in a box at the Rugby Sevens. There was all this beer – though I probably just had three – and I remem­ber waking up and most of the stadium had emptied. There was just me and my friends Bill and Tom in the box.
Book of love After Brambletye, my brother and I went to Harrow (in London) and from there I went to Exeter University. I was a child of divorce, melodramatic, self-involved and had never seen girls before because I'd been at all boys' schools, so university was exciting. I did a degree in world cinema and European film, which was a dream – I did a whole module on Wong Kar-wai and Hong Kong cinema. I taught myself guitar at university and did a few open-mic nights.
I met my wife, Tash, at university. She's a child psychotherapist. The first time we talked properly was at a party. She recommended her favourite book, Cloud Atlas, by David Mitchell. I went off and read it in three days. The next time I met her I said the book was fantastic. She was surprised I'd read it and I said, "Yeah, you said it was your favourite book."
Making ends meet I had a cushy life until I left univer­sity at 22. All my friends were going to work at Deloitte, Jardines or the Foreign Office, but I had no idea what I wanted to do. Singing was the one skill I was good at, so I played open-mic nights all over London and gradually met promoters. To make a living, I started teaching English as a foreign language, then did bar and restaurant work.
I was introduced to producer Paul Herman who had worked with Dido and got a production deal in 2011. On my first day at his studio, Lisa Marie Presley and the Backstreet Boys were there, and Jason Mraz was making ginger tea in the kitchen. I thought all my dreams had come true, but it wasn't that easy. Nothing happened for two years and I felt deflated – I was working in a pub.
A different song I met producer Ian Barter, who used to be a guitarist with Amy Winehouse. Ian and I did a three-track EP. It was the first time I'd done a song where I wasn't writing to spec and trying to please all the people in my orbit. I wanted to write a song that I would be proud of, and that was Sons and Daughters (2013).
That song got the attention of Rachel Komar, in Los Angeles, whose job is to get songs on TV. She got that song onto Parenthood, then others onto Criminal Minds, Suits, Reign and, most recently, The Good Doctor. I got songs on about 15 TV shows in two years in England and America. You get paid a one-off fee for each show and then because something like The Good Doctor is such a popular show, lots of people go to streaming services to find my song.
Then YouTube happened and everyone was on Spotify and Netflix and by a confluence of hard work and good luck I managed to be in the right place at the right time. And then I managed to get on Spotify playlists, which are now the holy grail of any aspiring artist.
Sweet spot Sweetest Thing (2017) is another one that has done well on Spotify playlists. My manager, Jeremy Lloyd, and I can walk into a meeting now and he can say, "He's got 1.3 million listeners, 90 million cumulative streams, this song has been played 40 million times." I met Jeremy in March 2014. We hit our groove a year and a half into working together. I was asking him why I wasn't living in a massive mansion and driving fast cars. He said, "You've done your best and now you need to do some more songs." I realised then that we were a team.
Taking the leap I'd been working in restaurants for nine or 10 years and doing music on the side. I don't have a big ego so when I met my old friends who are now high-fliers, I didn't mind because I'm happy trying to make it in music. All those working weekends and double shifts have been completely worth it because I get to do something I love. With the release of my debut album (1000 Years, 2017), I became a full-time musician. It was at the same time our daughter was born, which was lovely as I had so much time to be at home. We've got another baby on the way.
Thing of the past The last time I was in Hong Kong was 12 years ago; my father still lives here. It's this whole other world that was part of my life that is now in the past. It's like being in an echo chamber because loads of landmarks have associations and memories and there are lots of new things. It's like a picture overlaid on top of a picture and I know the one behind it but not the one on top.
I've been thinking about that since I've been back in Hong Kong and I am writing a song about it, about being a stranger to yourself, being in a place that is at once familiar and alien. It's like a version of time travel.
Original Link: Post Magazine