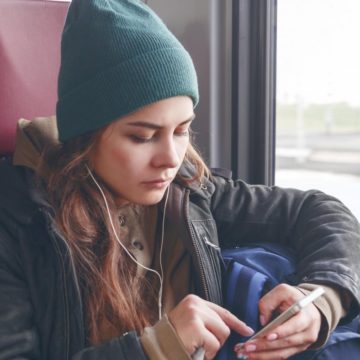 Travel app targets millennials in China
— February 28, 2019

Travel à la Carte stores everything needed for a trip in one central place and includes a multi-functional digital wallet and an AI-powered assistant
Ivana Hronova and her sister Olga Grillova's first trip to Cuba started off as a nightmare.
Their flight landed in the evening, the local system did not recognise their credit card and they found themselves wandering around Havana for hours looking for a place to spend the night. At 3am they finally found a place to stay. It was a disastrous start to a trip, but planted the seed of an innovative travel idea for the Czech sisters.
"We thought, this kind of problem does not just happen to us and it does not just happen in this country," says Hronova, 25, speaking by phone from New York.
The sisters teamed up with their friend Kim Najman – who has a background in hospitality and events management – and an India-based app developer to create Travel à la Carte (t-alacarte.com), an all-in-one app that allows travellers to set their own budget and book tickets, accommodation and events in one place with one single payment.
There are hundreds of online booking platforms and concierges, but where Travel à la Carte differs is that it stores everything in one central place.
What's more, the app includes a digital wallet, called TACPay, that allows travellers to make instant payments, exchange multiple currencies for best rates, split the costs, send money, top up their credit or pay local merchants by QR codes. There's also an AI-powered assistant called Foxi.
"Growing up, The Little Prince was my favourite book. The Little Prince travels with a fox, so we decided to call the AI bot Foxi – it can answer all your travel questions," says Hronova, who studied mechanical engineering.
After setting up an office in their hometown of Prague, the team decided that China was the obvious market to tap into. They opened a second office, in Shanghai, in September last year. Hronova had spent a year in China, eight months of that in Shanghai, as a student and then teaching English and had noticed a shift in what young travellers were looking for.
"Millennials in China are seeking experiences. They do not want to travel as a group. They want to travel independently either solo, with friends or with partners," Hronova says.
Market reports backed up her observation and they have designed the app to cater for the demands of millennials (the 2,000 subscribers so far are aged 20-28, all "college age").
"This population is young, they want to discover things, they want unique experiences and to have something extra that others haven't found. They are more willing to seek their own experiences than the generation before," Hronova says.
Experiences that are proving popular range from off-road biking tours in Laos and canoe trips in Dalat, Vietnam – the sort of adventures that get the adrenaline flowing and make for great bragging rights on Instagram.
The business model is structured such that Travel à la Carte takes its commissions from its partners, not the customers. As such, it is focused on lining up innovative deals – think special packages to go ice driving in Lapland or go to the annual Rolex Masters tennis tournament in Monte-Carlo.
The 2018 Chinese Travel Consumer Report showed that young female travellers are boosting the growth of China's increasing outbound travel market. Those under the age of 29 make up almost 50 per cent of female solo travellers.
Hronova has also noticed an increase in young, female travellers and observes that while they are after adventure, they are always conscious of safety and security. If they have a question on the road they can always ask Foxi, she says, adding that plans are in process to strengthen that function.
"We are developing it so that if a young solo traveller needs support, they can connect to someone within the app who can help straight away. Solo women travellers are still a little anxious when they travel alone, so we are concentrating on creating support for them in an emergency," Hronova says.
At present, typical questions to Foxi range from "My flight is cancelled, what do I do?" to "Where is the nearest bar?"
The team plans to launch the app in the US later this year, then Europe, with ambitions to be global within two years.
"We are working to bridge the travel and fintech industries – having a digital wallet and offering QR codes that can be used locally gives us an edge," Hronova says. "We also offer reward points – TAC points – which can be used to buy experiences, trips accommodation or flights."
Original Link: SCMP