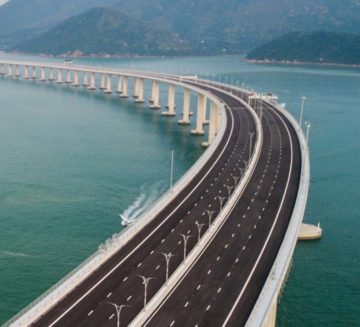 What the new road, rail links mean for retail
— March 28, 2019
Mainland Chinese spending has cemented Hong Kong's position as Asia's most important luxury hub, but the recent wave of Mainland Chinese shoppers — drawn to the city by new transport links — tends to have smaller budgets and different tastes than earlier visitors.

With no sales tax, a friendly business environment and a voracious appetite for conspicuous consumption, Hong Kong has long been a hotspot for luxury labels. Add visiting Mainland Chinese shoppers to the mix, and it's no surprise that the autonomous territory is Asia's biggest luxury market, with per-capita spending of $1,576.
Retailers and property developers had high hopes for the opening last year of an $11 billion high-speed rail link that significantly cuts travel time from Beijing to Hong Kong, as well as a new bridge that links Hong Kong with Macau and other southern Chinese cities.
However, these new travellers differ from earlier tourists. They are coming for much shorter stays and have less cash to burn. While same-day visitors to Hong Kong increased about 40 per cent to nearly 3 million last November, Mainland overnight visitor numbers increased by only 6.1 per cent year-on-year.
The most recent Mainland visitors are more budget conscious, says Anita Wong, head of consumer insights for Nielsen. Instead of purchasing a branded handbag or luxury watch, they buy smaller-ticket items. Even as Mainland visitor numbers grew by double-digit percentages, jewellery and watch sales increased by just 4.7 per cent year-on-year in January 2019, according to the city's statistics department.
"Hong Kong and Macau are [now] both top destinations especially for the backpacker and value-seeking sightseer, possibly due to their low spending threshold," McKinsey wrote in a 2018 report on Chinese tourism patterns.
Mainland Chinese still have an appetite for luxury and are drawn to Hong Kong by the promise of lower prices. However, as Beijing lowers taxes and duties on consumption goods, the margin is receding. An RMB that has weakened against the US dollar, to which the Hong Kong dollar is pegged, also means that much luxury shopping has been repatriated to the Mainland. While Hong Kong cannot control Chinese exchange rates, retailers can benefit from the growth in Chinese tourists by stocking lower-priced goods.
Beauty benefits
One area seeing significant growth is beauty retail. Beauty chain Sasa reported retail sales growth of 18.5 per cent in Hong Kong and Macau over the first half of 2018, the most recent period where results were available. The number of transactions by Mainland shoppers in the two autonomous Chinese territories increased 21.8 per cent over that period, far outpacing local growth of 0.2 per cent. "With early positive benefits of the Greater Bay Area development driving the growth of same-day Mainland tourist arrivals… retail sales in Hong Kong and Macau performed strongly," the company said.
Hong Kong's reputation for reliable products gives it an edge over cosmetics retailers in the Mainland. For Mainland Chinese, "the perceived authenticity and reliability of the products in Hong Kong often outweigh price as a buying factor", the US International Trade Administration wrote in a recent report.
Experiences, not shops
Changing tastes are a bigger challenge for luxury operators in Hong Kong, which already pay some of the highest rents in the world and have become reliant on Mainland Chinese custom. "Luxury retailers are now much more considered about opening flagship stores here," says Simon Smith, head of Asia-Pacific research at Savills.
But it also offers an opportunity for innovative brands. While earlier Mainland visitors were driven largely by the desire to shop, now they are looking for experiences. 61 per cent of Chinese tourists surveyed by McKinsey called exposure to local cultural experiences a top reason for their travel.
That is a plus for malls that can make themselves destinations. Shopping in Hong Kong, still the wealthiest city in Greater China, holds cachet, says Wong. "This is about… being seen as a person who has a need for a different experience."
K11 Musea, a high-end arts and retail complex with dedicated space for live music events and film festivals, is slated to open at the $2.6 billion Victoria Dockside development this year. Alibaba has partnered with Guess in Hong Kong on an AI-driven smart store popup and the Harbour City mall hosts an annual fair on the sidelines of the Art Basel festival.
For Chinese millennial shoppers, "It's not just about buying goods but also about intangible things like happiness and experience," says Adrian Cheng, executive vice chairman of New World Development, the company behind K11. "Our focus is on cultural discovery."
Original Link: Vogue Business