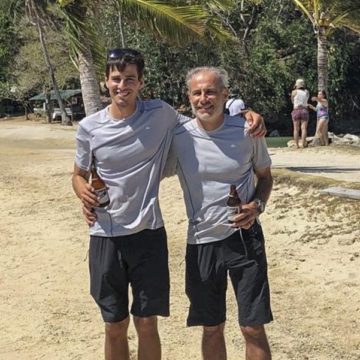 Father-and-son champion sailing team
— May 22, 2019

Philippe Grelon passed on his passion for sailing to his family, especially his youngest son, Cosmas
When Philippe Grelon was a young boy growing up in Lille, in northern France, he dreamed of sailing. Aged eight, he constructed a makeshift boat complete with wooden mast and sail, and tested it out in the garden.
"I wanted to see if it was strong enough to withstand the wind before putting it in the water. By the time I was 11, I was sailing with 18-year-olds on the family boat. We used to sail in the winter and had to break the ice to get the boat in the water," says Grelon.
That passion for sailing never waned. When he and his wife, Florence, lived in Sydney, Australia, in the early 1990s, they built baby hammocks on their sailing boat for their twins, Paul and Adrian, so the family could get out on the water together.
But it was their youngest son, Cosmas, born in 1995, who was really bitten by the sailing bug. Now the sailing sports leader and brand ambassador for sports equipment and apparel maker Decathlon in Shenzhen, southern China, one of his earliest memories is of being on the boat aged three.
"We were sailing, and the boat was keeled over so much I was scared, freaking out that it would capsize," says Cosmas.
From Australia, the family moved to New Zealand. Grelon hoped that his children would love sailing as much he did, and his not-so-subtle attempts at persuasion are the stuff of family legend.
"Dad used to take us sailing and then take us to the sweet shop, so there was a bit of a Pavlov effect. Eventually we stopped going to the sweet shop, but I was already hooked on sailing," says Cosmas.
After New Zealand, the family spent four years in Malaysia and moved to Hong Kong in 2007.
Aged 12, Cosmas was enrolled at the French International School and started taking sailing lessons at Hebe Haven Yacht Club. It wasn't long before he was representing Hong Kong in sailing competitions in Brazil, Qatar, Malaysia and elsewhere.
In 2011, he won the RS500 World Sailing Championship in Weymouth, Britain and a string of international and local trophies followed, including winning the 29ers Hong Kong National Championship for two consecutive years in 2013 and 2014.
Grelon and his son have been a steady fixture in Hong Kong's sailing community for over a decade and they've had plenty of adventures together. During the 2014 Hong Kong to Vietnam Race, Cosmas was lookout on the deck when he spotted a flare and immediately alerted the rest of the crew. The distress signal had been set off by the crew of the Walawala 2, which had lost its rudder and was taking on water fast.
"We called the race committee and they told us, 'They're sinking, you are the closest'. It took us an hour to reach them. There was only one metre of the mast left. We picked up the crew of 10 from their lifeboat," says Grelon.
That late-night rescue, supported by a helicopter, is a well-known story among Hong Kong sailors. In March 2018, Grelon and his son took on a new challenge, something never before done in Hong Kong – they became the first local team to compete double-handed as father and son.
Double-handed is a term that refers to just two people crewing a boat. The Rolex China Sea Race, a 565 nautical mile (1,046km) race from Hong Kong to Subic Bay in the Philippines, rarely gets double-handed entries and last year they were the only one. They finished in just over 82 hours, putting them in second place in their division on their 35-foot (10.5 metre) boat Decathlon Aya. By all accounts it was a smooth crossing.
"We know what we should both do and that's the great thing about a double-handed crew, instead of having 10 people on board and everyone yelling and everything's a mess. We know our roles and positions and it flows a lot better," says Cosmas.
Their roles are clearly defined: "Cosmas does the cooking, I do the mechanics and the repairs and the radio. We do the navigation and manage the boat together. It works out well – I can't cook and he can't fix anything," says Grelon.
They entered their second double-handed race last month, the inaugural Hong Kong to Puerto Galera Yacht Race. The lack of wind on the 650 nautical mile passage to the Philippines meant it took a lot longer than anticipated, and 11 of the 15 boats retired from the race, including the Grelons.
"When we arrived, after six days, we had only two cans of sardines and a cup [of instant] noodles left," says Grelon.
But that hasn't put them off and they are preparing for another double-handed race in mid-October, a 673 nautical mile race from Hong Kong to Nha Trang, on the southeast coast of Vietnam.
"When you do a race in Hong Kong it's a full crew – 10 to 15 people, 19 for the biggest. It's very rare to only have two people. Out of all the races in Hong Kong, there have only been four with a double entry – and two of those were us," says Grelon.
A two-man team doesn't just make for more work for the duo, it also presents some serious challenges regarding sleep and safety. With only two people on board, they take it in turns to sleep in two-hour shifts – and they rest fully dressed.
"If there's a problem, you don't have time to put on a life jacket, so we sleep with it on. Fully dressed. During the whole race we only change once," says Grelon.
Falling overboard is even more dangerous if there are only two people on board and one of them is asleep. During the night, they are always tethered to the boat and carry a radio, so if one ends up in the water he can call the other. But even so, that plan isn't watertight.
"Sometimes Cosmas has to shake me to wake me up and it's the same when I try to wake him, so we don't know if we would wake up with the radio," says Grelon.
The Hong Kong sailing community has grown substantially over the last 10 years, says Grelon. While it used to be predominantly expatriate, he's happy to see that it's now split 50/50 between expat and local, although it's likely to be a while before the local crews embrace double-handed crewing.
"In Hong Kong, there are so many people on the boat, you can't believe it. You wonder what they do. On a boat you can run with six there might be 12; they all sit like sardines on the side of the boat, says Grelon.
Cosmas, now based in Shenzhen, is on a mission to build the sailing community there. He comes back regularly to see his parents at the family home, a 55-foot (16.7 metre) houseboat moored in Aberdeen, on the south coast of Hong Kong Island.
"Loads of people aspire to do the double-handed father-and-son race that we do. It's a fantastic thing to do. Dad and I know each other very well, we are very complementary," says Cosmas.
While the 24-year-old has always had a head for speed, his father is the one with safety in mind and several toolboxes on board to make any emergency repairs.
"We have never fought on the boat about decisions. I respect Cosmas a lot on pushing the boat, and he respects me a lot on not pushing too much because we are going to break something," says Grelon.
Entering a race is costly in terms of both time and money. It took Grelon three months to prepare the boat for the last race, and he was grateful for the support of friends and those in the sailing community who lent them a life raft, flares, radio communication equipment and a satellite phone.
He is optimistic about the Vietnam race in October. Again, he hopes to race the 35ft boat Decathlon Aya – the smallest team on the smallest boat.
"This race we might have a good chance to win because the boat is super fast. It's a boat that's really built for downwind – it can go at 18 knots and other boats go at only half that speed. If there is good wind, we will fly for three days," says Grelon.
Original Link: SCMP