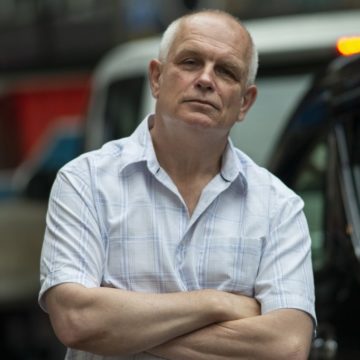 How an Englishman fell under the spell of jade
— May 6, 2019

Former BBC reporter Andrew Shaw gave up his career in journalism and life in England to become the only foreign master jade carver in China
Former BBC reporter Andrew Shaw is the only foreigner to have learned how to carve jade in China. Born and raised in north London, the 62-year-old's passion for jade was ignited at the end of a four-month sabbatical in Thailand in 2002. After visiting Wat Doi Suthep, the temple overlooking the northern city of Chiang Mai,  he stumbled into a small jade shop and a beautiful lavender jade Buddha caught his eye.
"As soon as I touched it, it just sang to me – such a beautiful stone. I fell in love with jade at that moment. I didn't haggle, didn't bargain. I just bought it. From that moment I started to become interested in jade," says Shaw, whose book, Jade Life: An Englishman's Love Affair with China's National Treasure, was recently published by Earnshaw Books.
Shaw had taken the sabbatical as a break from a job that he no longer enjoyed and a respite from caring for his ill mother. He returned home to his filial obligations and the BBC job, but the interest in jade didn't wane – instead it became an obsession. He sought out books on the subject and was disappointed to find they were all about ancient jade pieces.
"I wasn't interested in that. I wanted modern, beautifully carved, cold to the hand, serene pieces that made me feel calm. In the end I decided if I really wanted to know about jade, I needed to go to China. I need to learn to carve," he says.
In 2006, he was in Vietnam to cover the trial of disgraced British pop star Gary Glitter when he got the news that his mother had died. His mother had always been proud of her son working for the BBC, but her death, after a long illness, made him re-evaluate his life. He was fed up with journalism – it was time to do something different. He put his affairs in order and decided to go to Suzhou, a city west of Shanghai, where he had heard there was a jade carving centre.
The path to becoming a jade master wasn't easy. He arrived in China in 2008, the year of the Beijing Olympics. It took no small amount of persuasion to explain to immigration officials why a former BBC reporter suddenly wanted to go to Suzhou. He took a job as an English teacher, as a way to secure his visa, and enrolled in the local university to begin learning Chinese. Finding someone to teach him jade carving was even harder than mastering the language.
"The words for 'to carve jade' and 'go fishing' are similar, so quite often people would say, 'Oh, you like to go fishing'. Even when I showed them a piece of jade, they'd say, 'So where do you go fishing?'" Shaw says.
After seven months in Suzhou, and with a basic grasp of the language, he found what he'd been looking for: a series of jade carving alleys. "There were 4,000 people working in tiny little workshops – it was like all my Christmases had come at once," says Shaw.
It was another year before he could find someone to teach him jade carving. Most Chinese jade carvers stop work at about age 50 and Shaw was 52, but people didn't like to say no directly and he spent a lot of time sipping tea and chatting to people in the hope of being taken on. Eventually, he found a man who agreed to let him use a spindle in his workshop and Shaw went there every afternoon for two years.
"He never asked me for money. He let me use the spindle and gave me old pieces of jade to carve," says Shaw.
He also travelled to America and New Zealand to learn carving skills. His own style is a combination of Western and Chinese design aesthetics. Chinese pieces are often intricate and based on idioms – each piece has a meaning, such as health, wealth or another of the traditional blessings – while Western designs are often quite simple.
After two years learning the basic skills, he set up his own workshop where he worked on weekdays, and on weekends went to a local market and laid a black cloth on the floor and displayed his work for sale. The only foreigner selling his wares in the market, and able to converse in Chinese, he was something of a novelty and business was good.
In 2010, he met the woman who would become his wife, Ann. As a wedding gift, he searched extensively for a flawless piece of white jade and carved it into a bangle. She has not taken it off since he gave it to her.
In 2013, he entered the Zi Gang Bey Jade Carving Competition in Suzhou and, to many people's surprise, won a medal. The next year he invited international carvers to enter and it's now the world's only international jade carving competition. His mastery not only of jade carving skills, but also the language, and his willingness to give back to the jade community have earned him a good reputation in Suzhou.
"I don't believe any other foreign jade carver could come in and set up. I got in through the back door and am now part of the establishment, well thought of and know the right people, which helps a lot. I think if I arrived now, I couldn't do it," he says.
His wife dreamed of opening a tea house and Shaw dreamed of opening a jade gallery, so they sank their life savings into refurbishing a building near Jinji Lake and in 2015 opened Ann's English Tea House and Restaurant, a cafe with jade gallery attached.
A friend suggested he write a book about his adventures in the jade world and put him in touch with his publisher, Earnshaw Books. Jade Life is about the Chinese jade industry as seen through the eyes of a Westerner.
Divided into 15 chapters, it covers everything from what jade is, why the Chinese love the gemstone so much, the master carvers who sell it, and the fakes and reproductions. Drawing on his skills as a BBC reporter, the book has a journalistic rigour.
"There are a million people in the jade caving industry in China. It's an industry worth US$30 billion a year. In China, one in 20 will be wearing a piece of jade – an amulet, bracelet or bangle – and yet no one in the West knows much about this industry," Shaw says.
"Chinese people think about jade like a diamond or a sapphire – it means everything to Chinese people."
Original Link: SCMP