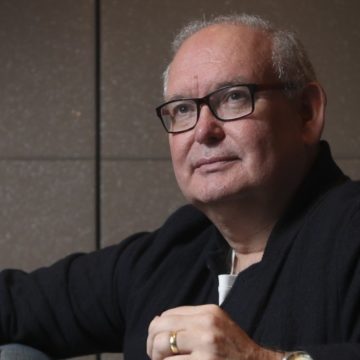 Friendship and fabulous parties with Douglas Adams
— April 4, 2019

Robbie Stamp recalls a brutal period of his life when he lost his firm, his father and his friend, and how making the 2005 film turned everything around
Out of Africa My parents met and married in Johannesburg, South Africa. My father moved out there from the UK after the second world war with his first wife. He went to set up an American Express office. My mother had gone there with her family.
They met at a dinner party on Valentine's Day. My father was divorced and hadn't felt like going, but he remembered his mother's advice, "You can cut a cocktail party, but you can never cut a dinner party."
My mother was 17, a student at the University of the Witwatersrand, and he was 39. They fell in love and married a year later. I was born in September 1960. The Sharpeville massacre had happened in March that year and my parents decided they didn't want to bring me up in South Africa, so left when I was nine months old.
We moved first to a flat in Earl's Court, London, and then to Weybridge, in Surrey. My first memory there is of being frightened of thunder and my grandmother explaining that it was angels playing cowboys and Indians in the sky. That soothed me.
Ghost house I have four half-sisters from my father's first marriage and a younger brother. From Weybridge we moved to Little Bounds, in Kent, where we had the ground floor of a Georgian dower house. It was a bucolic Kent child­hood – as seven- and eight-year-olds we would be out of our parents' sight for hours, roaming the countryside.
The house was built on the foundations of a monastery and was haunted by a friendly ghost – a monk. I never saw it, but I felt it strongly and even as a small child there would be moments of absolute religious bliss.
My aunt who was suffering from insomnia, when she came to stay with us, said the ghost would sit on the end of her bed. She saw it and then slept eight hours of peaceful, restorative sleep.
Early earner In 1970, we moved to Barnes, in West London – my mum still lives in the same house. I went to a school called Colet Court. When I was 11, I started my first business. A lot of kids post-second world war were interested in war comics.
I bought the comics and kept them in a box in the stationery cupboard at the back of the classroom and rented them to my classmates, until the headmaster put a stop to it.
It was a demanding school, extremely academic. Coming from a prep school in the country it was like moving from a Championship football club to playing at Barcelona. I really struggled.
The right direction I wanted to become a psychologist, probably influenced by my mother, who was training at the Tavistock Institute [a non-profit organisation that takes a social-science approach to contemporary issues]. I was encouraged to think about ideas, people and emotions. I've always been fascinated by people. But it was history that I ended up studying at Cambridge University.
We put on a play called The Love of Four Colonels, by Peter Ustinov. I was a contemporary of Tilda Swinton and Simon Russell [Beale], the Shakespearean actor, and in my third year was chosen to direct A Midsummer Night's Dream.
I loved directing and the sense of bringing a team together. How you could say to one person, "That didn't really work", and they'd do it right the next time. And you could say it to someone else and they'd die inside, and you'd never get anything from them.
Behind the scenes When I left university, I set up a painting and decorating company with a bunch of other underemployed Cambridge graduates in London. I volun­teered at the Mermaid Theatre bar and was a junior dogs­body assistant at the National Theatre. Aged 25, I went to be a researcher at Central Television.
I travelled the country researching stories for documentaries in some tough, economically challenged areas – like Easterhouse, in Glasgow, where there were serious drug problems, and the valleys of south Wales, where mining communities were dying.
I remember the director asking me to find a widow whose husband had killed himself because he had lost his job. I found someone. After the film crew left, I felt a duty of care and stayed behind with her because I was aware of how intrusive this was. It was through Central Television that I met my wife, Sue, who was a production assistant. We moved to London in 1988 and got married that year.
Hitched to a star I moved from being a researcher to a producer and making environmental history document­aries, including one on global warming called Can Polar Bears Tread Water? [1989]. In 1993, I met Douglas Adams [author of The Hitchhiker's Guide to the Galaxy]. We got on well. He and his wife, Jane, threw fantastic parties with loads of champagne and interesting people.
Towards the end of working at Central I was one of a then-young group of people asked to look at the effects of digital technology. It was exciting feeling plugged into this rapidly emerging world of the internet. I created, unasked, a busi­ness plan called Cable City.
They weren't interested but it turned into an idea called the Digital Village, a multimedia company that would have the internet at its heart. [Adams] asked how much it would cost to invest, and I plucked a figure out of the air. He said, "I'm in." And that's how we set up the Digital Village, in 1995.
Because of Douglas, we attracted brilliant young people and created a computer game called Starship Titanic and then the Earth edition of The Hitchhikers Guide to the Galaxy, H2G2.
We launched the site live on [BBC television series] Tomorrow's World, and we were going to do a private placement with [New York-based investment bank] Bear Stearns when the market collapsed in 2000.
The meaning of life That was a brutal patch in my life, losing the company felt like a bereavement. A close friend from Cambridge died of cancer that year and a year later my dad died, and Douglas died the next day.
That dark period ended with getting The Hitchhiker's Guide to the Galaxy movie up and running. I asked Jane if she wanted to try to make the movie happen. She said yes.
In 2002, I got plane tickets I couldn't really afford and stayed with a friend in Santa Monica. We found a brilliant young director [Garth Jennings] and the movie got made. It was enormous fun. I was flown all over the world by Disney to promote the movie.
I took over the running of the company that my mother had founded, Bioss, which is interested in how people make judgments and decisions in complex environ­ments.I've now become interested in artificial intelligence [AI]. It's a drawing together of the strands of my life – stories, people and psychology, technology, the Hitchhiker stuff – to think about the profound changes that are happen­ing around us in relation to AI and ask all these fundamental questions about what it means to be human.
Original Link: SCMP