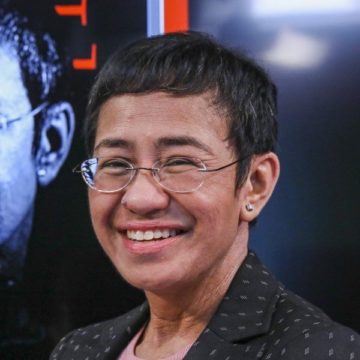 Duterte critic and 'guardian of the truth'
— May 26, 2019

The editor of online news site Rappler and a Time magazine person of the year in 2018 talks to the Post about holding the Duterte administration accountable
A new life I was born in Manila in 1963. My mother was only 18 when she had me. My father died when I was a year old. My mother was then pregnant with my younger sister, Mary Jane. After my father died, she went to the United States, where her mother lived, and my sister and I stayed with my father's family.
My mom would fly back and forth to see us, but it wasn't a good relationship between her and my grandmother. She got remarried to an American-Italian she had met in New York and they came back to the Philippines and essentially kidnapped my sister and I from school. When we landed at JFK (John F. Kennedy International Airport, in New York) on December 5, 1973, it was snowing. One life closed and another opened.
A league of my own My parents worked in New York City. They didn't want us kids growing up in an inner-city school, so they bought a house in Toms River, New Jersey. They commuted two hours to New York City and two hours back each day. My sister and I went to a public school in Toms River. I was one of five kids in my graduating class from high school to go to an Ivy League school.
For my senior thesis at Princeton University I wrote a play, in part to under­stand the early part of my life. It was about a child who was a Filipino figure, a mother who was the Aquino figure and a grandmother who was the Marcos figure. It was a political allegory. The narrative of the fight between the mother and the grandmother over the child turned out to be great symbolism but was also very personal. We staged it in Princeton and took it to the Edinburgh Fringe.
When People Power (the 1986 revolution that led to the ouster of then Philippine president Ferdinand Marcos) started, in my senior year of college, I wanted to know what being Filipino meant. I got a Fulbright Fellowship for political theatre and went back to the Philippines. It was the first time I'd been back since I was a child. It was an exciting time, one of rebuilding a society that had lived under Marcos for 21 years.
The right direction A woman I'd known at primary school was an anchor for the government television station. I began going to the station to watch her newscasts. I'd see the director in the control room falling asleep, so one day I said, "I can direct that newscast." And they let me. That's how I fell into journalism.
I began working for the govern­ment station at night. At the tail end of my Fulbright, ABS-CBN, the network that was shut down by Marcos, was given back to the owners by Cory (Corazon) Aquino (the Philippines' first female president). Cheche Lázaro – the woman who would become my mentor – asked me to work with her on a documentary programme called Probe. I directed and produced it. When the network cancelled the weekly showing we moved to the other network, GMA.
In 1987, when my Fulbright ended, Lázaro asked me to go back to the States, buy a camera and an editing deck, and come back to the Philippines. So I did. I co-founded Probe Productions with Lázaro and worked there until 1992. In 1987, I also set up CNN's Manila bureau and ran it until 1995. Then I went to Jakarta to head up the Jakarta bureau for CNN and I was there until 2005.
Seeds of terror I had a front-row seat to history – I could walk up to (Malaysian prime minister) Mahathir (Mohamad) and demand that he talk to me. I loved it. Within a year (of Ressa moving to Jakarta), the Megawati riots happened and then the financial crisis hit (in 1997) and all of a sudden there was the haze and I was crossing from Pekanbaru to Singapore by boat. I remember climbing up Mount Merapi as it was about to erupt. And there was the nasty stuff – East Timor. There was a point when I was going from city to city in Indonesia and one group was trying to kill another, whether it was ethnic or separatist violence. The Indonesian years were my tremendous growing up years as a journalist.
I wrote my first book in 2002, Seeds of Terror: An Eyewitness Account of Al-Qaeda's Newest Center. I accepted the job heading the news division for ABS-CBN in Manila in 2005. From running a little bureau, I was given a multimedia outfit – radio, television, cable. I learned how to manage 1,000 journalists on differ­ent plat­forms. Five years into the job, I realised my job was just about money, watching the profit-and-loss statements. I didn't want to manage money.
In September 2010, I did a piece for The Wall Street Journalafter (president Benigno) Acquino bungled the bus hostage crisis. It wasn't personal, I just thought he'd handled it poorly. I learned that perhaps staying as head of ABS-CBN wasn't a good move for me. I gave a month's notice and that night I got a call from the International Centre for Political Violence and Terrorism Research asking whether I wanted to write a book. I was offered author-in-residence in Singapore.
Social media for social good I was in Singapore for eight months and wrote my second book, From Bin Laden to Facebook: 10 Days of Abduction, 10 Years of Terrorism (2012). It looked at the ideology of terrorism. What is it that is so powerful that you would kill yourself for it?
I tracked the ideology, the networks, and watched it go from the physical world to the virtual world. Way before Isis, Abu Sayyaf in the Philippines was using YouTube to demand ransom. While I was in Singapore, we were already forming Rappler. It was about social media for social good, we would build com­muni­ties for action and use technology to change the real world.
Anger and lies Rappler is the first online-only news site in the Philippines. We started with 12 people and grew to 75 within a year. Social media wasn't weaponised until 2016. Facebook wanted to get all the news people from Twitter onto Facebook, that's what Instant Articles was designed to do, but it forgot that when you are the gatekeeper of facts, you can't use the same algorithms for gossip. The way the algorithms worked, you were rewarded for anger and lies. Truth never had a chance to catch up. In the Philippines, we were one of four invited onto Instant Articles. That was the end of 2015. I tried it for three months and then pulled everything back out again.
Guardian of the truth I learned from Twitter about the Time award (she was one of the magazine's 2018 Persons of the Year) as a "guardian of the truth". In January 2018, the government tried to take away our licence to operate. Our constitution in the Philippines enshrines freedom of the press and yet our leaders are taking that away from us and every time that happens, we have to push back.
We are not against the (Rodrigo) Duterte admini­stration, but we do hold them accountable and they perceive that as being against them. I've posted bail eight times in three months, I've been arrested twice in five weeks, I've paid more in bail and bonds than (former Philippine first lady) Imelda Marcos, I've spent a night in detention and Imelda Marcos never has, I've been named on a list of potential coup plotters that the government itself says they have no evidence for and they don't have to prove it. It's insane. Rappler has been forced to pivot – what doesn't kill you makes you stronger. The battle of the next generation is the battle for truth. Journalists are under attack globally.
Original Link: SCMP