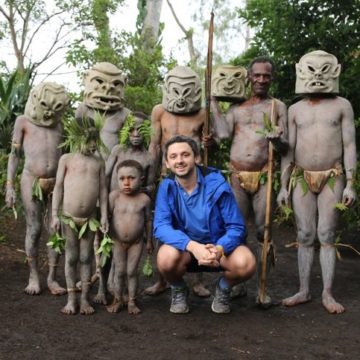 Top destinations from man who has visited 158 countries
— April 17, 2019

Daniel Herszberg, 26, is aiming to become the youngest Australian to visit every country, but says there are three or four people in the running
Hong Kong-based lawyer Daniel Herszberg is in the running to become the youngest Australian to have visited every country in the world. Aged 26, he says he has been to "158 of 197 countries" and aims to complete his mission by the end of 2020.
But Herszberg isn't just about ticking boxes and bagging the T-shirt. Rather than spending just a couple of days in a capital, he travels further into each country, meets the locals and immerses himself in the culture. He is saving Antarctica until last – the cherry on the top of his global expedition.
The "most travelled" community is a select group and there are a handful of websites dedicated to cataloguing their travels, among them the Travellers' Century Club, Nomad Mania and Most Travelled People.
The youngest person to travel to every country in the world is currently former London banker James Asquith, who reached his target in 2013 at the age of 24.
Herszberg is aiming for the Australian title and says there are three or four people in the running.
"I've wanted to do this since I was a kid. I was the nerdy kid that had all the flags hanging on the wall. My parents bought Lonely Planet books when I was eight years old," says Herzberg, speaking from Iloilo City in the Philippines, a two-and-a-half-hour flight from Hong Kong.
Born and raised in Melbourne, Australia, Herszberg studied Chinese history in secondary school and became fascinated with the country.
While doing his law degree, he learned Mandarin and went to China twice on study-abroad programmes. After graduation, Hong Kong seemed an obvious place to base himself, giving him easy access to China.
"I've visited 27 provinces and regions in China and expect to become one of the youngest non-Chinese citizens to visit every province in China," he says.
"Within my travel community, a lot of people are less interested in China. People seem so shocked when I post content on China."
He says China's domestic tourism industry has become so well developed that many places that were inaccessible 20 years ago are now within easy reach, particularly with Hong Kong's new road and rail networks to the mainland.
"A few weeks ago, I went to Guizhou. It's amazing that from Hong Kong you can cross the border to Shenzhen and in just a one-hour flight you are there," Herszberg says.
"Lots of my expat friends haven't travelled beyond Beijing and Shanghai; they do not explore China. Yes, there's a language barrier, but if you are willing to venture through there's adventure to be had."
Among his favourite places in China are Huangshan (the Yellow Mountain range) in Anhui province, a Unesco World Heritage Site; the round houses in Fujian; Yunnan province; Hunan province, home to Zhangjiajie National Park, the inspiration for James Cameron's 2009 movie Avatar; and Pingyao in Shanxi province.
"Pingyao is my favourite place in China. I believe it's the only ancient city in China that has retained its original walls. It's just magical," he says.
"You can fly there from Hong Kong. As soon as you veer off the main drag into the alleys, you'll see someone making noodles, Mao slogans on the wall. It's an easy city to walk around – you do not have to deal with taxis."
Other places he recommends visiting that are within easy reach of Hong Kong are Kota Kinabalu ("It's accessible luxury and ripe for adventure," he says), Saipan – the largest of the Northern Mariana Islands – and Kaohsiung in southern Taiwan.
Over Chinese New Year, Herszberg visited Papua New Guinea and thoroughly recommends it to those looking for adventure. He visited tribes in the Eastern Highlands where people covered in thick layers of mud perform dances and initiation rites for weddings and to settle tribal disputes.
"What I saw there was mind-blowing and the fact it is five-and-a-half hours from Hong Kong did my head in," Herszberg says.
"When I moved to Hong Kong, I thought I'd have to fly 12 or 15 hours to get adventure, but in a short time I was climbing active volcanoes and walking among Japanese second world war ruins. There are only a handful of tourists – it's a real untouched corner."
Now Herszberg is a lawyer, though he did the bulk of his travelling on a low budget as a student, making the most of the long holidays. Today he still manages to travel on around US$40 to US$50 a day. His next adventure, in May, will be to Kazakhstan, Mongolia and Turkmenistan.
You can follow Herszberg's adventures on his Instagram account (@dhersz), which is growing rapidly.
"I like to think that people who come to my Instagram feed are interested in off-the-beaten-path adventures and cultures," he says.
Original Link: SCMP