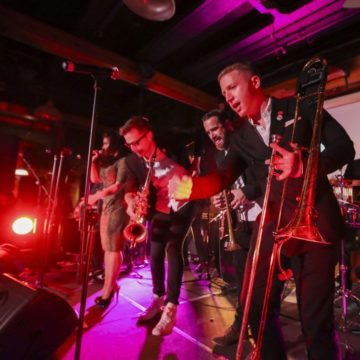 Grappa's Cellar closure
— May 9, 2019
Landlord has not renewed the celebrated Italian restaurant's lease, amid plans for the Central venue to be turned into a food court
A campaign to save famed Hong Kong live music venue Grappa's Cellar is gaining momentum with thousands of people signing a petition launched after the landlord decided to not renew the popular Italian restaurant's lease.
"We launched the Change.org campaign on Tuesday and hope that everyone who cares about live music, comedy, theatre and all kinds of music – rock, indie, jazz – will sign. We hope to reach 10,000 signatures," says Karen Tong, who has led weekly swing dance events at the venue since 2006.
John Robertson, marketing director at Grappa's parent company the El Grande Restaurant Group, says he was "gutted" to learn that the lease would not be renewed beyond the end of July.
"It's our 20th year and we should be celebrating our 20th anniversary in June instead of focusing on this," says Robertson, who is responsible for managing live entertainment at the venue.
He says the decision follows a survey by landlord Hongkong Land asking the 40,000 tenants in the building what they thought was lacking in the area. The response was a request for Southeast Asian food at a low price point.
"Hongkong Land wants to do something different. It's not a rent issue. They want to put in a food court," Robertson says.
He says music was introduced to Grappa's Cellar to boost takings on quiet nights and gradually developed. He cited jazz pianist and composer Allan Youngblood as one of the key players in helping Grappa's transition into a live entertainment venue.
"It's a wonderful music venue, I've had some great nights there playing with international musicians. And I like the food. It's a shame that it's closing, but that's just the way Hong Kong is," Youngblood says.
The Italian restaurant in the basement of Jardine House in Central has hosted scores of top international and local talent, from Dolores O'Riordan of The Cranberries, Grammy award winners Lee Ritenour and Ernie Watts, and comedians such as Doug Stanhope and Tom Green.
Justin Sweeting, music director of Clockenflap festival organiser Magnetic Asia, has hosted events at Grappa's Cellar since 2008 and says the space has been key to the company's growth and development.
"It's a great shame. Hong Kong needs more space for live entertainment and Grappa's Cellar was special given its location and space, it will be sad to see it go," Sweeting says.
He says the closure is symptomatic of Hong Kong's dearth of suitable live entertainment venues.
"It's not just about Grappa's – it's about the fact that there is no strategic and systematic plan in place in terms of music in Hong Kong," Sweeting says.
Those in the music and entertainment industry all draw attention to the lack of mid-size venues, a spot that Grappa's filled. Tong says the space is uniquely suited to live entertainment because of its size – accommodating a maximum 350 people – high ceiling and balcony overlooking the stage.
What's more, the basement location means that it is well soundproofed and it hasn't had to deal with the noise complaints that plague many other live music venues.
"There is the sense of the audience and the performers being intimately connected. I can't think of any other venue in Hong Kong that can hold such events," Tong says.
She says Hongkong Land's decision to evict Grappa's Cellar goes against the property developer's corporate pledge to support local events, arts and culture in Asia.
Its website states: "Hongkong Land proudly hosts and sponsors a series of cultural events and art exhibitions, with the objective of developing an appreciation for arts and culture and enhancing the communities around our buildings."
It is two years since the original Grappa's restaurant, which opened in Admiralty's Pacific Place in 1990, was forced to close. Although that restaurant succeeded in finding a suitable new location in Wan Chai, Grappa's Cellar may not be as lucky.
"With Grappa's Cellar, you can't find a space like that. You won't be able to recreate the same experience," Robertson says.
Tong is organising an event at Grappa's Cellar on May 29 to raise awareness about the closure of the venue featuring local artists. Entry will be free.
A Hongkong Land spokesman was not available to comment.
Original Link: SCMP