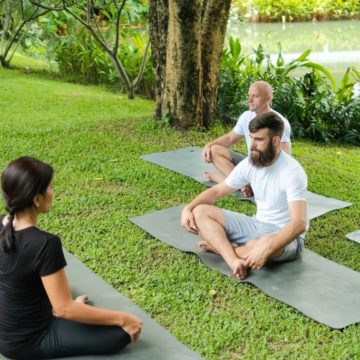 Executive burnout
— May 15, 2019

A toolkit for coping with job's physical and psychological strains is the souvenir to take away from rehab at The Dawn behavioural health centre near Chiang Mai
Resort holidays are the go-to option for burned-out professionals. For decades Hong Kong executives have been prescribing themselves a week or two of massages and medicinal cocktails as an antidote to stress.
These are usually trips booked on the fly, a quick fix for a nagging problem – and the benefits rarely last longer than the suntan. But what about booking a break that has long-lasting effects, where the souvenir is not a tie-dye sarong, but a better understanding of yourself and a toolkit of strategies for coping with stress?
The last couple of years has seen the launch of a number of executive health packages in the United States. First came Johnson & Johnson's US$100,000 anti-burnout programme for senior executives in 2017, and then the Mayo Clinic began offering executive health packages.
These are packages that help executives better manage the physical and psychological strains of their jobs. Now, finally, there is one in Asia – the Dawn Medical Rehab and Wellness Centre in Chiang Mai, Thailand, has launched a "Professional Burnout Programme".
A 40-minute drive from Chiang Mai airport, The Dawn is deep in the heart of the countryside, bordered on one side by the Ping River and on the other by farmland. This is the first behavioural health centre in Thailand owned by Thais – two brothers, Athisin and Athiporn Poolsawaddi, who lived in New York for 10 years before coming back to Thailand and making a move into medical tourism.
The term "burnout" was first used in a clinical sense in the 1970s by the American psychologist Herbert Freudenberger, meaning a "state of mental and physical exhaustion caused by one's professional life". Those who are most at risk are high achievers, people who are so passionate about what they do that they ignore the fact that they are working long hours and putting themselves under a huge amount of pressure – until it all comes to a head.
"People might start experiencing panic attacks, fatigue, a loss of motivation to achieve results and a loss of confidence in themselves," says Tony Tan, clinical manager at The Dawn.
Those who come to The Dawn for the burnout programme are usually in their mid-30s to 50s, most of them from Hong Kong, Thailand, Australia and the UK. They've often been working 16-hour days, are highly stressed and are worried because they don't have the stamina that they used to.
The two-week programme begins with a session with a counsellor to work out their "life story": a chance to understand their life journey, past and current situation and what drives them.
After the initial evaluation, those on the programme slip into the centre's daily routine: 7am, yoga; 8am, breakfast; 9am, meditation; the rest of the day includes personal training, massage, two group therapy sessions – psycho-education and psychodrama (a form of psychotherapy in which patients act out events from their past) – and a one-on-one counselling session. Lights out is at 10pm.
The private therapy sessions – five days a week – are an integral part of the programme. It is not uncommon during these intensive therapy sessions for unresolved issues from childhood bubble to the surface.
These may be issues that have been lying dormant for most of their adult lives and are only now making themselves heard. For those who have been using work as a distraction – and a convenient coping mechanism – the sudden realisation that all is not well can come as a shock.
"If they are not ready to resolve the struggle, it helps to accept the issue. Because if they don't know what is causing their problem, they are confused and don't know what is wrong," says Tan.
Designed to tackle the cause of burnout at its core and to prevent it recurring, the programme draws on a number of therapy models, including cognitive behavioural therapy, neuro-linguistic programming, and trauma release exercises. It is also the only centre in Thailand to offer transcranial magnetic stimulation, a cutting-edge technology that uses magnetic waves to gently stimulate nerve cells in the brain, bringing brain activity to normal levels.
"The intensive counselling is a big part of the programme," says Tan. "The client works almost daily with a therapist. It's about building people up. Within a week, we notice that clients are already feeling calmer."
The two-week burnout programme costs US$6,000, including accommodation, food and therapies.
This is comparable to the cost of a luxury spa holiday, but unlike the standard yoga, meditation or digital detox retreats, the effects of this programme will last longer because it aims to identify and address the mental health issues at the root of burnout and to teach new coping skills.
Original Link: SCMP